Online Poker California – Best Legal CA Real Money Poker Sites in 2023
Although California's land-based poker scene is robust, its online counterpart still has a long way to go. You'd think the state would already have a well-developed online poker market and licensed online operators, but that's not the case. The largest state in the US has yet to reach state-wide regulation.
With land-based casinos offering world-class poker rooms, poker is always the top-choice among gamblers.
Still, if you're looking for more convenience, online platforms are the best solution. While we're all waiting for native poker platforms, players can join offshore gambling platforms that cater to California residents.
Where to Play Real Money Online Poker in California
We have handpicked a range of online poker sites where we just know everyone living in California is going to be able to access and play a very large and diverse range of online Poker games, with this in mind please have a good look through the following collection of legal California online Poker sites and checkout the size of their new player sign up bonuses, they are huge!
My list of the best US poker sites which I consider to be the best rooms to play in 2023:
All of the above California State online poker site bonuses are subject to change at any time, should any of them be of interest to you please visit the respective Poker sites website for full terms and conditions of any bonus listed.
My video review on online poker in California
How to Register on a Real Money Poker Site
Let's take a look at how joining a real money poker site works:
Real Money Mobile Poker Apps
Since numerous poker sites offer their services to Californian players, many have also created subsequent mobile apps. In many cases, you can download the app straight from their website when on your smartphone. Once you install it, you can use it just like the poker site.
We go into greater detail on California mobile poker apps here, so visit the page to learn more about how they work, how to use them, and what you get from them.
Latest Online Poker News For Californian Poker Players
California never fails to deliver exciting poker news, and this August was no different. The Golden State land-based casinos hosted two prestigious events in the past 30 days. The 2023 Legends of Poker continued from July, and WSOP Circuit — Graton began on August 10. While both had solid turnouts, WSOP had a larger audience.
Unsurprisingly, the main event received the most attention, which took place on August 21. The $1,500 Buy-in No-limit Hold'em drew a field of 616 players, accumulating a $933,240 prize pool. Michael Persky, a Novato resident, took down the entire field over a span of three days. He returned home with a gold ring and $175,595 in prize cash.
Californians can look forward to similar competitions in the upcoming months. The state will host five exciting tourneys during September, including the long-awaited 2023 United States Poker Championship and 2023/2024 WSOP Circuit — Northern California.
History Of Poker In California
The beginnings of poker can be traced back to the 19th century. Thanks to the Gold Rush, San Francisco quickly became one of the US's leading gambling destinations. Over time, multiple state governments have attempted to make poker illegal, but somehow, the game always managed to persevere.
In the late 20th century, two significant events led to a poker boom in California. In 1987, California legalized the flop version of Hold 'em, Stud, and Omaha poker. Until that moment, the state only allowed draw variants of the game.
Since California already had a solid poker foundation, the number of games in the region drastically grew. At that time, the state welcomed the legendary poker rooms in the Commerce Casino and The Bicycle Club that operate to this day.
The second event that brought even more popularity to poker happened in 1988 when Congress passed the Indian Gaming Regulatory Act (IGRA), allowing casino properties to operate on Indian land. In the next couple of years, the number of poker rooms rapidly grew. To this day, some casinos in California are the most popular poker destinations.
Is it Legal to Play Poker Online in California?
While the state of California hasn't got any laws regarding the legal status of online poker, players from there still have the ability to access such games. In fact, California is one of the largest states within the country, meaning that a large portion of players actually operate from there. Essentially, the reason that there aren't any specifically legal online poker rooms in operation within California, is because there are no regulations in place to allow it.
Yet, there is still a perfectly legal way of accessing online poker from California. Players simply have to sign up to a site that operates from outside of the US. It's not difficult to find such sites, with many providing their services out of locations like Costa Rica, Panama, Antigua, Curaçao and others. And while some online poker rooms that provide their services to the US do block certain states, California isn't one of those.
This means that regardless of which online poker room you choose to access from The Golden State, you should still be able to register and deposit there to enjoy rounds of poker.
There are many of these sites for you to access and join in with playing poker alongside other US citizens. In fact, we've located plenty of them for you as well, meaning that you can check out the ones that we think are the best. This will help you to avoid any poker rooms that may seem shady and take you along to those that can be trusted instead.
Laws & Regulations In California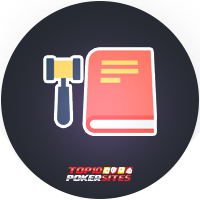 With the introduction of the UIGEA in 2006, many poker rooms were affected – especially when it came to the online poker industry. Many companies pulled out of the United States entirely, although California's constitution doesn't mark poker gameplay as illegal in any way.
This is more so relative to land-based poker though, which means that the state maintains a strong selection of card rooms throughout the land.
These have been in operation since around 1850 when California officially became a US state.
Unfortunately, online poker isn't considered to be a specifically legal operation within the state. That's not to say that it is illegal, but the UIGEA is still in effect across the US, which does put restrictions on what California is able to do as far as online poker is concerned.
Section 330 of the California Penal Code clearly states that a person playing prohibited games is guilty of a misdemeanor and has to pay a fine of $100 to $1,000 or go to county jail for up to six months. Sometimes, both punishments are applicable.
However, this doesn't mean that the law is applied to players using offshore poker sites. The law is mainly concerned with in-state poker games, usually offline.
Tribal casinos are their own entity, and even though people from the state have been trying to get laws passed through to establish legal online poker, a lot of backlash has come from the tribal communities.
In more recent years though, things seem to have died down with the intention of legalising online poker in California.
For example, much of 2018 and throughout 2019 so far, no poker-related proposals were put forward during legislative sessions. This is a bit of an unfortunate outcome, although the Supreme Court did overturn the PASPA ban in May of 2018. Perhaps a new ruling on online poker will come in due course.
Varieties of Online Poker in California
Playing poker in California is a great past time many enjoy, however those who may be just discovering poker online may be unaware of the different variants that they will have access to when registering with an online poker room. The positive side to this is the discovery will enlighten new players to not just the standard Texas Hold 'em, but will see them being in the position to learn multiple other variants such as:
Seven Card Stud
Seven Card Stud Hi-Lo
Omaha Hi-Lo
One of the advantageous large poker rooms provide is learning tutorials. This can include detailed explanations on how each variant is played and include lessons relating to strategic playing techniques, to will include video tutorials.
When you consider the different variants that we mentioned, the one most played is Texas Hold 'em as it is the version of poker most known to the majority of players, whether casual, professional or those that play home games. Its rules are the easiest to understand, however so too are the other variants, so taking time to learn them will not only provide an increase game variety but will increase your knowledge overall of poker and the finer details to playing it.
Payment Options On Californian Poker Sites
As you can see, online poker sites offer plenty of deposit options to their users. Now, signing up to an online poker site is one thing, but making a deposit into your account is quite another. You'll need to know that the payment method that you prefer is supported at your chosen site before registering.
The introduction of 2006's UIGEA law did affect transactions taking place to gambling sites, which was one of the main reasons that multiple operators chose to pull out of the US. However, since that time, various alternatives to bank transfers and card deposits have come into effect.
Before you request to withdraw any winnings, make sure you comply with all the requirements stated on the website.
I always tell players to read the fine print — otherwise, the entire cash-out process can become complicated, and none of us want that. Therefore, check the withdrawal limits, transaction time, and any additional T&C you come across to ensure your cashout goes smoothly.
Advantages of Playing Online Poker in California
Many Poker players enjoy taking part in Poker Tournaments however it is often the case that getting to and from the venue where they are being held can prove to be hard, especially if those Poker Tournaments are being held out of State.
Thanks to the online Poker plying environment then you are able to instantly, and with no effort what so ever, take part, enter and play in a huge range of Poker Tournaments whenever and wherever you like, simply by logging into one of our featured Pokers sites.
With there are such a very diverse range of online Poker Tournaments available then you will find plenty of free of charge Poker Tournaments up for grabs, plus you will also be able to take part in Satellite Poker Tournaments which offer you the chance, via a very low entry fee, to win a direct entry into a large paying Poker Tournament.
There really are lots of additional benefits of moving your land based Poker playing action online, so do make sure you checkout all of the above listed sites who all have something unique to offer you whenever you choose to log on and play!
Is Playing Poker Online Safe in California?
There isn't specifically direct and easy answer for this question, because it generally depends upon the poker room that you're playing at. For example, players from California won't have any issues with accessing online poker sites, but not all of them operate in a safe and secure way. This is why it's always good to make sure that the platform you're accessing holds a gambling licence or at least has a good reputation behind it.
To put it simply, if an online poker room doesn't have a gambling licence, then there aren't really any regulations in place for it to adhere to in order to ensure that it's providing you with a secure service. While some sites that don't hold a licence do operate in a fair and just way, there are others that can take advantage of players who don't know about this. So, while gameplay from California is a safe option, this can't always be guaranteed unless you do your research beforehand.
Other than having a valid gambling licence and/or a good reputation, you should also check whether or not the platform is utilising a secure server and data encryption technology. Without such, there's no guarantee that your personal data won't be kept out of the sightline of prying eyes. It's very important that an online poker room utilises these features, so that you know you're not going to be giving up personal and private information to anyone and everyone by using it.
All payments to and from the poker room are carried out using reliable, professional payment processing companies and therefore receiving winnings withdrawn from the poker rooms is not an issue. Many now opt to use cryptocurrencies as all payments are untraceable and therefore remove any potential risk that pertains to federal laws. However, it is important to note; federal authorities do not prosecute individual players. They will, however, if deemed to be acting in defiance or against the wire act laws, will prosecute poker room operators but this is rare and has not occurred in years, so, therefore, playing in California is safe, and players should not have any worries or concerns in doing so.
Famous Poker Players From California
One California based Poker player that you may be familiar with is Erick A. Lindgren, one of the most successful Poker players who is from Burney in California.
He has proved to be a mean opponent at many Poker Tournaments and has so far won for himself two World Poker Tour titles and has managed to additionally win two World Series of Poker Bracelets.
Other Resources
FAQs
You may have a few different questions regarding playing online poker in the State of California, and as such below we have listed the most frequently asked questions and answered them all for you!