Nebraska Poker Online – Top Legal Online Poker Sites for 2023
Nebraska offers a limited amount of poker opportunities as the game is frowned upon by most citizens of the state.
There are multiple legal gambling opportunities within the state, including the Indian Tribe Casinos. However, even these establishments don't provide any form of poker, limiting the options even more.
Much of the poker limitations are due to the law as it is very strict and actually threatens with fines for players who take part in online gambling. It even addresses Texas Hold'em tournaments and states that players are allowed to take part in the game only if no buy-in is required or the event doesn't provide any rewards.
However, they don't mention online poker with these "Texas Hold'em tournaments" and also don't include other forms of poker games, especially not for the online market.
There is no doubt about it, joining an online poker site in Nebraska could be risky, but there are no direct laws that would limit you. In fact, to this day, no one in the state has been charged for playing online poker. Therefore, we provide this page to give you more information about online poker for players in Nebraska. Not only can you find out more about the specific law, but you'll also get to discover some of the most popular online poker options, the games they provide and the promotions that have made them highly popular for players from around the world.
Where to Play Online Poker in Nebraska
Many different international poker sites still offer excellent opportunities to players in Nebraska. The sites are well aware of the strict law within the state and the hefty penalties they could suffer for accepting players. However, since they are based outside of the US, it's a lot harder for the state to stop these sites. Therefore, not much limits you from joining these poker sites and taking advantage of the gaming opportunities they provide.
Below, 5 of the most recommended online poker sites or Nebraska are available. All you need to do is choose the most attractive, check out the features they offer and claim your bonus when you make the first deposit.
My list of the best US poker sites which I consider to be the best rooms to play in 2023:
100% Legal & Licensed Verified Bonus Mobile Friendly Advertiser Disclosure. Must be +18 to participate.
Rank
Poker Rooms
Bonus
Review...
1.

Bonus

100% up to $1000

(T&C apply. 18+)

Features

100% First deposit bonus
Promo Code: NEWBOL
Banking through cryptocurrencies
Top 3 in US player traffic

Payout Speed

1-3 days

Licensed by

2.

Bonus

100% upto $3000

(T&C apply. 18+)

Features

Increased Poker Crypto Bonus $1500
Exclusively for US players
Many Payment Options
Rich Player Traffic

Payout Speed

1-3 days

Licensed by

3.

Bonus

200% upto $1000 Welcome Bonus

(T&C apply. 18+)

Features

Recreational Player Traffic
Get a 200% Match on Your Initial Deposit
Wide Tournament Selection
High-Quality Games

Payout Speed

1 - 5 days

Licensed by

4.

Bonus

200% upto $1000 Welcome Bonus

(T&C apply. 18+)

Features

200% up to $1000 poker bonus
Bonus code: 1000JUICY
High-quality software
Competitive poker tournaments

Payout Speed

1 - 6 days

Licensed by

5.

Bonus

100% upto $1000

(T&C apply. 18+)

Features

VIP Loyalty Program
Weekly Progressive Jackpot
Reliable Customer Support
US-Friendly

Payout Speed

1-3 days

Licensed by

6.

Bonus

100% up to $500

(T&C apply. 18+)

Features

Guaranteed Tournaments
Quick, secure payouts

Payout Speed

1-3 days

Licensed by

7.

Bonus

100% upto $1000 Welcome Bonus

(T&C apply. 18+)

Features

Rich Player Traffic
Special Promotions
Get Free $1,000
US-Friendly

Payout Speed

2 - 5 days

Licensed by

8.

Bonus

100% upto $1000

(T&C apply. 18+)

Features

Up to $1000 Sign Up Bonus
Promo Code: NEWSB
Highly Responsive Customer Support
Easy-To-Orient
Soft Competition

Payout Speed

1-3 days

Licensed by
We recommend getting the latest information about the poker opportunities each of these sites provides by visiting the establishment directly. The information about these sites, their promotions and gaming opportunities can change at any time. So, head straight to them and get the latest info about what they offer.
For the ones that don't like to read, my video review on Nebraska Poker Rooms below.
Latest Online Poker News For Nebraskan Poker Players
Despite the rapidly-changing climate, Nebraska remains one of the USA's least gambling-friendly states. The NE gambling landscape has been virtually barren for most of the state's history due to its authorities' opposition to all forms of gaming.
In light of reports indicating an increase in gambling popularity in the state, recent years have seen minor improvements in this mentality. The authorities have approved the construction of a few casinos over the next few years.
Last month, we reported on Caesars Entertainment's temporary venue debut in Columbus. This month, we bring you news of Horsemen's Park's WarHorse Casino Omaha, whose construction is proceeding according to plan. Officials expect the complex to open its doors to the public by July 2024.
Is it Legal to Play Poker Online in Nebraska?
Even though the gambling law in Nebraska does not mention online poker directly, it is fair to assume that it is not legal to play online poker. However, since they do not mention online poker directly, it would be difficult for the state to charge someone. However, the law mainly focuses on the establishments that provide online poker to players in Nebraska, but there are also some fines that can be issued to players who take part in online gambling. Then again, the law in Nebraska does not stipulate whether poker also falls under gambling since the game includes skill.
The American gambling law isn't nearly as detailed around online gambling or poker as it also focuses purely on games of chance. Furthermore, the American law limits online sites from catering to American players by not allowing them to register within the country.
Laws & Regulations In Nebraska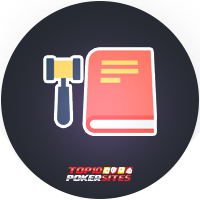 To play online poker in Nebraska, you would need to join an international poker site that allows players from the state, such as the sites mentioned in our top 5 above. The sites operate under strict regulations by licensing establishments that have high standards when it comes to fairness and play and security.
Some of the most recommended and trusted licensing establishments include Malta, Curacao and Kahnawake, which all form part of the sites we recommend. Poker sites that operate under these licenses have to keep up with the latest software to provide a safe and secure gaming environment for all international players who join.
Varieties of Online Poker in Nebraska
The world of online poker is simply amazing, no matter what level you play at. There are different games to choose from along with betting options that suit even beginners who have never played poker before. Of course, there are also much bigger games and VIP tournaments that meet the requirements of professional players who aim to take the lead at huge events such as the WSOP.
When it comes to the game variety, not only can you play Texas Hold'em, but the sites also introduce interesting variations of multiplayer Omaha and even Stud poker. Furthermore, each of these game opportunities come in various styles, such as the turbo game that's exactly the same but simply speeds things up for faster rounds and a thrilling experience.
If as briefly mentioned above, the betting values suit every once needs, making each round exciting without going over the amount some players would like to spend on poker. If you are simply there for the fun of the game and don't want to spend large amounts, choose one of the smaller tournaments or cash tables with stakes from as little as $0.01/$0.02. You also have the option of playing at much larger tables that are better suited for intermediate to high roller levels as stakes start at $1.00/$2.00 through to a couple of hundred dollars and even thousands.
The great thing is, you have the choice how much you would like to play in each game, which also determines just how much you can win. There are thousands of players who take part in each tournament, making the pots of even the smallest games while worth your while.
Advantages of Playing Online Poker in Nebraska
The legislation relating to gambling in Nebraska is so strict, you'll find just about unlimited benefits of playing poker online. As mentioned, poker isn't allowed in Nebraska, unless the game is played for fun or a charity event where you can't win anything.
Sure, playing online poker could come with a possible risk of getting a fine, but as mentioned, to this day no such fine has been given to anyone playing poker online in Nebraska. Therefore, you have the advantage of playing at one of the top 5 poker sites that cater to international players. The sites provide a large variety of poker games, which isn't just limited to Texas Hold'em, but also includes other variations of poker as well.
Even if the state did provide a large variety of poker opportunities, you would still need to travel and fall into the specific buy-in requirements. With online poker, you can join a tournament of your choice at any time of the day or night and access the game with the stake values that suit your needs. There are hundreds, if not thousands of different games played on a daily basis, which doesn't even include special events that the site might have as exclusive poker games.
Is Playing Online Poker in Nebraska Safe?
These international poker sites operate under strict rules and regulations from the licensing establishments mentioned above. This includes the need to provide industry standard security levels with encryption software that protects all your information.
The license also requires the establishment to only provide trusted banking options that include highly secure measures of their own and ensure your funds are safe at all times. These software requirements are regularly tested to ensure all players have access to professional gaming features.
Other Resources
FAQs
Here are additional details about online poker in Nebraska and the features you can expect to see at the most popular online poker sites. We only provide the most commonly asked questions along with detailed answers for the most accurate info.
Are Poker Tournaments in Nebraska available to online Poker players?
Poker tournaments are some of the most popular gaming opportunities at any international poker site. These are available to all members, including those who have created an account from Nebraska.
Do poker sites for Nebraska reward comp points?
You will gain many different rewards while playing at a professional online poker site, including comp points. These points are added to your account each time you play tournaments, cash games or any other form of poker they offer.
Are Online Poker results predictable?
Online poker software providers use the latest and most trusted software to ensure all the results are 100% unique and completely random at all times. The RNG doesn't allow anyone to know the outcome of a round before the time.
Do new online Poker players in Nebraska qualify for bonuses?
Online poker promotions form part of the biggest benefits to each and every member. There are many different offers available, usually starting with a welcome bonus with the first deposit, which is available to everyone.
Are free/practice Poker games available?
Learning how to play poker or just finding out more about the game is easy with professional online poker sites as they all provide detailed guides, free games and much more.