Android Poker Sites – Top 10 Android Poker Sites and Apps
If you're serious about online poker, you will likely play it on a downloaded client on your computer. However, for those who like a more casual approach to poker, there's no better way to enjoy the game than on your mobile device.
The number of mobile poker players has increased significantly in the last several years, and it is continuing to grow as we head into the new decade. There are hundreds of poker sites and apps as of 2023, and most of them work on all Android devices.
In this article, we will tell you everything you need to know about poker sites and apps for Android. We will begin with a list of the best ones, and then we will move on to explain the specifics of those sites and apps, their advantages, the differences between Android and iOS poker platforms, and more.
Stay with us, and you will be able to start playing your favorite mobile poker game today!
List of the Best Android Poker Sites and Apps
There are too many Android poker sites and apps to count, but not all of them are good. As a matter of fact, there are only a selected few that are truly worth your time and money.
These sites and apps stand out in a sea of mediocre competition by having vivid graphics, smooth gameplay, a wide variety of poker variants, and more. Additionally, through these sites and apps, you can pick up rewarding bonuses that will give you a head start at the beginning of your poker campaign.
We made sure to check all Android poker sites and apps that are available on the market and create a list of the ones we consider to be the best. Take a good look at the list below and choose a poker operator that best suits your needs.
My list of the best poker sites which I consider to be the best rooms to play in 2023:
100% Legal & Licensed Verified Bonus Mobile Friendly Advertiser Disclosure. Must be +18 to participate.
Rank
Poker Rooms
Bonus
Review...
1.

Bonus

100% upto $1000

(T&C apply. 18+)

Bonus Offer

UK new players only • £20 free bonus: Full T&C apply BeGambleAware• Bonus will be granted in Tournament Tickets gradually over 7 days after the claim date • Each Tournament Ticket will expire 24 hours after it was granted • Deposit bonus: Full T&C's apply BeGambleAware • First deposit only • Min. deposit $10 • The bonus will be granted in $10 chunks subject to wagering restrictions of 100 Bonus Points per chunk • Bonus wins are capped at $500 • Valid for selected games only, when playing Casino • Wagering req. vary by game • Bonus expires in 90 days •

Features

$88 Free NO DEPOSIT BONUS, No Deposit Required (T&Cs apply)
Welcome Bonus up to $1000 (T&Cs apply)
First-Class Software
Rich Player Traffic

Payout Speed

1-3 days

Licensed by

2.

Bonus

100% upto $1000

(T&C apply. 18+)

Features

Get huge up to $1000 bonus
Promo Code: NEWTG
Bad Beat Jackpot
Low minimum deposit

Payout Speed

1-3 days

Licensed by

3.

Bonus

100% up to $1000

(T&C apply. 18+)

Features

100% First deposit bonus
Promo Code: NEWBOL
Banking through cryptocurrencies
Top 3 in US player traffic

Payout Speed

1-3 days

Licensed by
The online poker experience is still a novelty for many poker players, which is why those who have decided to try Android poker need to be quite attentive and cautious. Android poker came as a result of the mass popularity which Android mobile devices managed to build up throughout the years. Seeing huge potential for profit, this phenomenon was used to create a different online poker gaming platform.
Despite using their device in everyday life, Android poker players still have many unresolved aspects about the matter. The major issue is the system and device's compatibility with the app. Considering the fact that Android poker is a relatively 'young' innovation, most poker sites make their apps compatible for the newer Android versions, as well as the newer mobile phones.
In this regard, it is important to mention that Android poker does not necessarily need an inherent application in order to be accessed from your Android device. You can play poker on your Android-operated mobile device by using your built-in mobile browser or an inherent application. Most online poker rooms tend to optimize their site for mobile browser use, but the best in the industry offer fully-functional apps.
You will find that when playing poker on any type of mobile device that uses the Android operating system you are going to find it very easy to both navigate around those poker sites you have signed up to and playing off each poker hand dealt out to you will be an absolute breeze too.
However, if you are new to that type of poker playing environment then please do read on for we are going to enlighten you on why many millions of poker players now regularly play poker on their Android mobile phones and the many additional benefits that will be coming your way when you do so too!
How We Selected the Best Poker Sites and Apps for Android
The list you can see above includes the best poker sites and apps for Android. But you might be wondering how we know that these are truly the best poker platforms. It's a completely valid question, and we don't wish to keep our readers in the dark, so we will gladly tell you about how we selected these exact sites.
Before we started making a list, we established a rating system that would separate the truly great poker sites and apps from the ones that are mediocre or just plain bad. Our selection process implied that we look into various aspects of each site or app, which included the platform's variety of games, bonuses, software quality, payment methods, and more.
Poker Variations
We understand that there are different types of poker players out there; some like playing Texas Hold'em, while others prefer Omaha or other poker variations.
If you like switching between different poker games from time to time, you've stumbled upon the right list, as every site and app we selected has multiple poker forms that will cater to every type of player out there.
Apart from the number of different games, it is also imperative for every website to have a large number of tables, so you can find betting limits that you're most comfortable with and not wait long to find an open seat.
Poker Bonuses
In order to stay competitive on the market, online poker operators must offer various bonuses to their players. These bonuses let you play with some extra money that you get on top of what you deposited.
Moreover, some online casino operators have special bonuses for their mobile players, meaning that you will get additional promotions if you decide to play on Android.
Limits
An Android poker site that has a wide range of betting limits will always rank highly on our list. By playing with one of our listed operators, you will have a chance to try games with fixed limits, pot limits, no limits, spread, or more.
Also, we wanted to make sure that both low-risk players and high-rollers can find what they are looking for. That's why the blinds on these poker platforms start from as low as a couple of cents, but also have upper limits of a few hundred dollars.
Software
Software is also the thing that separates the wheat from the chaff when it comes to poker sites and apps. Modern poker software is very realistic, and it's as responsive as ever before, but not all operators employ the same one.
We made sure that the poker platforms we recommended have state-of-the-art software that guarantees top-notch visuals and uninterrupted gameplay.
Traffic
Player traffic should be well-balanced on every poker site. If there are too many players coming in, you might have to wait a while to get a seat at the table, while more players usually means stronger competition as well. Of course, high player traffic isn't necessarily bad, but the poker platform must feature enough players, so no one is left hanging.
On the other hand, if the player traffic is too low, there might not be enough players to start a poker session. That's why we always search for poker operators where the number of tables is in tune with the number of players coming to play there.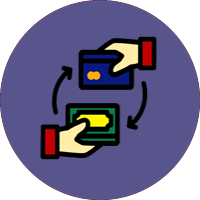 Payment Methods
These days, you can deposit and cash out from a poker site using all sorts of banking options. The sites and apps on our list accept methods like credit cards, debit cards, prepaid cards, e-wallets, bank transfers, checks, and various online banking services. Some even accept cryptocurrencies like Bitcoin.
Additionally, our selected Android poker platforms have optimal deposit and withdrawal limits, and they usually don't impose any service charges. The transactions are fast as well. Your deposits will go through almost immediately, while withdrawals can take up to a few business days, depending on which payment method you end up choosing.
Customer Support
A good Android poker site or app is one that takes great care of its customers. The backbone of customer appreciation is, of course, customer support. Support should be available to you at all times and through multiple channels like live chat, email, and phone.
We tested the customer support team on every Android poker platform we included in order to make sure they were responsive and that they provided accurate answers.
Differences Between Android Poker Sites & Apps
Our list consists of the best Android poker sites and apps. But if you're new to mobile poker, you might wonder about the difference between the two.
Well, mobile poker sites allow you to play poker directly from your mobile browser. Thanks to instant-play technology, modern poker games can be powered up in a mobile browser without the need to download and install any kind of software. If you want to have quick access to your favorite poker games, Android poker sites should be your top choice.
On the other hand, Android poker apps are applications that you need to download through the Google Play store. They are much better optimized for smaller screens, thus providing you with a better user experience.
Poker apps do take a few minutes to download and install, and they can take up a few hundred megabytes of your phone's memory, but that's nothing that your new phone or tablet can't handle.
While poker apps are almost always a better option than poker sites, they will not always be available. Almost every poker operator has a functioning mobile site, but the number of Android poker apps is limited. It takes time and money to create a worthwhile poker app, so most operators cut costs by just making their pages accessible through mobile browsers.
Mobile Poker vs. Desktop Poker
Both mobile and desktop poker sites have their advantages and disadvantages, so we can't really give you a straight answer as to which type is better. It really depends on the kind of player you are.
Online poker was originally played on desktop, as mobile devices were not yet developed enough to support poker software. The main advantage of desktop poker is that you will have the ability to act quickly using your keyboard and mouse. Also, it's much easier to play poker on multiple tables at once on desktop (if the operator allows this type of play).
While mobile poker sites and apps tend to be a little more demanding from a technical standpoint, desktop poker software can work even on some older PCs.
Another great advantage of desktop poker is screen size. While Android poker sites and apps are designed to fit well on a smaller screen, some players prefer a little bit more space for maneuvering, and having a bigger screen really helps you see all the details better.
In other words, desktop poker is for advanced players and poker pros who like multi-tabling and having more control at their fingertips.
As for mobile poker games, they also come with their set of advantages. The most obvious advantage of mobile poker sites and apps is convenience. You can take your mobile device anywhere and play the game at any time, while desktop poker limits you to only one place.
This is ideal for situations in which you want to fire up a quick poker session while you're traveling or taking a break from work.
Android Poker vs. iOS Poker
The sites and apps we listed are designed for Android smartphones and tablets. So, if you do own an Android device, this is the right page for you. On the other hand, if you prefer playing poker on iPhones and iPads, you should probably look elsewhere, although some of the operators we listed do offer iOS apps and mobile-friendly sites as well.
Many of our readers ask about the difference between Android and iOS when it comes to online poker and which operating system is better.
There is no real answer to this, as both Android and iOS smartphones and tablets perform great when it comes to online poker; that is if they are relatively new and have updated systems.
The main difference lies in the number of available apps. Some operators develop apps exclusively for Android, while others do it for iOS only. Luckily, some of the best online poker brands offer both.
Setting up Android Poker on Your Mobile Device — Step-by-Step Guide
Choose Poker Room
In order to embark on your Android Poker journey, you first need to choose your preferred online poker room.
If you are playing for the first time, you should go over the lists of the top poker sites before making your final choice. If you are a regular, you can simply choose to stick with your old poker site.
Check Mobile Options For Poker Room
After choosing a poker site, you will need to look into the mobile play options provided. The choices here vary between in-browser play and a downloadable app.
The app is usually found in the device's Playstore, although there are some sites which offer direct app download from their homepage. If this is the case, you may need to enable installation of non-Market apps on your device before proceeding.
Signup To Poker Room
Once you gained access to the mobile version of your preferred online poker room, you will need to sign up. In order to make them as attractive as possible, operators have aimed to make these Android poker sites as intuitive as possible.
If you are a new player for the chosen poker room, you will need to sign up, otherwise you can simply use your existing credentials and access your regular poker site account.
Deposit Funds Into Your Account
Funding your account through a mobile device is just the same as doing it on your desktop computer. Just choose your desired banking method and input the amount you would like to transfer to your poker account.
Some methods, such as web wallets may require you to install additional software, so make sure you are fully informed before making the final choice.
Poker Games You Can Play on Android
Android poker is a combination of two existing innovations – the operative system and the online gambling industry. Thus, it is only expected of this mix to provide an easy-to-use product with intuitive yet robust features. The Android poker software is known for shorter load times than its desktop counterpart, no matter if it is an inherent app or a browser version.
Another crucial aspect about the Android poker software is its security. Most poker players are skeptical at first, as mobile poker has been accepted as a play-money activity for a long time. Now that real money action is also available, they are worried about the safety of their private information. However, this mobile poker software employs high security certificates and undergoes regular audits and tests to ensure proper functioning of all its features.
As for the game selection, Android poker apps do not differ greatly from standard online poker rooms.
Our featured sites and apps have all sorts of poker games that you can play. Here are some of the most popular ones.
Texas Hold'em
Texas Hold'em is by far the most popular poker variant in the world, in both online and land-based casinos. Whenever you catch some live poker action on TV, chances are that you'll be watching the pros play Texas Hold'em.
This is also one of the easiest poker games to learn, making it ideal for beginner players. Every single Android poker site and app we listed includes Texas Hold'em in its collection of games.
Omaha
Alongside Texas Hold'em, Omaha is another indispensable game on Android poker sites and apps. The game shares many similarities with Hold'em, which is why players who already know how to play TH can make an easy transition to Omaha.
Omaha poker usually comes in two sub-varieties — High and Hi/Lo. The latter is much harder to master though, as players need to make two hands (high and low) instead of one.
Seven Card Stud
Even though Texas Hold'em is the most popular poker variant today, that title used to belong to Seven Card Stud back in the day. Nevertheless, this game is still played and loved by millions of players, and it's commonly seen on Android poker sites and apps.
Seven Card Stud is a poker form with very unique gameplay, as it's one of the rare card games where you are allowed to see a portion of your opponents' cards.
Five Card Draw
Five Card Draw is probably the simplest form of poker, so you should maybe start with this variant if you don't know much about poker in general. The simplicity of Five Card Draw also explains the game's popularity on Android sites and apps.
Playing Five Card Draw does involve strategy, but this poker game is much more luck-based than most of the other ones, making it ideal for those who are looking for some casual gambling.
Razz
Razz is a really interesting poker variant because it rewards "losers", so to say. Namely, the goal of the game is to create the lowest possible hand, so if you're feeling unlucky, maybe Razz is the game for you.
Razz is not as popular as any other poker variant that we mentioned so far, but it is available on several Android poker sites and apps we recommended.
One shortcoming about Android poker games is the fact that they still cannot provide a multi-tabling option to their players. Plus, players are dependent on the small touch screen of their mobile phones. Despite developed graphics and bigger key buttons, there is still room for mistakes, which is why players are advised to get started with the play-money version before risking making a costly slip of the finger. Android tablets are another solution to this problem, thanks to their bigger screen surface.
Bonuses on Android Poker Sites and Apps
Android poker apps are equipped with all the mandatory features which make up a modern online poker room. As such, they also have a generous range of bonuses and promotions. These apps offer the same types of No Deposit, First Deposit, Loyalty Bonuses, as well as Refer-a-Friend and many more. Their bonus selection is simply taken from the existing desktop poker site, along with its terms and conditions.
These bonuses, just like any others in the industry, should not be claimed before careful consideration. Some Android poker bonuses appeal to players with their large bonus amounts, but most experts recommend the smaller No Deposit bonuses which have realistic play-through requirements.
Poker bonuses are usually not that different from any other online casino offers, although there are some promotions that refer specifically to poker tournaments or rakeback.
Welcome Bonuses
Every single Android poker site or app has a welcome bonus that rewards you when you make an account. These promotions are usually given to the player after they make a deposit on the site, which is why they are also commonly referred to as first deposit bonuses.
The way these bonuses work is that you will be given a percentage on top of what you deposit. So, for example, if the bonus is 100% and you deposited $70, you will get another $70 to play with, and have a total of $140 in your account.
Of course, the bonus money won't be available for immediate withdrawal. The poker operator will force you to play with the bonus for a while before being allowed to cash out.
Reload Bonuses
Reload poker bonuses function in the same way as welcome bonuses, only they are not reserved for first-time customers, but for players who have already made a deposit in the past. Just like welcome bonuses, reload promotions match a certain percentage of your deposit.
No Deposit Bonuses
Although rare, some no deposit bonuses can be found on popular Android poker sites and apps. As the name suggests, these promotions don't require any deposit on your part, as you will be rewarded with a small sum of money for merely making an account. They're ideal for testing the poker site and some of its games.
New Depositor Freerolls
As you probably know, freerolls are poker tournaments that you can participate in without paying for a buy-in. Even though freerolls are offered on their own sometimes, there are Android sites and apps that offer exclusive freerolls to new depositors.
Rakeback Promotions
Since poker is played against other players and not against the casino, online poker operators impose a rakeback that represents a fee that you have to pay to the house. If you play online poker regularly, rakeback promotions can come in handy, as the amount of money that you have to pay will be significantly lower.
Mobile Bonuses
In order to incentivize mobile gaming, some poker operators offer special bonuses to their mobile players. Note that some of these bonuses are only going to be available on Android apps and not the sites as well.
Benefits of Playing Android Poker
The number of individual benefits that will be coming your way when you start to play Android poker are quite too long to list! However, you will of course have the advantage of playing poker on that device no matter where you are and will also benefit from many more poker bonuses and poker rewards than you ever would get when playing at a land based poker venue!
EA Mobile Games
Android Poker Banking Options
If you do want to get stuck into playing real money poker games on any type of mobile device that uses the Android operating system then you will of course need to find a payment option to use to allow you to instantly fund your poker site accounts!
You will find that you can pay using a credit card, a debit card or if you prefer you can use a prepaid voucher or even use one of the many different web wallets, in fact take a look at our payment option section of the website for a full overview of every single banking option available, you will be very impressed when you do so!
Things to Pay Attention to When Using Android Poker Sites and Apps
There are some things that you need to take into account before registering on an Android casino site or downloading an app. These include:
System requirements
Make sure that your phone or tablet can withstand the technical requirements necessary to play on the site or power up the app.
Internet connection
Since you'll be playing on the go, you have to ensure that your internet connection is stable enough. Otherwise, your game could get interrupted and you could lose your winnings.
Battery life
Time flies when you're having fun, especially when you're playing mobile poker. Since your app is going to be powered up all the time, have your phone fully charged before you go into a poker session.
Conclusion
We hope that you had fun reading our guide to Android poker sites and apps. These platforms represent some of the best mobile poker brands in the world, so you can't go wrong even if you don't know much about any of them individually.
If you have any questions, check out the following FAQs or hit us up in the comment section below. Have fun playing and good luck!
FAQ
When is the best time to play?
There is no good or bad time to play poker on your Android device for many mobile poker sites accept players from all over the world so no matter when you log in to play you will always find lots of other players playing too.
Are Android Poker Apps large in size?
You will not find the poker apps are very large in size, however if you do not have enough storage space on your Android device then simply choose to play via the mobile web browser attached to your phone or tablet!
Can I test play the poker games?
One final question you may be looking for the answer to is whether you are going to be able to
play poker games for free
and at no risk on your Android device, well the answer to that question is yes of curse you can, as free play no risk tables are on offer at all of our top rated mobile poker sites!
Should I use data or Wi-Fi connection to play Android poker?
Most experienced Android players would advise you to use a Wi-Fi connection whenever possible. Data connections tend increase the load time, and can be unstable in places with little service. Although this is not a huge issue, it may end up costing you a lot of money if you are in the middle of a hand.
What is so special about 'Fast Fold' poker on Android poker apps?
'Fast Fold' poker
is a particular type of poker game which seems to be most suited for Android play, although it is available on computer operative systems as well. Every time you fold, this game will instantly transfer you to a new table with a new hand, minimizing the downtime.
Are Android poker apps legal?
All poker sites and apps we listed are 100% safe and legal. However, it might be the case that mobile poker is illegal in your region, so get familiar with the online gambling laws of your country before playing.
Do all Android phones support poker sites and apps?
If you have a relatively new Android device (something that came out in the last couple of years), you probably won't have any issues powering these sites and apps. However, if your device is a little bit outdated, make sure to check the system requirements of each poker site and app.
Are there any bonuses on Android poker sites and apps?
Yes, all the sites you can read about on this page are full of bonuses and promotions for mobile players.
Can Android poker apps be played on iOS devices?
iPhones and iPads have their own set of poker sites and apps. Luckily, most popular poker operators offer apps for both operating systems, so most of these brands have iOS apps as well.
How do I register on an Android poker site or app?
Registration on mobile works the same way it does on desktop. Simply go to the poker operator's mobile page and complete the registration form. For apps, you will first have to go to Google Play store and download and install the app on your device.
How do I deposit money on an Android poker site or app?
After you create an account, navigate to your account's deposit section. Choose one of the available payment methods and input the amount of money you wish to deposit, making sure that you follow the rules regarding minimum deposit limits.