Top 10 New Zealand Poker Sites : Online Poker New Zealand
Many people tend to group New Zealand and its rules in with
Australia
and the same setup. That's not really the truth though, because while the two countries are close enough to each other, they are run somewhat differently.
This relates to their gambling worlds, too. In New Zealand, gambling is controlled by its Department of Internal Affairs. It's also the 2003 Gambling Act that regulates the industry, which has been amended on two separate occasions since it became effective.
However, prior to this time, gambling was taking place in New Zealand in a variety of different ways. For example, the first "Art Union" was conducted in the country by the Otago Art Society back in December of 1877.
Individuals and organisations used these as a way of fundraising, making them a sort of lottery game. It wasn't until 1933 that the first official national lotteries within New Zealand became active and had the "Art Union" name attached to them as well. Lotteries continued to grow through the decades, and it was in 1987 that pokies arrived in the country.
Recommended New Zealand Online Poker Rooms
My list of the best New Zealand poker sites which I consider to be the best rooms to play in 2020:
100% Legal & Licensed Verified Bonus Mobile Friendly Advertiser Disclosure. Must be +18 to participate.
Rank
Poker Rooms
Bonus
Review...
1.

Bonus

100% upto $1000

(T&C apply. 18+)

Features

$88/£20 Free NO DEPOSIT BONUS, No Deposit Required (T&Cs apply)
Welcome Bonus up to $1000 (T&Cs apply)
Promo Code: NEW1000
First-Class Software
Rich Player Traffic

Payout Speed

1-3 days

Licensed by

2.

Bonus

100% upto $1000

(T&C apply. 18+)

Features

Get huge up to $1000 bonus
Promo Code: NEWTG
Bad Beat Jackpot
Low minimum deposit

Payout Speed

1-3 days

Licensed by

3.

Features

Huge Welcome Bonus
Interactive Poker School
Regular Promotions
Best Customer Service

Payout Speed

1-3 days

Licensed by

4.

Bonus

Deposit $10, Get $10 in SPINS tickets

(T&C apply. 18+)

Features

Cash Game missions
The biggest tournament prize pools
$10 in SPINS tickets for new players
Over a dozen regular promotions

Payout Speed

1-3 days

Licensed by

5.

Bonus

Visit bet365 for the latest offers

(T&C apply. 18+)

Features

Easy Wagering Requirements
Fast & Reliable Payment Methods
Highly Responsive Customer Service

Payout Speed

1-3 days
These pokies remain in operation there today, mostly by charitable foundations. They're often found within bars and hotels for guests to enjoy. Pokies continue to achieve a high rate of success with Kiwis, and the country also has six official land-based casinos operating throughout the country. It should be made known that only the types of gambling mentioned in the country's 2003 Gambling Act are legal and allowed. These include lotteries, housie, casino and instant games.
Online gambling is another setup entirely though, because it is prohibited within New Zealand at the moment. This is quite similar to Australia's online gambling laws, which dictate that companies that operate from within the country cannot provide their services to residents. Yet, New Zealand doesn't allow companies to set up their gambling services within the country and offer games to players from outside as Australia does.
Poker can be played within any of the six brick-and-mortar casinos found in New Zealand. Online poker, on the other hand, is prohibited in New Zealand because you're not able to actually claim a licence to operate such offerings. Therefore, it is illegal to setup and provide online poker games from within New Zealand altogether. Locals can, on the other hand, access offshore poker rooms without being penalised for it, and this remains as the sole way for Kiwis to indulge in online poker gameplay.
Is poker legal in New Zealand
As with any other country, New Zealand's gambling laws have gone through various changes over the years.
Poker is only considered a legal activity in New Zealand if you're playing it within a licensed land-based casino or privately.
This means that to actively engage in real-money poker gameplay in the country, you'll need to make your way to one of the country's six casino establishments.
Online poker is another matter entirely, because you won't be able to access any kind of New Zealand-based online poker room. Any operator choosing to setup such a website within the country is acting illegally. The country does not provide licences for this to anyone. The only way that you're able to indulge your online poker gaming need is to navigate to an offshore platform instead. Be sure that the one that you do play at holds an effective gambling licence to keep you protected from scam sites.
This activity isn't considered to be illegal in any way, so you won't be punished for accessing foreign-based online poker sites. As noted previously, many online poker rooms welcome players from New Zealand, providing various specific possibilities for depositing and gameplay. Therefore, online poker gameplay itself is legal, just not via a site that operates from within the country.
Laws And Regulations In New Zealand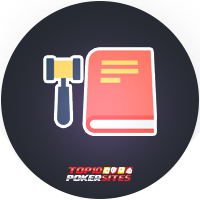 The history of gambling legislations in New Zealand is long. The Gaming and Lotteries Act of 1977 was one of the first notable legislations, followed up by the 1981 Boxing and Wrestling Act, 2003 Racing Act and the 2003 Gambling Act. The last one covers best all issues concerning online gambling such as poker, casino etc.
The Gambling Act is quite clear that gambling over the internet is not illegal even if that website is based overseas. This is the main reason why all poker sites on the internet accept New Zealand players. Even though this act was amended in 2005 and again ten years later, none of these amendments changed the legality of online poker for the citizens. Of course, all of this could change in the future, but it's very unlikely that it will.
In 2019 the Gambling Commission in New Zealand commissioned a report on problem gambling. The report shows that $60.3 million will have to be spent over three years on strategies relating to problem gambling. While offshore online gambling is illegal in New Zealand, that is under review, but there is no definitive answer as to whether changes will be implemented in 2019.
Poker Legislation in New Zealand has been in effect since the Gambling Act of 2003. However, the gambling act only allows for the New Zealand Lotteries Commission and TAB to offer online gambling in the country. The last time legislation was updated in New Zealand was in 2009 when Player Information Displays were required for all poker games.
However, the Gambling act of 2003 only pertains to online casinos or poker rooms operating in the country. The gambling act doesn't specify that New Zealand citizens can't play with poker rooms based outside of the country, but could potentially lead to legal issues and possible fines. With that said, there have not been any cases where individuals have faced prosecution for playing with operators offering services offshore.
New Zealand's Governing Body For Poker
The Gambling Commission, the Ministry of Health and the Department of Internal Affairs all monitor specific parts of gambling both online and offline. The Gambling Commission is where gambling operators go when they want to renew their licenses or get a new one. The Ministry of Health is responsible for protecting those afflicted by problem gambling as well as preventing problem gambling in general. The of Internal Affairs is responsible for administering gambling legislation.
However, keep in mind that you will not be protected or subject to the legal system of New Zealand in case you have fallen victim to fraud or unfair practices from an overseas poker site. You will be subject to the laws of the country where the site is hosted.
This doesn't mean that you are not protected. On the contrary, poker sites that accept New Zealand players are accredited by international gaming authorities. They are also independently audited by third-parties and certified in terms of the transparency, security and fairness. You just have to be careful not to sign up with poker sites that have constantly avoided such measures.
How to Find a Good Online Poker Room for New Zealand Players
Just because players from New Zealand can't play poker online from within the country doesn't mean that there aren't any foreign-based platforms available to turn to. Quite the opposite actually. Many online poker rooms welcome gamers from New Zealand, even often providing the possibility of depositing and playing in New Zealand dollars as well.
Because there are various online poker rooms in operation today, it can prove to be quite difficult to find one that will cater to you successfully enough. Fortunately, we have put together a collection of the very best poker sites for Kiwis. They're highly recommended by us, as we have played at them and experienced everything that they have available to players. That's why we suggest for you to browse through the collection of poker rooms on our site. We're certain that you'll find one that will cater to your gaming needs.
Aside from checking out the collection of New Zealand poker rooms that we recommend, you can also read the reviews that we have created about them. These will inform you on exactly what they're able to provide, what features they incorporate, the payment methods that are available to use, the games within the lobby and more. On the other hand, you can browse through reviews from other players of the poker rooms. Find out if there have been certain issues with platforms that haven't been resolved properly. After all, why would you make your way towards registering at a poker platform that has problems behind its everyday running?
Registering at an online poker room and then proceeding to deposit there shouldn't be something difficult, so you need to look at the ease of use of the poker room. Read details about the effectiveness of the support team, how quick withdrawals from the platform are, what the buy-in range is on the games, which poker network the site uses and more. Make sure that you're fully informed on it before you proceed with your sign-up and deposit.
Traffic & Games Offered
While there is a variety of different poker software used online, many operators opt to use software created by established software developers. This includes Evolution Gaming, Microgaming and Playtech. Others will elect to develop their own proprietary software such as that seen at Bet 365 or 888 Poker.
Whether you choose to play a proprietary software or listed software, players will have to experiment with the different kinds of games and software out there. There are two configurations of online poker software, allowing poker rooms to cater to the masses.
Streaming, the most popular form of gambling now comes in the instant play format. It gives players the chance to harness these games directly through their web-browsers. The second configuration of these software's is the downloadable form-factor, allowing for enhanced security by having the poker room directly downloaded onto your personal computer.
New players always overlook one side of online poker to online poker, and that's choosing the best time to play. There are those who will consider this odd, but fortune favours the bold. When you have a higher volume of players, generally there will be a higher number of cash tables available, and that can lead to substantially larger pots.
During the peak hours at a poker room, new promotions and daily promotions are likely to be launched. Not everything is rainbows and sunshine during the peak hours at a poker room though; when you play a tournament, there will be an increase of players in the tournament. Consequently, this can make it harder to win the tournaments grand prize. We recommend that during the peak hours in the day at your chosen poker room that you play regular lobby games. This will increase your chances six to one over a tournament.
Researching Bonuses & VIP Programs
Poker rooms offer players promotions that far exceed the expectations of a casino promotion. Not only are they more flexible in how they can be played and how cash outs can be obtained but it's also more exciting to use. Poker rooms also design their promotions to be used not just by new players but also by day-to-day players with the brand. These generous gifts can come in many forms allowing for bonus credits to be added into accounts. The guidelines of a poker room bonus usually stipulate that it will be a 50% to 100% match bonus that can be valued up to $500 in bonus money.
We recommend that players read through the terms and conditions of all promotions at their poker room. This is how you will find out what is required to cash out on the bonus and how long it will take for withdrawals to be paid.
Is It Safe to Play Online Poker from New Zealand?
Online poker is definitely a safe gaming experience, as long as you're accessing a site that is based outside New Zealand and that holds a valid gambling licence. The former of these points is because of the country's laws surrounding online poker gameplay from within New Zealand. Meanwhile, we always recommend playing at a licensed poker room, because this safeguards you against the platform doing what it wants with not only your money but your personal details. If it has a set of regulations to adhere to, then there's less chance of things going awry.
Your safety should be a key concern not only for you, but for the online poker site, too. You should feel safe not only playing at the online poker room, but depositing money there as well. As far as the legal side of things is concerned though, you shouldn't have any issues with playing online poker at an offshore site from New Zealand.
Deposits & Withdrawals For Kiwis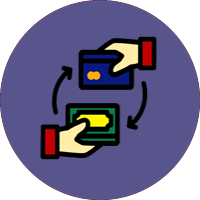 Generally speaking, many of the main payment methods that you can use at online poker rooms are also available to residents of New Zealand to use. Visa and Mastercard credit and debit cards are probably the largest and most well-known supported payment methods.
Of course, you need to be comfortable with entering your card details into an online gambling site to use this method.
It will provide an instant deposit, although withdrawals can take a few days to complete via card. You needn't worry if you don't want to use the card option though, because there are several alternatives.
First of all, you can use the POLi method at some sites, which is available quite exclusively to Australia and New Zealand. With this option, you can transfer money directly from your bank account and through POLi right into your poker room account. Withdrawals via this method aren't always available at poker rooms though, so if you do deposit with this option, you'll most likely have your withdrawals sent by bank transfer, which can take longer to process.
One method that we always recommend to poker players to use if it's supported at your chosen site, is a cryptocurrency. If you hold Bitcoin, Litecoin, Dash or any other cryptocurrency, you can make use of it for both depositing and withdrawing purposes. Cryptocurrencies provide players with speedy transactions that are also free in most circumstances. Because they're not connected to a central bank or financial institution, there's very little chance of transactions being blocked. So, if the opportunity is there to make use of a cryptocurrency, we definitely recommend taking advantage of it.
Other alternatives that are on hand at some poker rooms include things like e-wallets from Skrill or PayPal for example, or Paysafecard. The latter of these is a popular option because it happens to be quite the safe option to go for. You're not exposing any of your personal and private banking details by utilising a Paysafecard. The issue comes when you want to withdraw, as you won't often find it to be available for such a process. This means that you will need to withdraw via a bank transfer instead.
Of course, you can also make use of a standard bank transfer for depositing purposes as well, if you like. Fast bank transfers may be accepted, although these do also require you to reveal your bank details to the poker room site in the first place. This, like credit and debit card payments, is not something that some players are comfortable with. However, it is there to utilise if you should wish.
Poker Strategies & Advice
Grasping the expertise that is required to master online poker can take years of dedicated persistence. Over time with dedication, it is possible to accomplish this goal, but nothing is likely without the help of others. Rely on the support of the poker community by reading thousands of poker tips and tricks that will let you gain knowledge on how every variation of poker can be won. New players will be taught when it be best to wager low on hands or bet big, what is best to do when they're in a tournament or what cards create the best hands. These tips and tricks can be tested on free-to-play poker games, letting users master their skills before entering a real game or tournament.
Security & Support
There is one question that everyone usually has before they play poker for the first time on their mobile phones or computers. That question being is it safe? That depends on the poker room you play with. Those poker sites not displaying a badge from a gambling regulator most likely runs their service in a shady manner. However, those poker rooms that do have a gambling regulators seal of approval means that they operate under strict security protocols which stipulate fair and safe gambling for all. This promise is accomplished through security programs like 551-Encryption Coding & Proxy Firewalls.
It is incredibly easy to get swept away by a hobby that you enjoy and love. Everybody has done it during their life. It could be as easy as working out too much or playing poker on your computer too much. Most of the time we don't even pick up on when we're enjoying our hobbies too much. Luckily just like with anything else in life, there are rules you can set yourself to make sure it doesn't happen again. With online poker, it's always good to have a strict budget and to be aware of the responsible gambling programs in place at your poker room. This is a great way to make sure that your hobby doesn't get in the way of anything else.
FAQs when playing poker in New Zealand
Can I Deposit and Play with New Zealand Dollars?
This is the beauty of New Zealand poker sites. Since New Zealanders are major customers in terms of money and number of players, all major poker sites offer the option to make a deposit in NZD. Moreover, you get to wager in NZD. All of this eliminates problems like losing money due to the exchange rates etc.
What Banking Options are Available at New Zealand Poker Sites?
Based on the above mentioned reasons, major as well as minor poker sites that accept New Zealand players offer banking options that suit New Zealand players. For example, you can use POLi, Australia's and New Zealand's most popular online payment system. You can also use methods used internationally by other players too like Skrill, Neteller, Visa, Mastercard and many other depending on the poker site.
Do I Need to Download Poker Software?
No, but it's recommended that you download it because that way everything's more convenient for you. Instead of launching your browser each time to play poker, you can access the poker rooms directly from your desktop via shortcut. The graphics and sounds are of higher quality too. However, if you are using a public computer, it's best to use the no download option.
Do New Zealand Poker Sites Give Out Welcome Bonuses?
Of course,
welcome bonuses and subsequent promotions
are the backbone of this industry. Welcome bonuses are great because they make for an easier transition into
playing on a new poker site
. However, always find out about the wagering requirement before you accept any bonus. Some sites offer not so favourable conditions on bonus usage, which later can affect your ability to withdraw your winnings.
Are There New Zealand Poker Sites Optimized for Mobile Devices?
You can't proclaim your poker site as a top online poker establishment without offering players different ways of accessing the poker rooms. As a consequence almost every poker site that accepts New Zealand players has a desktop and mobile version of the poker client. This makes things more convenient for players that don't have the time to use their PCs or laptops and mostly spend their time on their smartphones or tablets.