Offshore Poker Sites – Best US friendly Offshore Poker Sites
Poker is hands down the most popular card game in the world, played everywhere from local casinos to major worldwide tournaments. Unfortunately for many poker fans in the US, the situation with the
gambling industry in the States
is a bit convoluted.
Only three states in the US currently offer state-regulated poker rooms. As for the folks not living in any of these states — well, they would have to engage in online poker gaming through offshore poker sites.
To lend a helping hand to our fellow poker aficionados, I've decided to create this page that clearly shows which offshore poker sites are considered trustworthy, and for what reason.
Moreover, I want everyone to have a clear and concise understanding of the legalities involved in legal offshore gambling. We'll look into this matter in detail and discuss things like:
So, what are we waiting for? Let's dive in.
The List of the Best Offshore Poker Sites for US-Based Citizens
After consulting with a team of industry professionals, I have compiled a list of the best offshore poker sites available for US players. I've highlighted the welcome bonuses offered by each operator, as well as deposit options available on these sites.
My list of the best US poker sites which I consider to be the best rooms to play in 2023:
100% Legal & Licensed Verified Bonus Mobile Friendly Advertiser Disclosure. Must be +18 to participate.
Rank
Poker Rooms
Bonus
Review...
1.

Bonus

100% up to $1000

(T&C apply. 18+)

Features

100% First deposit bonus
Promo Code: NEWBOL
Banking through cryptocurrencies
Top 3 in US player traffic

Payout Speed

1-3 days

Licensed by

2.

Bonus

100% upto $3000

(T&C apply. 18+)

Features

Increased Poker Crypto Bonus $1500
Exclusively for US players
Many Payment Options
Rich Player Traffic

Payout Speed

1-3 days

Licensed by

3.

Bonus

200% upto $1000 Welcome Bonus

(T&C apply. 18+)

Features

Recreational Player Traffic
Get a 200% Match on Your Initial Deposit
Wide Tournament Selection
High-Quality Games

Payout Speed

1 - 5 days

Licensed by

4.

Bonus

200% upto $1000 Welcome Bonus

(T&C apply. 18+)

Features

200% up to $1000 poker bonus
Bonus code: 1000JUICY
High-quality software
Competitive poker tournaments

Payout Speed

1 - 6 days

Licensed by

5.

Bonus

100% upto $1000

(T&C apply. 18+)

Features

VIP Loyalty Program
Weekly Progressive Jackpot
Reliable Customer Support
US-Friendly

Payout Speed

1-3 days

Licensed by

6.

Bonus

100% up to $500

(T&C apply. 18+)

Features

Guaranteed Tournaments
Quick, secure payouts

Payout Speed

1-3 days

Licensed by

7.

Bonus

100% upto $1000 Welcome Bonus

(T&C apply. 18+)

Features

Rich Player Traffic
Special Promotions
Get Free $1,000
US-Friendly

Payout Speed

2 - 5 days

Licensed by

8.

Bonus

100% upto $1000

(T&C apply. 18+)

Features

Up to $1000 Sign Up Bonus
Promo Code: NEWSB
Highly Responsive Customer Support
Easy-To-Orient
Soft Competition

Payout Speed

1-3 days

Licensed by
If you're new to the online casino industry, it can be tricky to recognize the distinction between these sites. But that's where our in-depth reviews kick in. We have thoroughly examined the ins and outs of each of the operators from the list — feel free to check it out before making the final call.
We're constantly updating the list to include the absolute best offshore poker sites on the web, along with their latest bonuses, offers, and promotions.
How We Evaluate Offshore Poker Sites
Some operators are notorious for raking in massive profits through illegal business and shady promotional tactics. For that reason, you should find a legitimate offshore poker site — one that won't charge you a small fortune for withdrawals and provides genuinely rewarding promotions for its patrons, to start with.
Finding a trusted offshore site in the US is like finding an oyster with a pearl in it. Most operators aren't 100% honest, often adding hidden charges in sign-up offers. There are even those that will restrict your betting activities by imposing ridiculous and seemingly unwarranted policies.
The main problem with playing at offshore sites is that you can't complain to the authorities if something goes wrong. But don't worry, we got your back.
All the sites from our list have been tested firsthand for security, bonuses, customer support and other significant features. Ultimately, it's up to you to decide which of them suits you the most.
When evaluating offshore poker sites, we consider various factors. Below, you can read an overview of the process we go through when rating and reviewing each operator.
Safety and Security
This aspect is of paramount significance to us, and we can assure you that we take no shortcuts when finding a safe offshore site for you to play poker at. The first thing we check is whether or not a site has a valid license. Reputable licensing organizations make it extremely hard for poker operators to be dishonest.
If we notice any signs of player mistreatment, there's no chance that this poker site will end up on our list. We do our absolute best to protect our readers from fraudulent operators and stick to poker sites that have integrated the top-notch security measures. These sites use the latest generation of SSL encryption software, as well as state-of-the-art firewalls.
Website Design and Navigation
Top offshore poker sites must be easy-to-navigate. We always closely study the user interface and instantly disregard operators where it takes an eternity to find everything you need.
The menus and all the significant features should be organized neatly, so you can reach your desired destination within seconds. If you're a high roller who plans on playing high-stakes poker regularly, you surely don't want to get stuck with a website where you must spend a couple of extra minutes to find what you were looking for because it's not optimized well enough.
You can rest assured that you won't encounter these kinds of problems on any of our sites.
Promotions and Bonuses
One of the perks of playing poker online nowadays is that there is a vast number of bonuses available at almost every site. Offshore poker sites from our list will welcome you with open arms, offering hefty bonuses as soon as you join their ranks, but the perks don't stop there.
When you've used up your welcome bonus, there are plenty of other exclusive promotions that will boost your bankroll and increase your winning chances. You can take advantage of various perquisites, including loyalty programs, monthly deals, tournament awards and similar gifts.
Betting Limits and Banking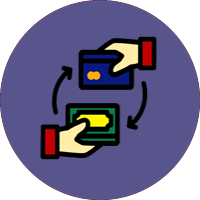 Well-balanced betting limits are another significant aspect that we took into consideration when compiling a list of the top offshore poker sites. A good poker site would look to cater to both small-time recreational gamblers and high-rollers alike. That's why minimum betting limits should be low (50c or $1), while the maximum limit should go into the thousands.
Banking should also provide quick transactions with adjusted limits. The top 10 offshore poker sites on this page all have a variety of payment methods like credit cards, prepaid cards, e-wallets, bank wires, and cheques, while some even allow cryptocurrency transactions. The minimum deposit limits are low, while maximum withdrawal limits vary depending on the method of your choice.
Mobile Compatibility
Sometimes, winning opportunities may arise when you don't have access to your computer. And by the time you get to your laptop, the opportunity may be gone for good.
The most convenient way to avoid such situations is to bet from your tablet or phone. For that reason, we recommend offshore poker sites that are mobile compatible. At most of them, you won't even have to download anything to play.
The big guns in the industry have platforms that are optimized for all devices — iPad, iPhone, Android and Windows Phone. There's nothing more exciting than being able to play a few poker rounds on the go, and with operators from our page, you can do just that.
Are Offshore Poker Sites Legal for US Citizens?
There are some US federal laws that address online gambling, but none that forbid playing online poker on offshore poker sites. According to the Federal Wire Act, each individual state has the right to determine whether they want to allow state-regulated poker sites.
Apart from Washington, there aren't any state laws in the US that explicitly forbid playing poker at offshore sites. Most online gambling laws in the US are in the grey area — neither allowing nor forbidding betting at offshore poker rooms.
Even if we look at some of the most conservative states in the US, their authorities are more focused on going after the operators that accept bets from US players than after players themselves.
No American citizen has ever been arrested, indicted, or prosecuted by the feds for playing at an offshore poker site. With all this in mind, we can safely conclude that US-based poker players can play at offshore poker sites with a peace of mind.
Our page covering the US poker sites provides a more in-depth look at the relevant laws that impact the online gambling landscape in the US.
Offshore Poker Sites that You Should Avoid
As we mentioned earlier, not all poker sites operate in players' best interests. Experienced poker players surely remember when Full Tilt Poker stacked the deck against ordinary players. Recent fraudulent cases include Full Flush Poker and Lock Poker.
You should stay away from online poker clubs that use the agent system to organize real money games on play money apps.
Global Poker utilizes the "sweepstakes" system in which players buy play money and have the equivalent of real money added to their accounts. I noticed a lot of complaints about Global Poker on poker forums and Reddit.
There are also a lot of tell-tale signs that a site is fraudulent, like delayed payments or payment platforms withdrawing their services from a poker site. This was the case when PayPal withdrew its services from Global Poker.
Our advice is that you limit your online poker action to the trusted sites from our list. We've been around the gambling industry long enough to recognize a fraudulent site from a mile away. Rest assured that scam poker websites won't get near our list.
Types of Poker to Play at Offshore Sites
One thing you'll instantly notice when you land on an offshore poker site is that there are various types of poker available. This is also one of the main benefits of playing poker online, compared to the land-based poker rooms. How so?
Well, let's say you walk into a live poker in your home state and see that there are 20 tables with around 40 players. What are your options here? You can't play a tournament of your choosing, or switch to a ring game when you please — you have to play whatever the dealer is offering.
This is not the case with offshore sites. These gaming establishments boast a massive player base. Elite offshore poker sites feature table sections in ring games, tournaments, and more. You can find anything from free-roll tournaments to high-stakes tournaments.
And if you want to play Omaha or Play 7-Stud instead of the regular Texas Hold'em, you can easily select these options. Playing on offshore sites gives you substantially more options than playing poker in land-based establishments.
There are many types of poker on offshore sites whereas, if you go to a real casino or a poker room, chances are that you'll be stuck with just one.
Benefits of Playing on Offshore Sites in the US
We've listed one huge advantage above, talking about multiple game variations you have at your disposal when playing poker online, but the perks don't stop here. Below, we've listed all the positives of playing poker on an offshore site as a US citizen.
There are always players with whom you can play any variation of poker you want;
You can decide on the skill level and sit by the table you want to play at;
Online poker sites offer massive bonuses, unlike their land-based counterparts;
You get to play from the comfort of your home;
You can play from any device you want;
You can play in demo mode for free before you properly learn the game;
You can check out with your chips whenever you want;
You don't have to worry about rigged games — elite sites cannot be hacked.
There is also one more thing which we wouldn't necessarily call a "benefit" but it pertains to US players and offshore sites. Namely, only three states in the US have state-legalized poker rooms. So, you're not left with a lot of options, and playing on offshore sites is a great alternative.
How to Choose a Reliable Offshore Poker Site?
One thing we know for sure is that there are hundreds, if not thousands, of poker sites out there. But are they all reliable? Certainly not.
Most of them will offer some kind bonuses, a solid variety of games, and an RNG to keep things fair. However, you shouldn't settle for anything less than the absolute best. That said, here are some factors worthy of consideration when trying to find the best offshore poker site:
Look for a well-established brand with a large player base;
That site must offer a large variety of freerolls, tournaments, table, and ring games;
It must support at least 10 payment methods;
It has a great software platform that loads quickly and runs smoothly;
It offers the ability to simultaneously play at multiple tables;
It has a mobile-compatible platform;
It has Fort-Knox level of security;
It provides lucrative bonuses and promotions to its patrons.
If you can find an offshore poker site that meets most of (if not all) these requirements, then you've found yourself a rock-solid place to play poker at. And if you don't want to waste your time, just follow our lead and check out our list.
Conclusion
Let's face it — finding an offshore gambling site is sometimes the only way to enjoy online poker in the US. It certainly is the most exciting and rewarding one. But that doesn't mean that you should register at the first poker site that you come across. Real money is on the line, and you can never be too cautious.
We did our utmost best to find the most trustworthy and reliable offshore sites for you to indulge your passion for poker. You've probably heard this before, but that doesn't make it less true. Let's make a deal — try a few rounds of poker at some of these sites in demo mode, and if you don't like what you see, go somewhere else.
If there's anything else that we can help you with, please let us know in the comment section below.
FAQs
Are US-friendly offshore poker sites from this page legitimate?
All the sites we recommend on this page are 100% legitimate. They are all regulated by a respected licensing jurisdiction. With this type of licensing comes a level of accountability, as licensing jurisdictions are strict and operators must maintain their credibility.
How do I know that the games are not rigged?
First of all, part of our review process is to make sure that all the games are genuinely random and fair. We do this by checking whether the poker site holds compliance certifications of their RNG technologies. Also, we check the site's reputation among other players. Trust us — a bad review or two can spread like wildfire.
What poker variations are available at offshore poker sites that accept US players?
There are several different poker games at each of the sites from our list — Omaha, Texas Hold'em, Draw, Pai Gow Poker, Exchange Poker, Tequila Poker, and more.
Can I deposit and withdraw money from offshore poker sites?
In today's day and age, it doesn't really matter where you live when it comes to online casino transactions. These offshore sites support a wide range of US-friendly banking methods, including credit/debit cards, e-Wallets, and even cryptocurrencies.
Can I play at offshore sites from my mobile device?
Absolutely! All these sites are mobile-compatible, offering their players the possibility to play poker on the go. In fact, some of our featured brands have a dedicated-mobile poker app.