Ultimate Guide to Setting up Home Poker Games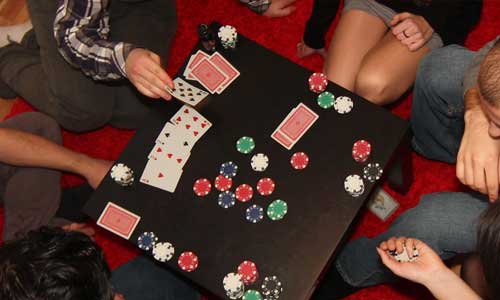 There are only a couple of activities more enjoyable and fun than inviting some friends over for a night of poker.
Hosting a poker night is a great way to beat the monotonous grind of playing online.
It's a rewarding experience that allows you to shape the game according to your vision.
You can catch up with your buddies while playing cards — as well as make some cash in the process.
Hosting a home poker night isn't as easy as it might seem — it takes much more than a deck of cards and a six-pack of beer. There are specific responsibilities involved in the planning of a perfect poker home-game. However, if you do everything right, we promise it will be worth your while.
Get Ready To Host A Poker Night With These 9 Must-Do's
In this guide, we will tell you everything you need to know to plan an ideal poker night during which everyone will have an enjoyable time. If you want it to be a night to remember, here are some things to put on your to-do list:
We'll elaborate on each of these points in the article, so buckle up and let's take off!
1. Plan
There's more that goes into a first-class poker night than meets the eye. First, you must make sure you have obtained all the necessary supplies for poker — a table, cards, chips, snacks, drinks, and so on. A friendly, vibrant playlist can make the atmosphere enjoyable. If you want to take it up a notch, you can buy some cigars. And last but certainly not least, you need people.
While you can play with fewer, around ten people is a good number to keep things interesting. That's also how many slots most poker tables have anyway.
Once you got all the tools, imagine how you would like your poker home game to be. Imagine your buds knocking at the door and you letting them in. They might want to grab some snacks along with some drinks right away.
Do you want to postpone the game a bit for the latecomers, and how long will you wait? Make a back-up plan if someone doesn't show up. If you run out of food and drinks, what will you do? As the host, you want to make sure you run through all possible scenarios.
You want to let everyone know about the venue a couple of weeks in advance. Once you decide on a date, tell your friends to put reminders in their calendars. It's not like the guys are going to give you a hard time for not planning everything down to the last detail, but you know how the old saying goes — better safe than sorry.
2. Learn the Game
When I hosted my first home poker night, I didn't know much about poker — only the cards denomination and some basic rules. Fortunately, there was a guy in the group who knew poker inside and out. Without him, we would have spent the entire evening on our smartphones, trying to figure out the rules.
Familiarise yourself with hand rankings, betting flow, and rules. As the host, you must know this kind of stuff. The more you know about the game and the more confident you are, the better you can lead the players through the gameplay.
Here's a nice video that shows all basic poker rules:
Howcast
3. Decide Whether You Want a Serious or Social Poker Night
Poker is a competitive game of skill in which better players are always rewarded in the long run, while the weaker ones are punished. As a result, some players might take the game very seriously.
Even a clash may occur between those who came to socialize and drink and those focused on the game. Will you host a night of serious poker or a casual social gathering?
You should find a balance between the two categories. There are a couple of tips and tricks that can help you keep the chips uncluttered and the cards turning smoothly. As a rule of thumb, you should set a predetermined buy-in according to your friends' gameplay preference.
If your group of friends consists of WSOP aficionados, go for a higher buy-in. On the other hand, if you think your pals are hoping for a casual night, be a little more lax with the buy-in and time-keeping.
Whatever the case, remind your crew that you're a friendly bunch that doesn't take things too seriously.
4. Table and Chips
You don't necessarily need to browse for WSOP poker tables on Amazon — any dining table will do the trick. A nice table adds to the atmosphere and enjoyment of the evening. It can make you feel like you're in a secret basement of a club, playing outside the law.
While buying actual tables can be expensive and take up a lot of space, table toppers are a cheap and convenient solution for the occasion. To make it even more cost-effective, you can split the cost with your friends.
The second most important thing on your to-obtain list is a set of poker chips. A 500-chip set should suffice, but it's always good to have a spare set on hand, especially if you allow the guys to buy back once they've gone bankrupt on their initial set.
Most sets come with four colours of chips — you'll need to decide on the denomination of the chips. You can go either way, there's not an established rule for this, so we suggest the following:
Blue $5
White $10
Green $20
Red $40
In a buy-in game, these numbers don't mean anything. The only actual money exchanged is at the end when the winner collects the grand prize. So you can value the chips as you please — $10 or $10,000.
If you want to learn how to count poker chips like a pro, take a look at the following video:
Howcast
5. Establish House Rules
Several house rules need to be established before you kick off your poker night. These rules can be about anything — from player etiquette and the gameplay to the environment you're playing in.
For example, your house poker rules can govern how many chips each player receives at the start of the game, how much a player can buy back when he goes outs, penalties for playing out of turn, when to raise blinds, etc.
When it comes to non-gameplay regulations, you can make rules about whether players can wear sunglasses, whether cell phones are allowed at the table, whether you're permitted to go to the toilet after you've folded, and other similar situations.
6. Make It Consistent
For any group, be it serious or social, consistency is the key. Of course, if your poker night is a one-time thing, then there is no need to worry about the long-term schedule.
If you've come to an agreement with your pals about the date, don't change it. Some folks might cancel but you can't hold that against them as they probably have other things to do. The reality is that you won't have everyone present at all times.
If, for example, only four out of the ten guys you invited could make it, don't postpone the event. Stick to the original plan and ask some other guys from a wider circle of friends to come over. Tell the regulars to invite some newcomers as well to make it even more exciting. Don't fall into despair, your poker night can still be awesome.
It's wise to arrange a regular interval for your game night and always have it on the same day. So if you plan on playing once a month, it can be the last Friday of the month. If you're a busy family guy, you can do it on Saturdays.
This way, you won't have to adapt to a bunch of schedules. Set a time — whoever can make it is welcome, and if someone can't, it's no big deal.
7. Food and Drinks
Apart from the supplies needed for playing poker, you will need a hefty stack of beverages and snacks.
Organising this shouldn't be a problem — just tell everyone to bring some snacks and drinks. For snacks, you want to keep it simple — go with dips, chips, wings, nuts, and so on.
We recommend that you put the snacks at a designated table, away from the poker table. You wouldn't want to see people spilling stuff on the green felt.
As for the drinks, don't exaggerate. Tell everyone to bring a six-pack or perhaps one ingredient for the classic cocktail you'll be serving. It all depends on how classy you want the event to be.
Also, it's good to have some non-alcoholic beverages available too. Those are not just for the designated drivers and teetotallers — if your game runs for several hours, you will probably want something other than alcohol to keep a clear head.
8. Pick an End Time
This may seem irrelevant, but it's crucial for the success of your evening. Some players play passively and could stay at your place for days if allowed to. Setting a predetermined end time will boost everyone's competitive spirit.
You should also decide when you'll raise the blinds (it's usually after 30-60 minutes of play). Needless to say, make sure that your end time is approved by your roommates whose space you're taking over for the evening.
9. Enjoy and Have a Great Time
All that's left now is to turn on some good music and up your ambience game. Wait for your friends to show up and get the party started!
We hope that our guide was helpful and informative. If you need any help hosting a poker night, feel free to leave a comment in the Comments section below.