Legal South Dakota Online Poker Sites
Aside from Mount Rushmore and the Black Hills, most gamblers know South Dakota for its stringent gambling laws. The state allows several forms of gambling and offers many live poker opportunities, but it has little tolerance for any unregulated gambling activities.
In fact, it is one of the few US states that has defined internet gambling in its statutes and criminalizes the operation of online gambling businesses. This means that South Dakota is currently against the legalization of online casinos and poker rooms, and you won't find such platforms on its soil. Still, SD online poker fans do have a few options to enjoy this casino classic.
Keep reading to learn more about online and land-based poker laws in South Dakota and where to play this game in the state.
Is Online Poker Legal in South Dakota?
Poker has a rich history in South Dakota that dates back to gold miners and traders of the second half of the 19th century. Before it became a state, gambling houses and saloons were extremely popular and could be found mostly in Deadwood. But once South Dakota was admitted to the Union in 1889, the lawmakers passed the constitution prohibiting all gambling forms.
The situation remained unchanged until 1933 when horse racing pari-mutuel wagering was introduced. Things progressed slowly on this front, and SD legalized the state lottery in 1986, and the first casinos opened their doors in 1989. Then, in 1993, more gambling halls were added to the mix when the state signed tribal compacts. Currently, South Dakota is home to over 30 brick-and-mortar casinos.
Not much has happened since then, and the latest type of legal wagering that arrived to the Mount Rushmore State was on-site sports betting in 2021. Unfortunately, online casinos and poker remain unregulated for the time being.
Poker Laws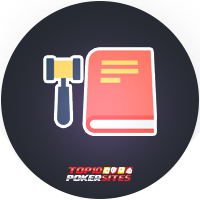 Before you start playing real-money poker in South Dakota, read the following laws to better understand its legal framework.
Best Legal Online Poker Rooms in South Dakota
In the following section, we will discuss where you can play
online and land-based poker
in South Dakota.
Legal Online Poker in South Dakota
Considering the number of land-based casinos in the state, it stands to reason that South Dakota would be one of the first states to regulate online casinos and poker. However, the reality is a little different. The Mount Rushmore State has strict penalties for those involved in accepting wagers online.
Several years ago, South Dakota included an entire chapter (22 – 25A) in its statutes, defining online gambling and the penalties involved. Breaching this law is considered a felony, and one can face a fine of up to $10,000 or one year in jail. However, it is clear that the state is after those who provide the games, not the players.
Considering this, it is obvious why South Dakota has not considered the legalization of online poker or internet gambling of any kind. Some speculate that this is due to the powerful live gambling interests wanting to limit competition. In 2011, state Governor Dennis Dauggard stated he would like to educate himself about online gambling before taking action, perhaps the only indication some lawmakers were interested in regulating the activity.
Nevertheless, SD residents still have some options for playing online poker. The state allows sweepstakes platforms and social casino sites because they use a different type of currency with no monetary value.
Another alternative is international gambling sites which are constantly on the rise. Aside from offering convenience and flexibility, they attract players with hefty bonuses, and a large number of live and RNG poker games and tournaments.
Offshore sites are not licensed by South Dakota but by international regulatory bodies, such as Malta Gaming Authority, Gibraltar Gambling Commissioner, and Curacao Gaming Control Board. Make sure to always pick those that are licensed, safe, and with a good reputation.
My list of the best US poker sites which I consider to be the best rooms to play in 2023:
100% Legal & Licensed Verified Bonus Mobile Friendly Advertiser Disclosure. Must be +18 to participate.
Rank
Poker Rooms
Bonus
Review...
1.

Bonus

100% up to $1000

(T&C apply. 18+)

Features

100% First deposit bonus
Promo Code: NEWBOL
Banking through cryptocurrencies
Top 3 in US player traffic

Payout Speed

1-3 days

Licensed by

2.

Bonus

100% upto $3000

(T&C apply. 18+)

Features

Increased Poker Crypto Bonus $1500
Exclusively for US players
Many Payment Options
Rich Player Traffic

Payout Speed

1-3 days

Licensed by

3.

Bonus

200% upto $1000 Welcome Bonus

(T&C apply. 18+)

Features

Recreational Player Traffic
Get a 200% Match on Your Initial Deposit
Wide Tournament Selection
High-Quality Games

Payout Speed

1 - 5 days

Licensed by

4.

Bonus

200% upto $1000 Welcome Bonus

(T&C apply. 18+)

Features

200% up to $1000 poker bonus
Bonus code: 1000JUICY
High-quality software
Competitive poker tournaments

Payout Speed

1 - 6 days

Licensed by

5.

Bonus

100% upto $1000

(T&C apply. 18+)

Features

VIP Loyalty Program
Weekly Progressive Jackpot
Reliable Customer Support
US-Friendly

Payout Speed

1-3 days

Licensed by

6.

Bonus

100% up to $500

(T&C apply. 18+)

Features

Guaranteed Tournaments
Quick, secure payouts

Payout Speed

1-3 days

Licensed by

7.

Bonus

100% upto $1000 Welcome Bonus

(T&C apply. 18+)

Features

Rich Player Traffic
Special Promotions
Get Free $1,000
US-Friendly

Payout Speed

2 - 5 days

Licensed by

8.

Bonus

100% upto $1000

(T&C apply. 18+)

Features

Up to $1000 Sign Up Bonus
Promo Code: NEWSB
Highly Responsive Customer Support
Easy-To-Orient
Soft Competition

Payout Speed

1-3 days

Licensed by
Land-Based Poker in South Dakota
South Dakotans have always been fond of poker, and the game was popular long before the first land-based casinos saw the light of day. During the 1880s, most of the illegal gambling took place in Deadwood, which later became home to all commercial casinos.
Aside from that, Deadwood was also the place where some of the most legendary poker stories occurred. For instance, a famous poker player of the time, James ''Wild Bill'' Hickok, was shot while playing the game at No.10 Saloon. The poor man was holding a pair of black aces and a pair of eights, a combination that later became known as the ''dead man's hand.''
Another famous character from that time was ''Poker Alice'' Ivers, a woman who played poker better than most men at that time.
Fast forward to 1988, South Dakota approved the construction of casinos and became the third US state to allow traditional casino gaming after Nevada and New Jersey. Over 20 commercial gambling halls started operating soon after that, all situated in Deadwood. The regulatory body appointed to oversee this activity was the South Dakota Gaming Commission.
The following are some of the largest and most visited poker facilities:
Cadillac Jack's Gaming Resort
Silverado Franklin Historic Hotel & Gaming Complex
Saloon No.10
Gold Dust Casino & Hotel
In 1993, SD signed compacts with several Native American tribes, and soon after, a dozen of them opened their doors to the public. Here are the biggest ones:
Dakota Sioux Casino and Hotel
Grand River Casino and Resort
Prairie Wind Casino & Hotel
Royal River Casino & Hotel
Land-based casinos must abide by a strict betting limit, and no-limit games are prohibited. Before 2000, the maximum bet that could be placed was $5. Fortunately, the law was amended that year, and the limit was increased to $100. In 2012, Deadwood casinos managed to boost the limit once more to $1,000.
Small businesses, clubs, and bars can also host poker tournaments, provided players' bets don't exceed $50. On the flip side, home poker games are technically illegal because the state has never taken any action to regulate them, but it also didn't prosecute anyone for playing poker in a private setting.
How to Register on a Legal Online Poker Site in South Dakota
If you live in South Dakota and want to
set up an account with one of the operators
we recommended on this page, you can do it in several easy steps:
Choose A Poker Room
Compare several operators on the list by checking their cash games, tournaments, and other vital aspects, such as bonuses and whether they offer favorable terms and conditions.
Once you are happy with your choice, click on the link we provided, and it will take you to the operator's official website.
Signup
Click the Join button and start the registration process. Provide your personal identification information correctly. Then, submit your request.
Check your email or phone for verification messages. If using a phone, input the code you received via SMS. If you chose an email, click the link the casino sent you to verify your account. Now you can log in.
Deposit & Play
Once there, go to the Payment section to check all the available banking options. Choose one and make a deposit. Don't forget to transfer enough funds to claim a welcome bonus.
Transactions are usually instant, so as soon as you see the funds on your player account, you can pick a game and start having fun.
Land-Based Casinos With Live Poker
As mentioned, the Mount Rushmore State is home to 35 brick-and-mortar casinos, 23 commercial gambling halls, and 12 Native American gaming establishments. Most of them offer only slots and video lottery, and only a handful have separate poker rooms.
Silverado-Franklin has the largest poker room with six tables where you can enjoy Texas Hold'em and 3-Card Poker Progressive. It is also home to the South Dakota State Poker Championship and Deadwood Shoutout Poker Tournament.
Cadilac Jack's Gaming Resort is another casino with a five-table poker room. It offers Texas Hold'em, Omana, and Pineapple, and regular weekly tournaments.
Saloon No.10, the famous bar where Wild Bill lost his life, has only two poker tables. Players go there to enjoy Texas Hold'em, Omaha Hi/Lo Split, Razz, Seven Stud High, Super 8 High, Crazy Pineapple, and several other variations.
Other gambling halls we included in the list below have either one or two-table poker rooms with similar game offers. But besides poker, these facilities also provide different kinds of entertainment, fine and casual dining, and accommodation.
If you are 21 or older and want to experience live poker action in South Dakota, this is where to go:
Other Resources
Final Thoughts
Seeing that the state has gone to such lengths to prohibit online gambling in its legal code, it seems impossible to persuade lawmakers to change their minds. Additionally, the state's population is a little over 900k, so there isn't likely to be much demand for licensed online poker from either the general public or international gambling giants. Even if South Dakota legalized online poker, it would need to make interstate agreements to share player pools with other states; otherwise, any internet gambling regulatory framework would almost certainly fail to survive.
Until the Mount Rushmore State implements a fully legal online poker policy, its residents can hone their skills on sweepstakes and social poker sites or visit the offshore casinos we recommended in the article.

FAQ
Is online poker legal in South Dakota?
No, it isn't. South Dakota has passed a specific law that prohibits real-money online gambling. However, it must be said that the statute only criminalizes those who attempt to run and manage the games. Individual players are not targeted, and the state has never prosecuted anyone for such activities. Therefore, many players enjoy their favorite games at offshore poker sites freely.
What gambling forms are legal in South Dakota?
The Mount Rushmore State allows on-site sports betting, commercial and tribal casinos, the state lottery, charitable gaming, bingo, dog racing, and horse racing betting.
Where can I play live poker in SD?
Although South Dakota has over 30 casinos, not all have dedicated poker rooms. Most players visit Silverado Franklin, which has a cardroom with six, and Cadillac Jack's Gaming Resort, with five tables. The other casinos we mentioned above have one to two tables.
What is the minimum gambling age in SD?
The minimum legal gambling age in the Mount Rushmore State depends on the activity. Thus, you have to be 21 or older to be able to play at tribal and commercial casinos and 18 or older to play the lottery or engage in pari-mutuel betting.