Legal Online Poker in Washington
Though Washington is notorious for its attitude toward the sweepstakes model, the state seems at par with most of its neighbors in its treatment of other gaming categories. It allows horse betting, land-based casinos and lottery. It also became the 32nd state to introduce sports betting in 2020.
Still, an important detail makes WA gambling laws stand out from the bunch. The Evergreen State is one of the few in the US that categorically prohibits internet gaming, including online poker. Consequently, it's home to no state-licensed online casinos or poker rooms.
As you can imagine, conditions like these don't sit well with WA poker enthusiasts. Therefore, many pursue their hobby at offshore gambling sites available in this state.
To help you understand how this works, we will dive into the intricacies of poker in Washington, exploring its availability and legal status.
Is Online Poker Legal in Washington?
Washington's gambling history dates back to the state's inception. Just like in the rest of the country, this activity was rampant in WA until the Constitution banned it in 1889. All forms of gambling remained prohibited in the state until the adoption of a horse betting bill shifted the tide, prompting other changes to ensue.
Washington legalized pari-mutuel horse betting in 1933 as a result of years of activism.
Bingo and raffles entered WA law books in 1971.
Washington voters approved the repeal of the state-wide gambling prohibition the following year.
Punchboards/pull tabs, social card games, and other charitable gaming categories joined the mix in 1973.
The legislature authorized the establishment of the state lottery in 1982.
The Lummi Tribe and Tulalip Tribe opened the first land-based tribal casinos in 1992, following the 1988 Indian Gaming Regulatory Act (IGRA).
The last in this series of inclusions took place in 1997, when the authorities legalized land-based house-banked games like poker. Only nine years later, the tone changed, leading to the Evergreen State authorities banning all forms of internet gaming.
Despite efforts to repeal it, this law is still in force today. As a result, all online casino games, including poker, remain illegal in Washington. According to the constitution, breaking this law constitutes a Class C felony punishable by imprisonment or fines.
Poker Laws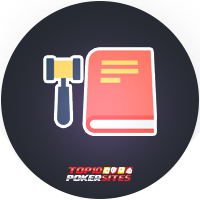 If you want to stay on top of Washington's poker regulations, it's vital to have a thorough understanding of the most important laws.
For your convenience, the following list features the most important ones.
Best Legal Poker Rooms in Washington
Now that we've laid the foundation for understanding the WA poker scene, let's get into the nitty-gritty. The section below discusses the best legal land-based and online poker rooms available in Washington.
Legal Online Poker in Washington
The idea of iGaming started gaining traction in the US quickly after the popularization of the internet. With no clear federal regulations governing this category, individual state governments had to interpret it within their legal frameworks.
States like New Jersey and Delaware took a proactive approach, seeking to legalize and capitalize on the rapidly-growing industry. However, Washington had a different perspective.
Fearing the burgeoning sector would cannibalize the newly-established and flourishing land-based gambling scene, WA authorities took radical action. They passed a constitutional amendment that revised the State Code, banning all forms of online gaming in 2006. Senate Bill 6613 read:
Whoever knowingly transmits or receives gambling information by telephone, telegraph, radio, semaphore, the internet, a telecommunications transmission system, or similar means, or knowingly installs or maintains equipment for the transmission or receipt of gambling information shall be guilty of a class C felony subject to the penalty set forth in RCW 9A.20.021.
Despite continuous Poker Players Alliance protests and numerous individual appeal attempts, Washington lawmakers were steadfast in their decision, restating their position after the internet ban expanded to another category — sweepstakes and social online games.
Namely, in 2018, in response to the Kater v. Churchill Downs case, the Ninth Circuit Court of Appeals found that online games that use virtual casino chips violate the Washington State Gambling Act. This ruling caused sweepstakes gaming platforms to pull from the Evergreen State, leaving WA poker fans with no state-licensed online poker rooms to play at.
To appease their appetites, a lot of Washington residents now enjoy their favorite game at offshore poker sites. These platforms are licensed and registered outside WA borders, so they don't violate any of its laws by offering the online version of the game.
If you'd like to join one, you'll have access to some of the best and most competitive live poker games and tournaments in today's market. Nevertheless, with the WA internet gaming ban still in effect, registration at these sites carries some risks. So, it might be wise to consult a legal professional before taking action.
My list of the best US poker sites which I consider to be the best rooms to play in 2023:
100% Legal & Licensed Verified Bonus Mobile Friendly Advertiser Disclosure. Must be +18 to participate.
Rank
Poker Rooms
Bonus
Review...
1.

Bonus

100% up to $1000

(T&C apply. 18+)

Features

100% First deposit bonus
Promo Code: NEWBOL
Banking through cryptocurrencies
Top 3 in US player traffic

Payout Speed

1-3 days

Licensed by

2.

Bonus

100% upto $3000

(T&C apply. 18+)

Features

Increased Poker Crypto Bonus $1500
Exclusively for US players
Many Payment Options
Rich Player Traffic

Payout Speed

1-3 days

Licensed by

3.

Bonus

200% upto $1000 Welcome Bonus

(T&C apply. 18+)

Features

Recreational Player Traffic
Get a 200% Match on Your Initial Deposit
Wide Tournament Selection
High-Quality Games

Payout Speed

1 - 5 days

Licensed by

4.

Bonus

200% upto $1000 Welcome Bonus

(T&C apply. 18+)

Features

200% up to $1000 poker bonus
Bonus code: 1000JUICY
High-quality software
Competitive poker tournaments

Payout Speed

1 - 6 days

Licensed by

5.

Bonus

100% upto $1000

(T&C apply. 18+)

Features

VIP Loyalty Program
Weekly Progressive Jackpot
Reliable Customer Support
US-Friendly

Payout Speed

1-3 days

Licensed by

6.

Bonus

100% up to $500

(T&C apply. 18+)

Features

Guaranteed Tournaments
Quick, secure payouts

Payout Speed

1-3 days

Licensed by

7.

Bonus

100% upto $1000 Welcome Bonus

(T&C apply. 18+)

Features

Rich Player Traffic
Special Promotions
Get Free $1,000
US-Friendly

Payout Speed

2 - 5 days

Licensed by

8.

Bonus

100% upto $1000

(T&C apply. 18+)

Features

Up to $1000 Sign Up Bonus
Promo Code: NEWSB
Highly Responsive Customer Support
Easy-To-Orient
Soft Competition

Payout Speed

1-3 days

Licensed by
Land-Based Poker in Washington
Washington's Constitution outlawed poker within the state for the better part of the 20th century. The game remained on the WA gambling blacklist until the early 1990s, when the first tribal casinos were opened.
Several years after the introduction of IGRA (1988), a law that authorized all federally recognized US Native American tribes to regulate gambling on their territories, Washington signed gaming compacts with two tribes — the Lummi and the Tulalip. These communities established the first WA land-based casinos in 1992
Five years later, Washington authorities approved the legalization of non-tribal brick-and-mortar cardrooms. These facilities, known as "mini-casinos", were free to host traditional house-based player-vs-player card games like poker. More than a dozen of them opened around the state within a short time.
Recently, one of Washington's biggest cardroom operators, Maverick Gaming, filed a petition for a wager limit raise in the cardrooms. The proposal was opposed by several state tribes, arguing that this decision puts them in direct competition with WA state casinos. Nevertheless, WA Gambling Commission's 3-2 vote approved a limit increase to $400 in 2023.

How to Register on a Legal Online Poker Site in Washington
If you've decided to give offshore poker rooms a try, you're in for a treat. This website lists the best international poker sites available in Washington, so feel free to browse the options and visit the most appealing ones. Once you've found your perfect match, follow this step-by-step guide to get started.
Choose A Poker Room
Use the hyperlink in our top WA poker room list to visit the chosen website and register. Most of these platforms will ask you to provide basic info like your name, address, date of birth, email, and so on. Make sure this data matches your ID, and you'll have no issues.
Signup
Check your email and mobile phone inbox for a verification code or link from the poker room. Copy the code into your clipboard and enter it in the designated field on the poker room's Sign Up page or use the link to return to the poker website. Both of these messages have a short validity period, so be quick.
Deposit & Play
Log into your account and navigate to the Promotions page. Review the available welcome bonus package and make notes on its terms and conditions. Go to the Cashier section, choose your favorite payment method, and enter the amount you'd like to deposit.
Wait for the funds to appear in your account and proceed to the poker game section. Sites we recommend feature a wide range of gaming offers, so take your time to explore available variants and tournament formats. Try the game you like in free-play or dive straight into competitive action by joining one of the exciting poker events. Good luck!
Land-Based Casinos With Live Poker
Washington boasts a dozen retail cardrooms and around 30 tribal casinos. Many of the former specialize in poker, so you'll find at least two variants of this game on their premises. While they can't compete with full-fledged gambling venues in US's biggest gambling cities, WA mini-casinos offer a great gambling experience. Among the biggest are:
The Evergreen State's largest tribal casinos (in Seattle, Tacoma, and Everett)don't include live poker rooms. However, you can still play this casino classic in smaller venues around the state. Here are a few of the most popular options:
Other Resources
Final Thoughts
Washington has never been at the forefront of the US gambling sector. Itsoffer was limited to the standards — land-based casino gambling, horse betting, lottery, and charitable gaming — andthe 2006 internet gaming ban, which later expanded to the free-play category, didn't help.
WA later went on to adopt sports betting, introduce a multi-state lottery game, and raise its wagering limits, but thesaid gambling prohibitions never changed. The only online platforms available to its residents are WA offshore-based poker rooms, and you can find a list featuring the best ones at the top of the page.
FAQ
Is online poker legal in Washington?
No. Washington banned all forms of online gaming, including online poker, in a constitutional amendment in 2006. It features no state-licensed real-money or sweepstakes poker sites. However, a number of offshore platforms offer their services in WA. If you'd like to join, check the list at the top of this page and don't forget to consult a legal professional to avoid problems with the law.
Are there any land-based poker rooms in Washington?
There are. Live poker is a staple in many WA brick-and-mortar cardrooms and tribal casinos. You can find a list of the best options in one of the sections above.
What's the minimum gambling age in Washington?
You must be at least 18 years old to legally gamble in Washington. Some establishments, however, set this limit to 21 because they serve alcohol.
Do WA offshore poker rooms offer mobile gaming?
Definitely. All reputable modern poker rooms offer standalone apps or mobile-optimized websites to cater to the mobile gaming community. You can test them by joining one of our top-rated WA poker operators linked above.