Legal Online Poker in Utah
Utah, along with Hawaii, is the US state that prohibits all forms of gambling, including poker. The Beehive State has no land-based casinos, meaning live poker is off-limits, even when played with friends at home. When it comes to online casinos and poker rooms, the state has included a special provision in its legal code stating that it would never legalize this industry.
Does that mean Utah poker enthusiasts are left high and dry when it comes to both live and online poker action? Not at all. Even though live poker is not an option in Utah, you can still enjoy the game online through offshore sites. Our guide will help you find out which sites are the best for online poker in Utah and whether joining them can have legal repercussions.
Is Online Poker Legal in Utah?
Absolutely not. While other states have ambiguous laws on online gambling, Utah explicitly bans such activities in its criminal code. The state's original definition of gambling was broad enough to include poker, as it is a game based upon an element of chance. However, it did not apply to online gambling specifically.
The lawmakers recognized the lack of explicit reference to internet gambling within the state's definition, which prompted them to incorporate specific provisions into statute 76-10-1102:
''A person is guilty of gambling if the person participates in gambling, including any internet or online gambling.''
In order to demonstrate they are firmly opposed to internet gambling, Utah's legislators stipulated:
''If any federal law authorizes internet gambling in the states and that federal law provides that individual states may opt out of internet gambling, this state shall opt out of internet gambling in the manner provided by federal law and within the time frame provided by that law.''
Every violation of the law is considered a Class B misdemeanor, but repeat offenders may be charged with a felony. The punishments are even harsher for those who organize or promote gambling activities.
However, the law doesn't say anything about offshore poker sites. Since joining these platforms is neither prohibited nor allowed, Utahns leverage this legal ambiguity to pursue their hobby. Such sites are based in non-US jurisdictions, so American authorities have limited legal grounds for prosecuting them. Plus, Utah has no records of players being arrested for playing online.
Poker Laws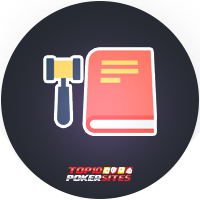 Below is the main legal framework that defines internet gambling and gambling in general in Utah.
Best Legal Online Poker Rooms in Utah
In the following segments, we'll examine online and in-person options for playing poker in Utah. More specifically, we'll cover the best UT online poker sites and examine if live poker is available in the Beehive State.
Legal Online Poker in Utah
Given Utah's unwavering stance against gambling, it is highly unlikely that this state will consider legalizing online poker or casinos in the foreseeable future. While state-licensed poker rooms are off the table, the state allows social casino sites and apps, as well as sweepstakes platforms. They let you play for free, which makes them great for beginners and those who want to brush up on their skills.
The other alternative is playing real money games on international poker sites. Our team has searched high and low to find the top poker rooms that cater to the Beehive State residents. We've evaluated each operator based on its license, game variety, tournament offer, rake, payout speed, and bonus deals. Ultimately, we have singled out several top candidates.
My list of the best US poker sites which I consider to be the best rooms to play in 2023:
100% Legal & Licensed Verified Bonus Mobile Friendly Advertiser Disclosure. Must be +18 to participate.
Rank
Poker Rooms
Bonus
Review...
1.

Bonus

100% up to $1000

(T&C apply. 18+)

Features

100% First deposit bonus
Promo Code: NEWBOL
Banking through cryptocurrencies
Top 3 in US player traffic

Payout Speed

1-3 days

Licensed by

2.

Bonus

100% upto $3000

(T&C apply. 18+)

Features

Increased Poker Crypto Bonus $1500
Exclusively for US players
Many Payment Options
Rich Player Traffic

Payout Speed

1-3 days

Licensed by

3.

Bonus

200% upto $1000 Welcome Bonus

(T&C apply. 18+)

Features

Recreational Player Traffic
Get a 200% Match on Your Initial Deposit
Wide Tournament Selection
High-Quality Games

Payout Speed

1 - 5 days

Licensed by

4.

Bonus

200% upto $1000 Welcome Bonus

(T&C apply. 18+)

Features

200% up to $1000 poker bonus
Bonus code: 1000JUICY
High-quality software
Competitive poker tournaments

Payout Speed

1 - 6 days

Licensed by

5.

Bonus

100% upto $1000

(T&C apply. 18+)

Features

VIP Loyalty Program
Weekly Progressive Jackpot
Reliable Customer Support
US-Friendly

Payout Speed

1-3 days

Licensed by

6.

Bonus

100% up to $500

(T&C apply. 18+)

Features

Guaranteed Tournaments
Quick, secure payouts

Payout Speed

1-3 days

Licensed by

7.

Bonus

100% upto $1000 Welcome Bonus

(T&C apply. 18+)

Features

Rich Player Traffic
Special Promotions
Get Free $1,000
US-Friendly

Payout Speed

2 - 5 days

Licensed by

8.

Bonus

100% upto $1000

(T&C apply. 18+)

Features

Up to $1000 Sign Up Bonus
Promo Code: NEWSB
Highly Responsive Customer Support
Easy-To-Orient
Soft Competition

Payout Speed

1-3 days

Licensed by
Land-Based Poker in Utah
Utah has no land-based poker since there are no tribal or commercial casinos. The strong anti-gambling sentiment stems from the fact that 65.8% of its citizens are Mormons.
Over the years, many businesspeople, such as restaurant and bar owners, have tried to offer gambling opportunities to their customers through legal loopholes. Those attempts included providing "free" bingo games for buying slightly overpriced meals. The authorities have taken measures to curb such practices and restrict these businesses from continuing such activities. However, some of them were careful not to artificially inflate their services and managed to operate through this model smoothly.
One such place that offers poker games to people from Salt Lake City is the Wasatch Poker Tour. Although this organization offers prizes to players, it doesn't take any rake, entry fees, or buy-ins. They only charge for the food and drinks, hoping to make enough money to cover the tournament costs.
Thanks to this loophole, bar poker has become quite popular in Utah. Bar Poker Open hosts multiple poker events across the country. Surprisingly, playing poker at such facilities awards tokens that can bring you a WSOP seat or qualify you for tournaments like the Florida or Vegas World Championship.
On the flip side, Utah also doesn't allow any social/private gambling, which is evident from the following:
''A person is guilty of gambling if the person knowingly permits any gambling to be played, conducted, or dealt upon or in any real or personal property owned, rented, or under the control of the actor, whether in whole or in part.''
Historically, the state busted social poker games many times, even when the hosts didn't collect any rake, so think twice before you invite your friends over for a poker session or two.
Poker Opportunities Across the Border
Not all Utah poker enthusiasts are eager to participate in bar poker events. In their pursuit of playing real money games, many of them often travel to neighboring states, such as Nevada, Colorado, or Arizona.
Since the majority of Utah's population is clustered in the northern part of the state, the closest place featuring land-based casinos is West Wendover. It is a city in Nevada, only 125 miles from Salt Lake City, and it's home to five casinos, four of which offer live poker action.
Interestingly, the city manager once stated that West Wendover wouldn't exist without Utahns gambling. Another reason why so many of them cross the border is because Nevada doesn't charge state income taxes on gambling revenues.
However, Utahns who live in small towns like St. George or Cedar City in the south often travel to Mesquite, Nevada. It is 39 miles from St. George and has several land-based casinos with plenty of poker games.
How to Register on a Legal Online Poker Site in Utah
Creating an account at any of our recommended poker platforms in Utah is rather straightforward, but you must be at least 18 years old. Here's what you need to do:
Signup
Load the registration page and hit the Sign Up/Join/Register button.
In the next window, fill out the application form by providing your name, email, address, phone number, and login credentials. You must also tick the box to comply with the poker site T&C and privacy policy. You can opt to receive promotional letters by checking the box.
Deposit & Play
Go to the Deposit section. Select one of the available payment methods (operators usually offer e-wallets, bank transfers, credit/debit cards and cryptocurrencies) and follow the instructions. As soon as you confirm the transaction, the funds should be visible in your account.
Before redeeming the welcome bonus, review the requirements carefully to ensure you can clear it within the given period.
Remember that you must complete a verification check before the poker room allows you to withdraw for the first time. They will most likely ask you to submit a driver's license or other government-issued ID as proof of identity.
Land-Based Casinos With Live Poker
As mentioned, the Beehive State has no brick-and-mortar casinos, which is why many of its citizens travel to West Wendover or Mesquite in Nevada.
Wendover Nugget and Peppermill Casino in West Wendover have dedicated poker rooms with 8 and 9 tables, respectively. They also host regular tournaments, and this is where you can enjoy cash games like Three-Card Poker, La Pair'e Poker, Let It Ride, Pai Gow Poker, and No Limit Tournaments. Buy-ins typically range from $125 to $235.

Other Resources
Final Thoughts
By including an internet gambling clause in its legal code, the Beehive State has made it very clear that it does not allow anyone to play poker or gamble online. Thus, it's safe to say that we won't be seeing the legalization of this vertical any time soon.
However, the authorities have never targeted or charged anyone for playing the game online from their home. Since no law explicitly prohibits joining international poker sites, you can scroll up and pick one of the reputable and licensed providers we recommend.

FAQ
Is online poker legal in Utah?
The gambling laws in Utah are among the most stringent ones in the country. In fact, the Beehive State jurisdiction specifically forbids any form of gambling, both online and on-site. This means online poker is out of the picture. However, offshore poker platforms remain in a gray area since they aren't located within state borders.
What is the minimum legal gambling age in Utah?
Since the Beehive State has banned all gambling forms, it doesn't have a clearly defined minimum gambling age. Nevertheless, many offshore poker sites that accept Utahns also cater to millions of players worldwide, so the minimum age almost all of these platforms have agreed upon is 18.
Do I need to pay taxes from online poker winnings in Utah?
Yes, you do. Anything you earn online is considered income (online poker included), and both the Utah State Tax Commission and the Internal Revenue Service will require you to pay taxes on it.
Are there any live poker rooms in Utah?
No, there aren't. Utah forbids any kind of land-based casinos, so the only way to experience live poker is to cross the border and go to Nevada or some other state that allows this kind of gambling. If you live in Salt Lake City, you can find the closest casinos in West Wendover, but if you live in St. George, your closest option is Mesquite.