Legality of Poker in Rhode Island
Looking at Rhode Island's gambling history, it is easy to conclude the state has always tried to keep up with its neighbors. It legalized the lottery and horse racing after most of the states in the region, and the same was true for land-based casinos.
Rhode Island has always been its biggest rival, and the Ocean State built its race tracks just to compete with the neighbor's biggest casinos — Foxwoods and Mohegan Sun. As a result, its residents finally got an opportunity to play live poker. Unfortunately, Rhode Island hasn't followed this path regarding online gambling and the poker industry.
In this article, we will discuss the Rhode Island online and on-site poker laws and explore all the options for playing poker in the Ocean State.
Is Online Poker Legal in Rhode Island?
Back in the colonial days, Rhode Island residents used to favor lotteries. However, the mid-19th century moral reform banned this and other forms of gambling. But since Rhode Islanders were fond of gambling, the underground gambling houses started flourishing.
The state then decided to legalize horse and greyhound betting in 1934. The other verticals soon followed, and the RI lottery was regulated in 1973, while charitable gambling was introduced in 1979. In the meantime, the horse racing industry was shut down in 1978.
For a long time, the public opposed opening land-based commercial casinos in the state. However, looking at neighboring Connecticut and the rise of its two giant casino resorts, Foxwoods and Mohegan Sun, the Ocean State experienced a change of heart.
Finally, the voters gave the green light, and the two state racetracks were allowed to add slots, blackjack terminals, video poker, and keno betting at their premises in 1992, effectively turning them into racinos. Nevertheless, the revenues were not as high as everyone had hoped, forcing local voters to add table games at two gambling venues in 2012 — Twin River Casino and Newport Grand Casino.
In 2015, these two gambling halls became one — Twin River Lincoln. Then, another one opened in 2018 — Twin River Tiverton.
Evidently, the Ocean State took a long time to regulate different on-site gambling forms, so we are not surprised its lawmakers didn't give much thought to regulating online gambling. So far, RI has legalized online sports betting in 2018. Online casinos and poker are still waiting their turn.
Poker Laws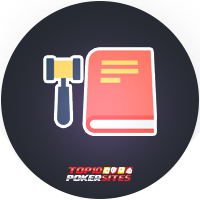 You will find Rhode Island's most significant poker laws in the following list. Read them carefully to learn more about poker's legal status in this state.
Best Legal Online Poker Rooms in Rhode Island
The following sections will provide information on the
internet and on-site poker options
in the Ocean State.
Legal Online Poker in Rhode Island
Sports betting is fully legal in the Ocean State. Unfortunately, online casinos and poker rooms are still waiting to be invited to the party.
It seems like Rhode Island wasn't too interested in the legalization of online poker over the last decade. The reason can be the state's harsh stance on gambling which is why there aren't many land-based poker opportunities, either. Another reason could be that RI is a small market for online poker, so interstate compacts with shared player pools might be the only solution.
In 2011, Rhode Island State Lottery Director Gerald Aubin tried persuading the US Department of Justice to abandon the anti-gambling stance on certain forms of online gambling. Then, a few quiet years passed, and the state legalized sports betting in 2018. This was a sign of hope for RI poker players that the state might slowly open itself to legalizing online poker.
In 2023, seeing that RI lawmakers did not have any intention to include online poker in the legislative framework, Bally's Corporation proposed assisting lawmakers with crafting legislation that would finally bring online gambling to the Ocean State. Representative Gregory Costantino and Senate President Dominick Ruggerio introduced two identical bills (SB 984 and HB 6348) as a result of this collaboration.
Both bills include a provision specifying that the state could join MSIGA and share player pools with Nevada, Delaware, New Jersey, and Michigan. Bally's Corporation submitted a study that estimated this vertical could bring the state $93.3 million in revenue in the first year and $210 million over a five-year period. If only one of the bills passes, Bally could start offering online gambling and set up a poker room. At the time of writing (May 2023), this sector remains unregulated, but there is still hope for regulation before the end of the year.
As with many US states, the current laws in Rhode Island are outdated and don't mention online poker in any way. Clearly, the state doesn't allow operating online gambling enterprises and targets those who do so. Breaching the law is considered a felony and may get you in prison for up to two years or charged with a $2,000 fine. However, it says nothing about individuals playing poker on international sites. Since this is not explicitly prohibited, online poker remains in this legal gray area.
Given that state-licensed online poker sites don't exist, Rhode Island poker pros and recreational players often join offshore poker platforms or practice their skills at social and sweepstakes casinos. The former are licensed and overseen by foreign regulatory authorities, ensuring a safe gambling environment. Most accept RI players and offer a wide range of poker titles. Another reason many players turn to them is the frequency and number of poker tournaments.
My list of the best US poker sites which I consider to be the best rooms to play in 2023:
100% Legal & Licensed Verified Bonus Mobile Friendly Advertiser Disclosure. Must be +18 to participate.
Rank
Poker Rooms
Bonus
Review...
1.

Bonus

100% up to $1000

(T&C apply. 18+)

Features

100% First deposit bonus
Promo Code: NEWBOL
Banking through cryptocurrencies
Top 3 in US player traffic

Payout Speed

1-3 days

Licensed by

2.

Bonus

100% upto $3000

(T&C apply. 18+)

Features

Increased Poker Crypto Bonus $1500
Exclusively for US players
Many Payment Options
Rich Player Traffic

Payout Speed

1-3 days

Licensed by

3.

Bonus

200% upto $1000 Welcome Bonus

(T&C apply. 18+)

Features

Recreational Player Traffic
Get a 200% Match on Your Initial Deposit
Wide Tournament Selection
High-Quality Games

Payout Speed

1 - 5 days

Licensed by

4.

Bonus

200% upto $1000 Welcome Bonus

(T&C apply. 18+)

Features

200% up to $1000 poker bonus
Bonus code: 1000JUICY
High-quality software
Competitive poker tournaments

Payout Speed

1 - 6 days

Licensed by

5.

Bonus

100% upto $1000

(T&C apply. 18+)

Features

VIP Loyalty Program
Weekly Progressive Jackpot
Reliable Customer Support
US-Friendly

Payout Speed

1-3 days

Licensed by

6.

Bonus

100% up to $500

(T&C apply. 18+)

Features

Guaranteed Tournaments
Quick, secure payouts

Payout Speed

1-3 days

Licensed by

7.

Bonus

100% upto $1000 Welcome Bonus

(T&C apply. 18+)

Features

Rich Player Traffic
Special Promotions
Get Free $1,000
US-Friendly

Payout Speed

2 - 5 days

Licensed by

8.

Bonus

100% upto $1000

(T&C apply. 18+)

Features

Up to $1000 Sign Up Bonus
Promo Code: NEWSB
Highly Responsive Customer Support
Easy-To-Orient
Soft Competition

Payout Speed

1-3 days

Licensed by
Land-Based Poker in Rhode Island
Before 1992, Rhode Island only had racetracks. This was the year when the state's two racetracks, Twin River Casino and Newport Grand Casino, became racinos. However, it wasn't until 2012 that these two gambling halls were transformed into full-fledged casinos.
To prevent the RI residents from looking for poker action in Connecticut or Massachusetts, the local public was asked two ballot questions to permit poker and other live table games.
The voters voted in favor of allowing live table games at Twin River Casino, but the same proposal was rejected for the Newport Grand Casino. However, in 2015, Newport Grand was sold to Twin River in Lincoln, which opened a poker room in 2015, the only cardroom offering live poker in the state to this day. Another casino, Twin River Tiverton, opened in 2018.
These two are the only gambling halls in the Ocean State, both regulated by the state lottery and offering typical casino games, poker included.
Recently, Twin Casino Lincoln completed a $100 million worth renovation project. Aside from the expanded casino floor, the casino added 100 tables for roulette, blackjack, craps, and, of course, poker.
When it comes to social gambling, there are no provisions that allow private or public poker games in Rhode Island. Unlike other states, the Ocean State does not prohibit playing for profit but does ban all types of poker games (except at casinos).
How to Register at a Legal Online Poker Site in Rhode Island
Rhode Island
players can register on many offshore poker platforms
without any problems. Still, you must
be careful with the selection
as some tend to be shady and operate without a license. Once you check out all your option and pick the one that fits your preferences best, follow these steps to get started:
Choose A Poker Room
Browse the list of poker sites we provided. Check out what cash games and tournaments they offer, and take note of their bonuses and if they offer favorable terms and conditions.
Signup
Choose one platform that fits your preferences and click on the link that will take you straight to its official website.
Once there, hit the registration button. Then, fill in the registration form by entering your ID information correctly.
Set up a password and username, memorize them, and send your account request.
Check your email or phone for verification messages. If using the former, click on the link you received. For the latter, input the code and copy it onto the clipboard.
Deposit & Play
Use your credentials to log in.
Go to the Payment section to check the available payment methods. When you decide which one to use, ensure you top up your account with enough funds to claim the welcome promotion.
Once the money becomes visible on your player account, you are ready to pick a game and start playing.
You should be cautious if you decide to play poker on offshore sites on your own, as many of them do not offer a safe and secure playing environment. Only choose reputable and trustworthy operators.
Land-Based Casinos With Live Poker
As mentioned, the Ocean State is home to only two land-based casinos —
Twin River Lincoln Casino and Twin River Tiverton Casino
, and both are
owned by Bally Corporation
. However, only the former has a dedicated poker room, and it is the only place Rhode Islanders can enjoy live poker action.
The room currently operates at a limited capacity with 12 poker tables (instead of the usual 23) and offers Texas Hold'em, Three Card Poker, Let it Ride, and Pow Gai Poker.
Aside from poker, the casino features a sportsbook and a variety of other games, including slots and table games like blackjack, baccarat, roulette, and craps. It is also a huge resort, offering accommodation, fine and casual dining, a fitness center, and entertainment.
If you are 18 or older, you can visit it at the following location:
Other Resources
Final Thoughts
Although Rhode Island avoided legalizing online casinos and poker for a long time, it seems it has finally awoken to the potential this year. If one of the two bills discussed in this article passes the Senate, RI will become the seventh US state to regulate online gambling.
Until this happens, Rhode Islanders can play live poker at Bally's Twin River Tiverton Casino, hop over to Connecticut to enjoy major poker tournaments hosted at Foxwoods and Mohegan Sun casinos or hone their skills on social and sweepstakes sites. Another option is offshore platforms, which offer plenty of cash games and poker competitions.

FAQ
Is online poker legal in Rhode Island?
Real-money online poker is still not in the legal books, but state laws don't prohibit players from joining international sites.
What is the minimum gambling age in the Ocean State?
The legal gambling age in the Ocean State is 18, unlike most US states where it is 21.
What gambling forms are permitted in Rhode Island?
RI allows commercial land-based casinos, sports betting, lottery, and horse race betting.
Are casino winnings taxable in Rhode Island?
Yes. Casino winnings in RI are subject to state income tax up to 5.99% over a certain amount. However, it is best to seek legal advice from an expert.