Legal Oregon Online Poker Sites
Even though Oregon doesn't have the reputation of being a big gambling state and has a population of only 4.2 million, it offers quite a few gaming options. The Beaver State laws allow tribal casinos, horse racing betting, lottery, charitable gambling, and social gaming.
When it comes to poker, Oregonians can legally play it in Native American casinos and private poker rooms sprinkled throughout the state. Surprisingly, the state bans online gambling operators and generally takes a harsh stance toward this industry. Considering this, are online poker enthusiasts ultimately left without options?
Stay with us as we will show you where you can play this casino classic in Oregon and explain the legalities surrounding offline and web-based poker.
Is Online Poker Legal in Oregon?
Before it was admitted to the Union, Oregon wasn't densely populated due to its inaccessible terrain. However, the Oregon Trail route and the discovery of gold soon brought settlers and the first card games. Once Jacksonville was founded, people also started building establishments to host gambling games.
Soon after, major cities become hubs of gambling and other illegal activities. People loved playing faro, monte, fan-tan, and lotteries. This lasted until 1857, when the Oregon Constitution banned all gambling activities. The blanket ban was lifted in 1933 when the state legalized pari-mutuel wagering. In 1971, nonprofits were allowed to host casino nights, which expanded to bingo and raffles in 1976.
The year 1973 also saw the legalization of social gambling. A ban on the state lottery was removed in 1985, but it had to wait until 1989 to start operating and offering a hybrid form of lottery/sports betting (Sports Action Lottery). Unfortunately, it was discontinued in 2007.
Thanks to the Indian Regulatory Act of 1988, Oregon signed the first state compacts in 1992, paving the way for brick-and-mortar casinos. Thus, the first Native American casino, the Seven Feathers Casino Resort, saw the light of day in 1994, and the other eight soon followed.
Unfortunately, online gambling and poker are still excluded from the legal gambling framework. The Beaver State has been anti-iGambling oriented, and there are no bills proposing the regulation of this sector. The last time Oregon passed a gambling law was in 2019 to legalize online and on-site sports betting.
Poker Laws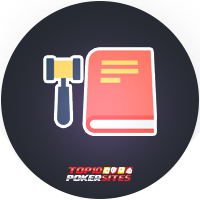 Following is a list of the most important poker laws in Oregon.
Read these carefully to learn more about the legality of card games in the state.
Best Legal Online Poker Rooms in Oregon
After reviewing Oregon's gambling laws, let's discuss where you can play poker. The following sections provide a comprehensive overview of online and land-based poker rooms available to Beaver State residents.
Legal Online Poker in Oregon
Oregon has never been interested in legalizing online casinos and poker rooms, so none of its legislators has ever sponsored any bill that would propose such a thing. Unlike most US states, which don't address online gambling and poker in their statutes, Oregon has passed legislation (ORS 167.109) explicitly pertaining to internet gambling. The law forbids iGaming online poker operators from running poker websites and accepting payments via the internet, and violation of this law is a Class C felony.
This legislation only targets businesses, but ORS 167.122 is directed at individual players. It states that if a person is knowingly involved in unlawful gambling and places a bet with a bookmaker, this is a Class A misdemeanor that could result in a $6,250 fine or up to one year in prison. Still, the state has never charged anyone for violating this provision.
On the bright side, Oregon laws don't expressly state that placing online wagers at offshore poker platforms is illegal. This led many players to think they wouldn't face legal prosecution if they joined those sites. For this reason, many international online poker cardrooms gladly accept Oregonian players. None of them are regulated by the government of Oregon but by respectable international regulatory agencies, such as the Malta Gaming Authority and the Gibraltar Gambling Commissioner.
So, if you are a poker enthusiast living in Beaver State, you can register for free at any of the sites we recommend above.
My list of the best US poker sites which I consider to be the best rooms to play in 2023:
100% Legal & Licensed Verified Bonus Mobile Friendly Advertiser Disclosure. Must be +18 to participate.
Rank
Poker Rooms
Bonus
Review...
1.

Bonus

100% up to $1000

(T&C apply. 18+)

Features

100% First deposit bonus
Promo Code: NEWBOL
Banking through cryptocurrencies
Top 3 in US player traffic

Payout Speed

1-3 days

Licensed by

2.

Bonus

100% upto $3000

(T&C apply. 18+)

Features

Increased Poker Crypto Bonus $1500
Exclusively for US players
Many Payment Options
Rich Player Traffic

Payout Speed

1-3 days

Licensed by

3.

Bonus

200% upto $1000 Welcome Bonus

(T&C apply. 18+)

Features

Recreational Player Traffic
Get a 200% Match on Your Initial Deposit
Wide Tournament Selection
High-Quality Games

Payout Speed

1 - 5 days

Licensed by

4.

Bonus

200% upto $1000 Welcome Bonus

(T&C apply. 18+)

Features

200% up to $1000 poker bonus
Bonus code: 1000JUICY
High-quality software
Competitive poker tournaments

Payout Speed

1 - 6 days

Licensed by

5.

Bonus

100% upto $1000

(T&C apply. 18+)

Features

VIP Loyalty Program
Weekly Progressive Jackpot
Reliable Customer Support
US-Friendly

Payout Speed

1-3 days

Licensed by

6.

Bonus

100% up to $500

(T&C apply. 18+)

Features

Guaranteed Tournaments
Quick, secure payouts

Payout Speed

1-3 days

Licensed by

7.

Bonus

100% upto $1000 Welcome Bonus

(T&C apply. 18+)

Features

Rich Player Traffic
Special Promotions
Get Free $1,000
US-Friendly

Payout Speed

2 - 5 days

Licensed by

8.

Bonus

100% upto $1000

(T&C apply. 18+)

Features

Up to $1000 Sign Up Bonus
Promo Code: NEWSB
Highly Responsive Customer Support
Easy-To-Orient
Soft Competition

Payout Speed

1-3 days

Licensed by
Land-Based Poker in Oregon
Oregon is home to nine tribal casinos. When the Cow Creek tribe opened the first land-based gambling venue in 1994, it only offered bingo, video poker, and blackjack. Poker was later added to the mix. Nowadays, some of these gambling halls have poker rooms and host an array of Class III games, such as slots, video poker, roulette, and craps. They are also big resorts offering accommodation, dining options, entertainment, and other amenities.
On the other hand, private membership-based cardrooms started popping up nationwide in 2007. Oregon is currently home to over a dozen of them, and they operate under the premise that poker is a skill game, which makes them exempt from current laws that ban games of chance.
The Beaver State also allows charitable poker. In 2005, these organizations were allowed to host Texas Hold'em. However, they must adhere to specific stipulations, including that poker charity tournament buy-ins are capped at $200 and only non-cash prizes are allowed.
Oregon offers another opportunity for playing poker, which is private gaming. However, the host must follow specific guidelines prohibiting them from monetizing the games or profiting in other ways, such as selling food or drinks.
In terms of commercial casinos, the Beaver State doesn't have any. However, that could have changed several times. It started in 1972 when the owner of the Paramount Theatre in Portland proposed converting it into a state-regulated casino. Similar suggestions were made a few more times.
In 2005, two businessmen wanted to renovate the defunct Multnomah Greyhound Park and turn it into a commercial casino, while in 2012, there was a bill that would allow commercial casinos to be constructed on Native American land. Although these proposals would create more poker opportunities for Oregonians, voters declined them.
How to Register at a Legal Online Poker Site in Oregon
Since the Beaver State hasn't legalized online poker yet, there are no legal real-money sites its residents can join at this time. However, this doesn't mean players are left in the lurch, and they can easily register at one of the offshore platforms offering poker games. This is what they must do:
Choose A Poker Room
Our team has combed through dozens of poker sites and singled out the top ones you can join from Oregon. Analyze the list we provided and carefully inspect the games, tournaments, bonuses, and payment options they provide. Then, choose the one (or more) you like best.
Signup
No offshore poker provider will let you play real-money games without registering. The process is quick — you must provide your name, email, address, and phone number, and set up a username. If required, you must verify your account via email. Then, send your account request to the poker room.
Deposit & Play
Once approved, log into your account and pick one of the available payment methods. Check out the welcome bonus and claim it if you wish. Make sure you deposit enough funds to qualify for the bonus.
Explore the cash games and tournaments the operator offers and start playing.
We recommend caution if you intend to explore offshore poker sites independently, as only a few guarantee a safe poker experience. Ensure that the operator you choose is reputable and trustworthy.
Oregon Land-Based Casinos With Live Poker
As mentioned, Oregon is home to nine tribal casinos that offer a wide selection of Las Vegas-style games. Only three have poker rooms — Three Rivers Casino Resort, Wildhorse Resort & Casino, and Chinook Winds Casino and Convention Center.
On the other hand, there are around 15 licensed membership-based poker clubs approved by city officials but not by the state government. Most of them are located in Eugene and Portland.
Final Table Poker Club currently has the largest poker room with 15 tables. It hosts various daily cash games, as well as Bounty and Sit & Go Tournaments. Furthermore, players can win a seat at the prestigious WSOP event by participating in its famous Tournament of Champions.
Beach Poker Club follows with ten tables. This venue hosts daily No Limit Hold'em cash games and special monthly competitions. However, you have to be a member to be allowed to play.
Other poker establishments include High Mountain Poker Cardroom with nine tables, Portland Meadows with eight, Bend Poker Room with eight, Three Rivers Casino with three, and a dozen others. The games they offer include Omaha, Texas Hold'em Limit, and No Limit.
If you are 21 or older and want to play poker in any of these establishments, this is where you can find them:
Other Resources
Final Thoughts
As you can see, the Beaver State is not exactly a gambling paradise like Nevada, but it does offer enough options to keep many poker enthusiasts happy. Oregon residents can enjoy playing poker in tribal casinos and private poker rooms, host a poker night with friends or play charity poker. Online poker rooms remain unregulated, but since the state legalized sports betting in 2019, there is still hope for online poker.
Until this dream becomes a reality, Oregon residents can choose from numerous licensed and trustworthy offshore poker platforms. They offer various tournaments, cash prizes with competitive rakes, and different buy-ins. That said, scroll up to our list and pick one you like.

FAQ
Is online poker legal in Oregon?
No, it isn't. The Beaver State explicitly prohibits operating an online casino or poker room from within the state, and breaking this law is classified as a Class C felony. However, the Oregon law doesn't mention anything about playing at offshore sites. Since they operate from foreign jurisdictions, many Oregonians use this opportunity to join them and play real-money games.
Are poker rooms legal in OR?
Yes, they are. Oregon poker rooms are legal since they host skill-based games rather than games of chance in the eyes of the law. Although licensed, they must obey rules stating that the operator cannot profit by taking a share of the games' prize pools.
What is the legal gambling age in OR?
The minimum gambling age in OR is 18, but if an establishment serves alcohol and offers a video lottery, it is 21.
What gambling forms are regulated in OR?
Oregon permits tribal casinos, horse racing betting, sports betting, lottery, private poker rooms, charitable gambling, and social gaming.