Legal Online Poker in North Dakota
With just over 770k residents, North Dakota is one of the least populated US states. Therefore, nobody would think it has one of the highest concentrations of gambling venues per capita in the country.
The Peace Garden State allows charitable gaming, the North Dakota Lottery, pari-mutuel wagering at two tracks, tribal casinos, and daily fantasy sports. Online casinos, sportsbooks, and poker rooms have not yet been approved to become part of the state's legislative framework.
Poker enthusiasts can enjoy their favorite game at social and tribal venues and even play it at home, provided they adhere to specific rules. But where does that leave online poker players?
Do they have any legal options in the Peace Garden State?
Stay with us as we walk you through the legality of the web-based and offline poker scene and show you where to play this casino classic in North Dakota.
Is Online Poker Legal in North Dakota?
During the 19th century, North Dakota was a hotbed of illegal gambling. Once it was admitted to the Union in 1889, the state decided to clamp down on all unlawful operations. It took almost a century to start legalizing gambling after that.
Charitable gambling became legal in 1977, and pari-mutuel horse racing followed in 1987. Thanks to the Indian Gaming Regulatory Act of 1988, the state signed the first compacts with native tribes in 1992. This paved the way for establishing brick-and-mortar casinos in the Peace Garden State.
ND then legalized the lottery in 2003 and daily fantasy sports in 2006 in physical betting venues. On the other hand, sports wagering has remained unregulated, and the same applies to online casinos and poker rooms. There were a few attempts to regulate these two gambling verticals but to no avail. This is why offshore alternatives are constantly on the rise.
Poker Laws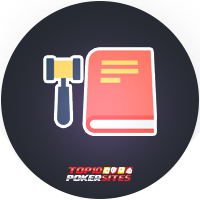 The following list contains the most important poker laws in North Dakota. Make sure to read them to find out more about the legality of the card game in this state.
Best Legal Online Poker Rooms in North Dakota
In the following sections, we will discuss where you can play poker in the Peace Garden State, both on the internet and on-site.
Legal Online Poker in North Dakota
North Dakota didn't seem interested in regulating online poker and casino games over the past decade. The state started considering this issue when Rep. Jim Kasper sponsored HCR 3035 in 2005, which would have amended the state constitution and allowed virtual poker.
This bill proposed that the Attorney General's office would oversee the industry, and required a $50k application fee and $20k annual license renewal fees from providers. However, it didn't receive support from the Senate, the House of Representatives, or the Attorney General. After that, the lawmakers didn't put much effort into regulating online poker.
Although the Peace Garden State has been resistant to gambling expansion, surprisingly, there was a lot of movement in 2021. Rep. Jim Kasper's proposed HCR 3012 passed the House of Representatives by a 54–40 margin. It suggested asking whether citizens would approve of online poker on the November 2022 general election ballot. Concurrently, the House Of Representatives passed a similar resolution regarding sports betting. Nevertheless, the Senate voted both down.
The beginning of 2023 has brought a ray of light for online poker in ND. Senators Bekkedahl, Weber, and Wobbema drafted HB 1389, which establishes a framework for licensing online the game in the state if approved by voters. This piece of legislation also proposes that the Attorney General should oversee licensing and regulation and stipulates a 10% tax paid monthly, a list of included poker games, and more.
The law currently in place fails to directly address online gambling and poker in its Criminal Code. Section 53-04-01 contains vague language, which makes it difficult to determine whether web-based gambling is legal.
Because of this, many choose to believe that the state won't pursue online gamblers. Plus, no arrest has ever been made in the Peace Garden State for playing on international poker platforms. On the flip side, the state will severely punish those who engage in gambling businesses. This crime is considered a Class C felony where an individual may face a fine of up to $10k or five years in prison.
Although online poker is in a gray area in ND, many offshore sites accept players from the Peace Garden State and offer plenty of cash games and tournaments. These casinos are regulated outside the state by respectable international regulatory agencies, including the Malta Gaming Authority and the Gibraltar Gambling Commissioner. So, if you live in North Dakota and are a poker enthusiast, you can register for free at the sites we recommended above.
Since North Dakota allows social casinos, its residents can enjoy their favorite cardgame at sweepstakes platforms. They operate under a different model and use virtual currency rather than cash — Gold Coins and Sweeps Coins. Players can purchase Gold Coins (with no monetary value) to receive Sweeps Coins that allow them to play in tournaments and cash games. There are other ways of getting them, such as through promotions, giveaways, or the mail. Once you are satisfied with the amount of Sweeps Coins you won, you can exchange them for fiat money.
My list of the best US poker sites which I consider to be the best rooms to play in 2023:
100% Legal & Licensed Verified Bonus Mobile Friendly Advertiser Disclosure. Must be +18 to participate.
Rank
Poker Rooms
Bonus
Review...
1.

Bonus

100% up to $1000

(T&C apply. 18+)

Features

100% First deposit bonus
Promo Code: NEWBOL
Banking through cryptocurrencies
Top 3 in US player traffic

Payout Speed

1-3 days

Licensed by

2.

Bonus

100% upto $3000

(T&C apply. 18+)

Features

Increased Poker Crypto Bonus $1500
Exclusively for US players
Many Payment Options
Rich Player Traffic

Payout Speed

1-3 days

Licensed by

3.

Bonus

200% upto $1000 Welcome Bonus

(T&C apply. 18+)

Features

Recreational Player Traffic
Get a 200% Match on Your Initial Deposit
Wide Tournament Selection
High-Quality Games

Payout Speed

1 - 5 days

Licensed by

4.

Bonus

200% upto $1000 Welcome Bonus

(T&C apply. 18+)

Features

200% up to $1000 poker bonus
Bonus code: 1000JUICY
High-quality software
Competitive poker tournaments

Payout Speed

1 - 6 days

Licensed by

5.

Bonus

100% upto $1000

(T&C apply. 18+)

Features

VIP Loyalty Program
Weekly Progressive Jackpot
Reliable Customer Support
US-Friendly

Payout Speed

1-3 days

Licensed by

6.

Bonus

100% up to $500

(T&C apply. 18+)

Features

Guaranteed Tournaments
Quick, secure payouts

Payout Speed

1-3 days

Licensed by

7.

Bonus

100% upto $1000 Welcome Bonus

(T&C apply. 18+)

Features

Rich Player Traffic
Special Promotions
Get Free $1,000
US-Friendly

Payout Speed

2 - 5 days

Licensed by

8.

Bonus

100% upto $1000

(T&C apply. 18+)

Features

Up to $1000 Sign Up Bonus
Promo Code: NEWSB
Highly Responsive Customer Support
Easy-To-Orient
Soft Competition

Payout Speed

1-3 days

Licensed by
Land-Based Poker in North Dakota
Poker became available in North Dakota when the state legalized charitable gaming in 1977. Today, over two dozen mid-sized and almost 800 small charitable casino operations across the state are overseen by the Gaming Division of the North Dakota Attorney General. Aside from poker, they can host blackjack, pull tabs, raffles, bingo, and several other games. A number of these organizations have teamed up with bars, restaurants, and other service organizations to run charitable poker events.
A great thing is that charities can organize poker tournaments provided they follow specific stipulations — the main prize must not exceed $2,500, and the total prize pool is capped at $12k. As per statute 53-06.1-07.2 of the charitable gambling laws, charities can host poker events only twice per year, the maximum single bets are limited to $1, and only three raises are allowed per round.
The state generates nearly $200 million annually from such organizations; however, proceeds must be used for educational, religious, or fraternal purposes. Additionally, charities sponsor one of the state's largest poker tournaments — the North Dakota state poker championship.
When it comes to tribal casinos, as mentioned before, North Dakota signed the first compact in 1992, while others were negotiated between 2009 and 2013. Today, the Peace Garden State has five land-based tribal venues providing a whole gamut of Class III casino games; however, only the first two on the list have poker rooms in operation:
4 Bears Casino and Lodge
Dakota Magic Casino and Hotel
Prairie Knights Casino and Resort
Spirit Lake Casino and Resort
Sky Dancer Casino and Resort
It's worth noting that the Peace Garden State provides one more opportunity for enjoying poker, which is private gaming. However, players must adhere to some rules. According to statute 12.1-28-02, each participant can wager a maximum of $25 per hand. Even a cent above this amount will be a misdemeanor, while higher amounts are deemed a felony on the first offense.
In terms of commercial casinos, North Dakota does not feature any. That could have changed in 2017 when Al Carlson sponsored HB 3033, which would have allowed six state-owned gambling halls. Still, both charity organizations and tribal gaming communities were against it, frightened that adding six more casinos to such a small population would hinder their business operations. As a result, the bill lost by a 28–63 margin.
How to Register at a Legal Online Poker Site in North Dakota
Before you can play at an offshore poker room in North Dakota,
you must sign up.
It takes only
a few steps to complete the process
, and below is a guide that lists and describes them.
Choose an online poker site
See our list of offshore online poker rooms
at the top of the page and visit each.
Take note of their cash games, tournaments, bonuses, and payment methods and check if they offer favorable terms and conditions.
Signup
Go to the official website whose features best suit your needs.
Complete the registration form by entering your personal information.
Send your account request to the casino and check your inbox for verification messages.
Log in with the verification code to activate your account.
Deposit & Play
Head to the Banking section and browse the payment options available.
After choosing the solution you like, ensure that you deposit enough funds to qualify for the welcome bonus. Once the funds become visible in your account balance, open the library of games.
Browse available cash games and tournaments and start playing.
Land-Based Casinos With Live Poker
As mentioned, North Dakota is home to five tribal casinos, but only two have poker rooms. Currently, 4 Bears Casino & Lodge has the largest one with eight tables. This venue hosts numerous cash games and several weekly No-Limit Texas Hold'em tournaments with low buy-ins and rebuys. Another big one is Dakota Magic Casino, with seven poker tables.
The games available at these venues include Ultimate Texas Hold'em, Three-Card Poker, Let It Ride, and Phil-em-up. Aside from the gaming floor and poker, they provide accommodation, fine dining, and various kinds of entertainment.
If you are 21 or older and want to play at these venues, this is where you can find them:
Other Resources
Final Thoughts
Although North Dakota has a long history with brick-and-mortar tribal and social venues allowing players to enjoy poker in a live setting, online casinos remain unregulated for the time being. The latest poker bill proposed this year gives hope that the situation is improving, but its success remains to be seen.
The nearest state-licensed online casinos are in Nevada, and many ND players make the trip there to participate in tournaments via WSOP.com. Others visit sweepstakes sites or join offshore platforms. If you are among them, we suggest you pick only those that are licensed, reputable, and with plenty of bonuses and games on offer. Scroll up and choose one from our list.

FAQ
Is online poker legal in North Dakota?
North Dakota prohibits gambling corporations from setting up poker sites within state borders, so online gambling is in a legal gray area. Many players can join offshore websites to enjoy poker, bet on sports, or participate in any other game. The state has never prosecuted anyone for playing at offshore platforms.
What is the legal gambling age in ND?
A player must be 18 or older to participate in live horse racing and lotteries and 21 to partake in casino games, charity blackjack, and poker tournaments.
Can a North Dakota resident play real money poker at offshore casinos?
Of course. Players from North Dakota are welcome to compete in real money games on any site that caters to US players since the state neither prohibits nor allows international gambling platforms.
What gambling forms are regulated in ND?
The Peace Garden State permits the North Dakota Lottery, charitable games, tribal casinos, daily fantasy sports, and pari-mutuel horse racing.
Do online offshore poker rooms offer mobile play?
Yes, they do. All operators listed above offer a smooth gaming experience and mobile-compatible platforms on iOS and Android devices. Check out our recommendations to find the best ones.