Twitter Poll Indicates U.S. Poker Players Want Eight-Handed Play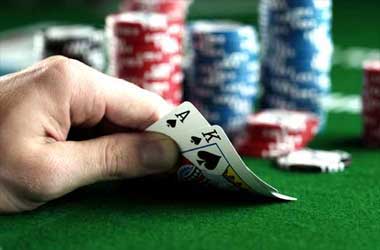 We might see a return to normalcy in the US live poker scene over the next few months, if conditions continue to improve. More casinos in Nevada have started to operate at full capacity and without restrictions, after the Center for Disease Control and Prevention (CDC) recently issued fresh guidelines for people who have been fully vaccinated.
The poker room at Wynn became the first to run games without plexiglass dividers, with players no longer required to wear a face mask or practice social distancing inside the venue.
Last week, a number of Las Vegas casinos followed suit, including Red Rock, Bellagio and ARIA. Caesars properties have also gone divider-free.
Poker players are looking forward to playing live poker again without having to worry about face masks, social distancing and other stringent requirements that were brought about due to the restrictions.
Some of the players recently shared their views on the ideal number of players that should be allowed at each table now that things are going back to normal, via a Twitter poll initiated by Christopher Edmonds, a tournament supervisor at MGM National Harbor in Maryland.
Hypothetical, we remove plexiglass today, after having been 7 handed in Tournament Poker for nearly a year. Would you rather go 9 handed? 8 handed? Stay at 7? Feel free to comment pros/cons based on your experiences.

— Christopher Edmonds (@PKChrisMGMnatty) May 14, 2021
Players Prefer Eight-Handed Poker Tables
Based on the results of the poll, majority of the respondents prefer eight-handed tables (60.3%), while 21.6% think just seven players must be seated at each table. Those going for 9-handed games account for 18.2%. The survey had around 770 respondents.
Before COVID-19 struck, most rooms allowed nine players per table for both cash games and tournaments, though the busiest venues would also permit a maximum of 10 players at each table, especially during huge events like the World Series of Poker (WSOP).
Looking at the responses and comments, the consensus among players is that they don't like crowded tables. Each table must accommodate no more than nine players, so that everyone can play comfortably, with much-needed space between each other.
8 please. The small amount of extra space makes a big difference unless larger/ rounder tables are introduced.

— 😷 King Hak IV (@HakimuDavidson) May 14, 2021
For now, eight-handed games are being offered at both Red Rock and Bellagio, while Wynn has returned to nine-handed play.
Other users don't focus too much on this aspect though. They are simply excited to go back to live action. So whether or not restrictions will still be in place, or new table caps are implemented, they just want to play and enjoy the game like they used to.
our casinos are still closed, we haven't had live poker in over a year so I will, at this point, play with plexiglass, with masks, with carrots instead of chips, standing on one foot, singing the national anthem. You give me whatever rule you want, just give me the freekin cards

— Duncan Ross (@duncanross45) May 14, 2021
Players are looking forward to taking part in this year's biggest poker event, the WSOP live festival, which is set to kick off in September at the Rio All Suite Hotel & Casino in Las Vegas.