Responsible Gambling In New York & How and Where To Find Help If You Are Addicted
Most of us know gambling as a fun activity people practice when they want to have some fun or on days when they feel extremely lucky and believe they can fill up their bank accounts with a simple roll of the dice.
But if you want to be the master of your own life, gambling should be considered only an entertainment tool rather than a source of income. Once gambling takes a special place in your everyday routine, the tiny alarm in your head should let you know that something is not right. If you take it too seriously, gambling can affect your everyday life and cause both financial and emotional troubles.
New York is a market in which all types of gambling are getting regulated, which is why responsible gambling awareness needs to attract the attention of as many people as possible.
What Is Responsible Gambling?
Simply put, responsible gaming means that a player is enjoying the activity and having fun, but at the same time is aware of the effects that gambling can have on their life and people in it.
Responsible gamblers know how much money they can spend on gambling and understand they might lose all of it. These people have a limited budget they plan to spend in a gambling facility, and they know they need to head home in case they lose everything.
What Is Problem Gambling?
When we say "problem gambling", we are talking about the initial phase of a disease that can ruin someone's professional and personal life if not taken care of. Problem gambling is difficult to spot at an early stage since there are no physical signs and the person seems fine.
However, if you see that someone is spending too much of their free time on gambling, and notice inexplicable lack of money, that is a sign that something might be going on.
What Is Gambling Addiction?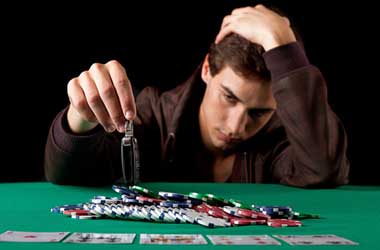 People often underestimate the gravity of gambling addiction and don't accept the fact that it is an illness just like drug or alcohol addiction. Also known as compulsive gambling, gambling addiction involves irresponsible spending, which creates further problems both at work and at home.
Unfortunately, players usually don't notice they are on a losing streak and believe the next round will be the one to help them get back all the money they have lost. While that might happen once in a while, players certainly can't predict when and if it will happen.
Players who are addicted seem to no longer understand that gambling is based mostly on luck, which means they don't realize there's nothing to do to recover from their losses.
How to Tell If You Have a Gambling Problem?
Below, we've provided a list of questions that can be useful if you notice that someone around you might have a gambling problem. You can also test yourself in case you suspect something might be going on.
Did you ever lose time from work or school due to gambling?
Has gambling ever made your home life unhappy?
Did gambling affect your reputation?
Have you ever felt remorse after gambling?
Did you ever gamble to get money to pay debts or otherwise solve financial difficulties?
Did gambling cause a decrease in your ambition or efficiency?
After losing, did you feel you must go back as soon as possible and make up for your losses?
After a win, did you have a strong urge to go back and win more?
Did you often gamble until your last dollar was gone?
Did you ever borrow money to finance your gambling?
Have you ever sold anything to finance gambling?
Were you reluctant to use "gambling money" for normal expenditures?
Did gambling make you careless of the welfare of yourself or your family?
Did you ever gamble longer than you had planned?
Have you ever gambled to escape worry, trouble, boredom, or loneliness?
Have you ever committed, or considered committing, an illegal act to finance gambling?
Did gambling cause you to have difficulty sleeping?
Do arguments, disappointments, or frustrations create within you an urge to gamble?
Did you ever have an urge to celebrate any good fortune with a few hours of gambling?
Have you ever considered self-destruction or suicide as a result of your gambling?
Answer honestly to the questions and if any of the answers are yes, make sure you contact a legitimate institution that can help you deal with your gambling problem. Have in mind that gambling is a progressive illness, meaning the sooner it gets discovered and treated, the better.
Responsible Gambling in New York
The state of New York cares about people who have gambling problems and therefore promotes responsible gambling. You can find help in the shape of voluntary self-exclusion, online education, telephone hotlines, support groups, and treatment programs.
The Office of Alcoholism and Substance Abuse Services is the organisation responsible for helping addicted gamblers. Some famous casinos in New York even train their staff to identify and properly handle possible gambling addicts.
Voluntary Self-Exclusion in New York
The voluntary self-exclusion program in New York bans players from taking part in any state-licensed gambling activities, both offline and online, for one year, three years, five years, or indefinitely.
To do this, you need to fill in a self-exclusion form and notarise it in order for it to be considered valid.
Unfortunately, the decision must be made by the affected player personally, and not by anyone else. Note that the self-exclusion option does not apply to Indian-operated casinos.
Online Education
To get some more information on the matter, visit any of the sites below:
Telephone Hotlines
If you are from New York and need some assistance with your gambling problem, do not hesitate to call 877-8-HOPENY or send a text at HOPENY (467369).
The service is available 24/7 and completely free of charge. Operators can give you information about the nearest Gamblers Anonymous support group or OASAS treatment location.
Support Groups and Treatment Programs
There are various gambling-specific outpatient treatment programs and inpatient programs at addiction treatment centers in New York.
The most prominent ones are the New York Council on Problem Gambling (NYCPG) and Problem Gambling Resource Centers (PGRCs).
Online Daily Fantasy Sports
This is a relatively new trap for gamblers since it does not sound dangerous and addictive at all. Yet, this is officially a legal gambling activity in New York, which is why those who run it had to include the self-exclusion and self-limitation option for it as well.
National Resources for Responsible Gambling
Apart from the above-mentioned means of solving this problem, some national resources are also willing to offer help to those suffering from gambling addiction:
National Council for Problem Gambling (NCPG): free 24/7 counselling through a toll-free phone number you can call or text (800-522-4700), as well as online chat (ncpgambling.org/help-treatment/chat).
Gamblers Anonymous: GA provides a free telephone hotline in the state of New York at 855-2CALLGA (855-222-5542). GA also hosts support meetings in the state, with more than 130 different meetings currently available. You can use a simple search engine on the GA website to find meeting types, schedules, and location details.
Conclusion
If you like to play a game of chance from time to time, there's nothing to worry about. Occasionally enjoying such activities is fun and can benefit your overall well-being.
However, bear in mind that gambling addiction can become a serious problem if it gets out of control. You can use this article to find help if you ever need it. Also, if you know someone who might be suffering from gambling addiction, tell them about this article so they can get he