Legal Online Poker in Nevada
Nevada was the first US state to legalize casinos, and it has been the gambling mecca ever since. Nowadays, the Silver State is home to 441 casinos. Seeing that 63 of them are in Las Vegas alone, it comes as no surprise that Sin City is considered the world's entertainment capital.
It doesn't matter which casino game you want to play — Nevada has it! However, state regulations apply only to brick-and-mortar venues and online poker. So, if you're dead set on playing casino games online, read on to see what your options are.
Is Online Poker Legal in Nevada?
In 1931, Phil Tobin, a State Assembly member, introduced Assembly Bill 98 (also known as Wide Open Gambling Bill), and Governor Fred B. Balzar signed it into law on March 19. This "act concerning slot machines, gambling games, and gambling devices" forbids any "person, firm, association, or corporation" from operating and profiting from any game without a license.
In 1955, Nevada State Legislature created the Nevada Gaming Control Board (within the NV Tax Commission) to oversee, regulate, and enforce gaming laws while also ensuring that licensed establishments pay gaming taxes. On July 1, 1959, the Legislature passed the Nevada Gaming Control Act, thus establishing the Nevada Gaming Commission that would follow the Board's rules and approve or suspend gaming licenses.
Nevada was the second state to legalize online poker after Delaware. Namely, online poker in NV became legal when Governor Brian Sandoval passed AB 114 on February 21, 2013, mandating that online poker rooms "avoid unauthorized use by persons located in jurisdictions that do not authorize interactive gaming." Interestingly, DE didn't offer real money internet poker until Nevada did.
In 2014, Nevada agreed with Delaware to share player pools for internet poker and tournaments. The Multi-State Internet Gaming Agreement and the accompanying governing body known as the Multi-State Internet Gaming Board allow players in both states to compete against each other on the same online poker platform. Two governors (Brian Sandoval for Nevada and Jack A. Markell for Delaware) signed the document on February 25, 2014.
The MSIGA initially included only Nevada and Delaware, but New Jersey and Michigan jumped on the bandwagon in the following years (2017 and 2022, respectively).
As mentioned previously, the landscape of legalized internet gaming in NV consists only of poker rooms. Players from the Silver State are somewhat limited in this regard, as they currently have only one state-regulated option — WSOP.com (the online poker platform of the World Series of Poker), launched in 2013 and owned by Caesars Interactive Entertainment.
Nevada has laws against online-operating casinos within the state, but the restrictions don't apply to its residents. Fortunately, they're not explicitly forbidden from playing online casino games. Therefore, you can try your luck at offshore platforms without fear of being prosecuted.
Poker Laws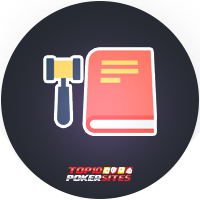 Knowing the legal framework is crucial before signing up with any online casino, NV-regulated or offshore. It helps you identify a safe environment, understand your rights and responsibilities as a player, and avoid potential legal issues.
Check out these legal documents pertaining to gambling before joining any site from our list:
Best Legal Poker Rooms in Nevada
Nevada boasts the largest poker scene in the world. There are more than 440 state-regulated and licensed casinos (including three on Native lands) where players of all skill levels can experience the thrill of gambling.
In addition to commercial casinos, Nevada residents can participate in poker games at WSOP.com, the only licensed online poker room in NV, and multiple offshore poker platforms.
In the following segments, we'll break down where and how you can play poker in Nevada, both in person and online.
Legal Online Poker in Nevada
The first steps toward online gaming legalization were taken in 2011, when the Nevada Legislature introduced AB 258, requiring the NV Gaming Commission to adopt online gaming licensing regulations. Unfortunately, the bill got rejected because political leaders disagreed on online casino licensing fees. However, two years later, in 2013, online poker was made legal, and all the licensing fees were amended.
Due to the state's politics on land-based casinos, only online poker got legalized to prevent competition with commercial establishments. It was decided that only casino resorts with unrestricted licenses could operate Nevada's poker websites. Furthermore, gambling establishments are required to implement advanced security measures on their sites, such as identity verification, fraud prevention, and geolocation.
Following the passing of AB 258, the Nevada Gaming Commission began accepting applications for online poker licenses. Ultimate Poker was the first site to receive a license in Nevada. It launched on April 30, 2013. Other sites followed, including WSOP.com, which launched in September 2013, and Real Gaming, which went live in 2014.
Unfortunately, not everything went as planned for Ultimate Poker and Real Gaming. Players criticized these websites for their lack of poker variations, low-quality software, and strict geolocation (particularly at Ultimate Poker). Therefore, these websites ceased operation in 2014 and 2016, respectively, leaving WSOP.com as the only online casino in the Silver State.
Apart from WSOP.com, Nevada residents can play online poker at numerous offshore poker rooms. These sites are in a legal gray area, meaning no laws forbid players from joining them. However, keep in mind that they do not adhere to the Nevada Revised Statutes nor are they regulated by the Nevada Gaming Control Board — as a result, in the event there is an issue, you will not have any legal recourse.
Still, in most cases, offshore operators offer a much broader game library and better (and more variable) bonuses, so feel free to check out our list.
My list of the best US poker sites which I consider to be the best rooms to play in 2023:
100% Legal & Licensed Verified Bonus Mobile Friendly Advertiser Disclosure. Must be +18 to participate.
Rank
Poker Rooms
Bonus
Review...
1.

Bonus

100% up to $1000

(T&C apply. 18+)

Features

100% First deposit bonus
Promo Code: NEWBOL
Banking through cryptocurrencies
Top 3 in US player traffic

Payout Speed

1-3 days

Licensed by

2.

Bonus

100% upto $3000

(T&C apply. 18+)

Features

Increased Poker Crypto Bonus $1500
Exclusively for US players
Many Payment Options
Rich Player Traffic

Payout Speed

1-3 days

Licensed by

3.

Bonus

200% upto $1000 Welcome Bonus

(T&C apply. 18+)

Features

Recreational Player Traffic
Get a 200% Match on Your Initial Deposit
Wide Tournament Selection
High-Quality Games

Payout Speed

1 - 5 days

Licensed by

4.

Bonus

200% upto $1000 Welcome Bonus

(T&C apply. 18+)

Features

200% up to $1000 poker bonus
Bonus code: 1000JUICY
High-quality software
Competitive poker tournaments

Payout Speed

1 - 6 days

Licensed by

5.

Bonus

100% upto $1000

(T&C apply. 18+)

Features

VIP Loyalty Program
Weekly Progressive Jackpot
Reliable Customer Support
US-Friendly

Payout Speed

1-3 days

Licensed by

6.

Bonus

100% up to $500

(T&C apply. 18+)

Features

Guaranteed Tournaments
Quick, secure payouts

Payout Speed

1-3 days

Licensed by

7.

Bonus

100% upto $1000 Welcome Bonus

(T&C apply. 18+)

Features

Rich Player Traffic
Special Promotions
Get Free $1,000
US-Friendly

Payout Speed

2 - 5 days

Licensed by

8.

Bonus

100% upto $1000

(T&C apply. 18+)

Features

Up to $1000 Sign Up Bonus
Promo Code: NEWSB
Highly Responsive Customer Support
Easy-To-Orient
Soft Competition

Payout Speed

1-3 days

Licensed by
Legal Land-Based Poker in Nevada
The Silver State has always had a lively poker scene, from the first legal poker room in Nevada (Owl Club at 143 East Commercial, Reno) to yearly WSOP tournaments. It's even rumored that the first WSOP-style tournament was held in the original Horseshoe Casino in Las Vegas in 1949.
The 1950s saw tremendous growth in the gaming industry. During this decade, the standard for regulation (the Nevada Gaming Commission and Gaming Control Act) was set, and other states followed suit.
In 1970, Benny Binion, the owner of the Horseshoe Casino in Las Vegas, founded the World Series of Poker tournament, which quickly became the premier poker event in the world. The WSOP helped popularize poker and attract a new generation of players to the game.
During the 1980s and 1990s, poker's popularity continued to grow across Nevada, with new casinos popping up and the existing venues expanding their poker rooms. In 1998, the Bellagio casino opened a luxurious poker room that quickly became one of the high-stakes players' favorite destinations. If you're a fan of Ocean's Eleven, you might recognize this establishment as one of the three that Danny Ocean's team plans to rob!
There are 441 casinos in Nevada — mainly in Las Vegas, Lake Tahoe, Reno, and Laughlin.
How to Register at a Legal Online Poker Site in Nevada
Creating an account on any of these platforms is a breeze. Just follow these steps, and you'll be playing in no time:
Sign up for an account
Hit the Sign-Up button, and fill in your details (name, address, email, and phone number).
If prompted, go to your email and click on the link the casino website sent you to verify your account.
Deposit & Play
Visit the site's Cashier section, pick the most convenient payment option, and top up your account with some funds.
Starting your gaming journey with free cash is the best way to go, so grab that welcome deal.
Scroll through the game library and pick what strikes your fancy. Good fortune to you!
Land-Based Casinos With Live Poker
Nevada land-based casinos offer live poker games played on-site in designated poker rooms. Live poker games offered in NV casinos include various formats, such as Texas Hold 'em, Omaha, Seven Card Stud, and more. They are available in different limits to accommodate a variety of skill levels and bankrolls. Some casinos also host poker tournaments, the most notable being the WSOP, where players can compete against each other for their share of the huge prize pool.
Nevada casinos take pride in offering state-of-the-art poker rooms with luxurious amenities and services, including food and beverage options, high-speed Wi-Fi, and a personal concierge. Here are a few of the Silver State casinos that offer top-notch poker experience:
Bellagio Hotel & Casino — 3600 S Las Vegas Blvd
MGM Grand — 3799 S Las Vegas Blvd
Mandalay Bay Resort — 3950 Las Vegas Blvd S
Caesars Palace — 3570 Las Vegas Blvd S
The Cosmopolitan of Las Vegas — 3708 Las Vegas Blvd S
The Venetian Resort Las Vegas — 3355 Las Vegas Blvd S
Wynn Las Vegas — 3131 Las Vegas Blvd S
ARIA Resort & Casino — 3730 S Las Vegas Blvd
Hyatt Regency Lake Tahoe Resort, Spa and Casino — 111 Country Club Dr, Incline Village
The Mirage Hotel & Casino — 3400 S Las Vegas Blvd
Other Resources
Final Thoughts
Legal poker in Nevada has grown and evolved over time, with the game becoming an integral part of the state's culture and economy. However, the market for online poker in the Silver State remains relatively small compared to other forms of online gambling, such as online sports betting and casino games.
If you want to play a hand of poker online, choose one (or several) of the offshore platforms we recommended on this page and try your luck!
FAQ
Is online poker legal in Nevada?
Online poker is the only casino game made legal in Nevada in 2013. However, players aren't outright banned from playing on offshore websites.
What types of poker games are available online in Nevada?
Nevada offers a variety of poker games online, including Texas Hold 'em, Omaha, Razz, Draw poker, and Seven Card Stud.
What are the requirements for playing online poker in Nevada?
You must be at least 21 and within the state lines to play real-money online poker in Nevada.
What are the benefits of playing online poker in Nevada?
The benefits of playing online poker in Nevada are many. Namely, players can enjoy the convenience of playing from home, the ability to take part in various games and tournaments, access to a larger player pool, and better bonuses and promotions. And, of course, no one will be able to see your face and call your bluff!
What are the risks of playing online poker in Nevada?
A few risks are associated with playing online poker in Nevada, including being scammed by an online poker site, payment processing risks, technical issues, or potential legal trouble.