Is Online poker legal in Massachusetts – Poker Laws in Massachusetts
It is no secret that Massachusetts has historically been one of the most progressive states when it comes to gambling. Ever since the Bay State established a state lottery in 1971, it has gradually delved into various forms of gambling, with state-wide sports betting as the last frontier. Retail sportsbooks are gearing up for a January 31 launch, followed by online sports betting apps.
Meanwhile, Massachusetts is home to a slots parlor and two commercial casinos that offer live poker. Daily fantasy sports is also in the mix, with DFS giants DraftKings and FanDuel accepting MA players since 2016. Horse racing fans can place bets through OTB racetracks and online betting portals like TVG. Moreover, charitable gaming is also permitted.
Online poker and online casinos have not been able to drum up enough support for legalization. There has been a push lately for an online lottery but to no avail. While they fill some of the gap left by online casinos, social and sweepstakes casinos offer something different.
Online poker has yet to appear on the legislative docket, so offshore poker rooms are a good option while you wait. Some proponents of state-regulated gambling view offshore platforms as unreliable operations that exploit customers. However, offshore operators are just as legitimate as those that conduct business within state borders.
This guide aims to provide some insights into how poker and online gambling are regulated in MA, along with other forms of gambling.
Is Online Gambling Legal in Massachusetts?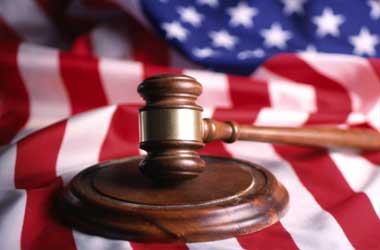 The Massachusetts online gambling scene has shifted into high gear, with online sports betting taking center stage. Representatives passed H5164, the Massachusetts Sports Wagering Act, at the eleventh hour. On August 10, 2022, Gov. Charlie Baker signed the legislation creating a legal basis for sports betting.
Online sports betting is expected to take off in 2023. Several major sportsbooks have applied to the Massachusetts Gaming Commission for a license, including BetMGM and Caesars. There will be as many as 15 sports betting apps at full market maturity.
The online sports betting market complements the existing DFS sector. With DraftKings, one of the largest brands in the industry based in Boston, the legalization of DFS in 2016 came as no surprise. Initially, the law was temporary, but it became permanent in 2018.
State-sanctioned online horse race betting is also available. Using portals like TVG, MA bettors can wager on horse races on their computers or mobile phones.
MA lawmakers put online casinos and online poker rooms on the back burner. The general belief is that online sports betting legislation serves as a springboard for online casinos and online poker, but things don't seem to be heading that way.
That said, nothing in the MA statutes outlaws playing on offshore sites. Therefore, you can play online poker on offshore poker sites that accept MA residents with peace of mind.
Poker Laws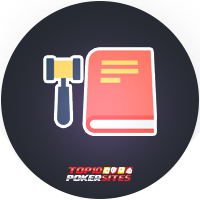 There is a partial regulation of poker in Massachusetts. There are some provisions in the law that dictate where you can play live poker, but online poker does not appear in the law books.
In the upcoming sections, we'll take a closer look at the online and land-based poker scene in Massachusetts from a legal standpoint.
Online Poker
Massachusetts doesn't have a domestic market for online poker, which doesn't necessarily mean you're out of options.
Interestingly enough, Section 17A of Massachusetts General Laws prohibits companies from accepting bets via telephone, internet, and "similar services." That said, the legislation targets the companies trying to establish online gambling operations within Massachusetts, not individuals seeking to play on offshore sites.
There is no indication that playing online poker on offshore sites is illegal in c.271, the section about gambling crimes.
Our thorough analysis of gambling statutes found no mention of online poker or playing it on offshore sites. The authorities seem to be looking the other way when it comes to out-of-state online gaming (which makes sense since the activity has been excluded from all law books), so there is no basis for prosecution.
Furthermore, you can make use of social poker sites. Under the US sweepstakes laws, these platforms are legal in 49 states, including Massachusetts. Social poker apps do not involve real money play and use virtual currency as chips for cash games and tournaments.
Land-Based Poker
After passing the Expanded Gaming Act in 2011, live poker became legal in Massachusetts. The Massachusetts Gaming Commission was established to regulate gaming properties in MA. The law allowed up to three casinos and one slot parlor to open. The agency has established rules regarding how land-based casinos can conduct table games (including poker). If you're considering playing poker in person at one of these venues, you should look at those policies.
There are currently two casinos in Massachusetts that run live poker games, MGM Springfield and Encore Boston Harbor. Here's a breakdown of their offerings:
Encore Boston Harbor — This full-scale casino belongs to Wynn Resorts. It features a 15-table poker room located in the Loft lobby. It's open from 10 a.m. to 6 a.m. daily. Games on offer include PLO and NLHO. Players are in the running for a high-hand promotion and a Bad Beat Jackpot (up to $2–$5 NL).
MGM Springfield — The casino in Springfield is owned by one of the largest gambling brands in the country. The poker room features 14 tables and is open from 10 a.m. to 3 a.m. daily. The room spreads NLHO and PLO at various stake and buy-in levels (mainly 2/5 for NLHO and 5/10 for PLO). $150 NL tournaments run on Tuesdays and Thursdays, and $250 NL tournaments take place on Saturdays.
There are several professional poker players from Massachusetts, and two of them have made quite a splash on major tournament stages. After beating the legendary Daniel Negreanu, Daniel Colman scooped the $1 million Big One for One Drop at the 2014 WSOP. Nick Petrangelo won two WSOP bracelets in 2015 and 2018.
Home Poker Games
Home poker games are allowed by Massachusetts laws. There are some prohibitions regarding playing poker in public places (outside of licensed casinos), but they don't apply to private games hosted by friends. Legislation mentions fines for illicit gambling operations but not for home poker.
Which Forms of Gambling Are Legal in Massachusetts?
As far as gambling legalization goes, Massachusetts has checked most of the boxes except for online poker and online casinos. The following are all gambling-related activities that are legal in Massachusetts:
Land-based casinos
Land-based casinos were legalized in 2011 with the passage of the Expanded Gaming Act. According to the legislation, each of the three regions had the right to host one casino plus an additional permit for a total of four licenses. As a pioneer in this market, Plainridge Park incorporated slot machines into its existing racetrack facilities in 2015. MGM Springfield came in second in 2018, becoming the first casino in MA to offer table games. Encore Boston Harbor picked up the third permit, launching in 2019.
Live poker
Live poker was legalized with the casino bill. As it stands, both commercial casinos in MA feature poker rooms with daily poker action.
DFS
Daily fantasy sports temporarily became legal in 2016. That bill was amended in 2018 to allow DFS permanently.
Horse racing
Horse racing has been legal in MA for more than 100 years. The state legalized horse races in 1934 with SB0179. Online horse racing is also available through various platforms, including TVG.
Lottery
Massachusetts regulated the lottery in 1971. The state lottery offers various games of chance, including drawings and scratchcards. It's also a part of the interstate jackpot games like Powerball and Mega Millions. Players can buy tickets only in-person at official retailers, whereas online lottery is off-limits.
Charitable gaming
Charity gaming is allowed for fundraising purposes. Games allowed include raffles, pull tabs, and bridge. There's a $100 win cap on games.
Sports betting
MA legislature passed a law in 2022 to authorize state-wide sports betting. The Commission is still working on rules and regulations, but the estimated launch date is in early January 2023.
Why Should We Play Online Poker?
Although true poker fans would play anywhere, there are some advantages to taking part in online poker over land-based games:
Massive bonuses – The incentives and promotions on online poker sites surpass those of land-based poker rooms in Massachusetts. Several online poker rooms award $1,000 welcome bonuses to new players along with tournament entries. A rakeback system is also available, which can replenish the bankroll of high-volume players.
No long-distance drives – Convenience is probably the most apparent advantage of online vs. land-based poker. All the action is at your fingertips with online poker, and there are no restrictions on working hours.
Better game variety – MA poker rooms generally have two poker variations, PLO and NLHO. When playing online poker, the selection includes exotic formats like Seven-Card Stud, Razz, Horse, and more.
Faster pace – Online poker plays at a much quicker rate than its land-based counterpart. Whereas live players play about 30 hands/hour, in online games that number is around 100.
Multi Tabbing – Online poker gives you the unique opportunity to play multiple games simultaneously. This option is not possible in land-based rooms for logistical reasons.
Recent Massachusetts Poker Laws
The most recent poker legislation is the 2011 Expanded Gaming Act, which authorized land-based casinos. Other than that, there haven't been any major efforts to expand the poker scene in MA.
Future of Poker in Massachusetts
Poker in Massachusetts has reached a stalemate and is unlikely to change anytime soon. As sports betting is set to take off in 2023, it doesn't seem feasible that lawmakers can seriously consider online poker in the upcoming legislative cycle.
In light of this, the incorporation of online poker into the law books at this point seems like an afterthought.
Other Resources
Final Thoughts
Massachusetts has some of the most liberal gambling laws in the country, allowing nearly all forms of gambling. One of the few holdouts is online poker. In the absence of a state-run online poker market, MA players must turn to offshore sites to get their fix of online poker action. Offshore gambling sites generally have a bad reputation, but most claims are unfounded. In any case, we can say that about online poker rooms that meet our strict criteria, which you'll find listed here.
FAQ
Is online poker legal in Massachusetts?
No, MA didn't pass any laws to legalize online poker. There are no legal repercussions associated with joining an offshore poker site, though. The statutes don't prohibit online gambling on offshore platforms.
Can I play live poker in Massachusetts?
Yes, live poker is legal in MA, and it's offered at the state's two commercial casinos, Encore Boston Harbor and MGM Springfield.
What's the legal gambling age for poker in Massachusetts?
You must be at least 21 to enter any casino in MA. The minimum age requirement in online poker rooms is 18.
Which forms of gambling are legal in MA besides poker?
Other forms of legal gambling in MA include DFS, sports betting (retail and mobile), horse race betting (in-person and online), lottery, charity gambling, and land-based casino gambling. Social online casinos are also regulated.