Legal Online Poker in Kentucky
Kentucky is one of the most anti-gambling states in the US. Legal gambling in Bluegrass State is limited to horse racing, charitable gambling, and the lottery. More popular forms such as sports betting, casino gambling, and poker cannot be found through any legal channels, neither online nor in land-based establishments.
However, this doesn't quite mean you can't play Texas Hold'em, Omaha, and other poker games while in Kentucky. To better understand how to play poker in KY, we must look at what is — and, more importantly, what isn't — written in the state's law books.
Is Online Poker Legal in Kentucky?
In a nutshell, online poker is not officially legal in Kentucky.
All you need to know about the legality of gambling in Kentucky can be found in Kentucky Revised Statutes Chapters 230 and 528.
Said chapters define gambling as "staking or risking something of value upon the outcome of a contest or game based upon an element of chance." As such, the activity is illegal, with exceptions to pari-mutuel wagering on horse races, charitable gambling, and the state lottery.
Online and land-based poker are not explicitly mentioned in these Revised Statutes, but since poker is, in part, "a contest or game based upon an element of chance," playing it can be viewed as an illegal activity.
Furthermore, running a poker website or a physical casino is punishable by law, which is why there are no officially licensed poker rooms in Kentucky.
Still, many players from Kentucky regularly visit offshore poker sites. Of course, being operated abroad, these sites are not legal either, but there are no defined punishments for those who play on them.
This puts the status of online poker in Kentucky in legal limbo — it is technically illegal to play, but you can do so on foreign websites without facing any punishment.
Nevertheless, please remember that you should not take our overview of Kentucky poker laws as legal advice. If you are still deciding whether to play online poker in Kentucky, you should consult your lawyer.
Poker Laws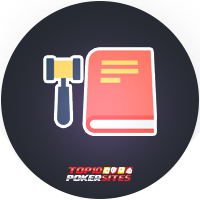 The below links lead to two of the main sets of legal documents regarding gambling in Kentucky:
Best Legal Poker Rooms in Kentucky
Despite being illegal, poker is a favorite card game for many people from Kentucky who find ways to play it daily. We will now revise all available land-based and online options for playing poker in the state.
Legal Online Poker in Kentucky
There are no licensed poker sites in Kentucky and, therefore, no legal options for playing the popular card game over the internet.
Be that as it may, like in many other states with an unregulated online gambling market, online poker in Kentucky is in a legal gray area, allowing you to access offshore poker sites from Kentucky and play for real money worry-free.
The laws don't mention online poker specifically, so playing it can be left to legal interpretation. What's crucial is that you, as a player, won't get into trouble when playing poker on offshore sites in Kentucky.
Even national laws that aim to prevent the use of offshore poker sites typically target operators instead of players.
Of course, it would be much easier for Kentucky poker players if the state legalized online poker and issued licenses to some of the best poker platforms in the world.
In 2019, House Bill 175 aimed to expand gambling in Kentucky to sports betting, daily fantasy sports, and poker, but it failed. In all likelihood, online poker won't get legalized in KY for at least another few years.
My list of the best US poker sites which I consider to be the best rooms to play in 2023:
100% Legal & Licensed Verified Bonus Mobile Friendly Advertiser Disclosure. Must be +18 to participate.
Rank
Poker Rooms
Bonus
Review...
1.

Bonus

100% up to $1000

(T&C apply. 18+)

Features

100% First deposit bonus
Promo Code: NEWBOL
Banking through cryptocurrencies
Top 3 in US player traffic

Payout Speed

1-3 days

Licensed by

2.

Bonus

100% upto $3000

(T&C apply. 18+)

Features

Increased Poker Crypto Bonus $1500
Exclusively for US players
Many Payment Options
Rich Player Traffic

Payout Speed

1-3 days

Licensed by

3.

Bonus

200% upto $1000 Welcome Bonus

(T&C apply. 18+)

Features

Recreational Player Traffic
Get a 200% Match on Your Initial Deposit
Wide Tournament Selection
High-Quality Games

Payout Speed

1 - 5 days

Licensed by

4.

Bonus

200% upto $1000 Welcome Bonus

(T&C apply. 18+)

Features

200% up to $1000 poker bonus
Bonus code: 1000JUICY
High-quality software
Competitive poker tournaments

Payout Speed

1 - 6 days

Licensed by

5.

Bonus

100% upto $1000

(T&C apply. 18+)

Features

VIP Loyalty Program
Weekly Progressive Jackpot
Reliable Customer Support
US-Friendly

Payout Speed

1-3 days

Licensed by

6.

Bonus

100% up to $500

(T&C apply. 18+)

Features

Guaranteed Tournaments
Quick, secure payouts

Payout Speed

1-3 days

Licensed by

7.

Bonus

100% upto $1000 Welcome Bonus

(T&C apply. 18+)

Features

Rich Player Traffic
Special Promotions
Get Free $1,000
US-Friendly

Payout Speed

2 - 5 days

Licensed by

8.

Bonus

100% upto $1000

(T&C apply. 18+)

Features

Up to $1000 Sign Up Bonus
Promo Code: NEWSB
Highly Responsive Customer Support
Easy-To-Orient
Soft Competition

Payout Speed

1-3 days

Licensed by
Land-Based Poker in Kentucky
There are no official land-based casinos that offer poker in Kentucky, as playing live poker for real money is illegal, at least in the traditional sense.
Of course, there have been some reports of underground poker games running throughout the state, but it's best to avoid them. You can play poker at home with your friends and family if no one profits from running the game.
You may also play poker at charitable gambling events and social poker clubs. Furthermore, if you live near the Ohio border, you can find poker at some of the state's casinos, like the Hard Rock Casino Cincinnati.
Attempts have been made to make poker and casino gambling fully legal in Kentucky, but nothing ever came close to fruition.
How to Register on a Legal Online Poker Site in Kentucky
Offshore poker sites have made it easy for US players to join and start playing. Only several minutes stand between you reading this and playing your first hand at a trusted and secure poker site. Here's how to do it:
Choose A Poker Room
Choose one of the poker sites from our list by clicking on the featured link.
Signup
Once on the website, hit the Register/Join/Sign Up button to start the registration process.
Fill out your name, age, email address, and other details, and confirm that you've read the site's terms and conditions. Your info will remain protected and hidden from other players and the public.
Deposit & Play
After your account is ready, go to the cashier to complete a deposit and establish your starting bankroll. Choose among the available payment methods, input the amount, and complete the transaction.
The money should appear on your balance immediately, after which you can claim the operator's welcome bonus. From there, choose a poker game or tournament you wish to participate in and start playing.
Most modern poker sites allow instant play on the website, so you won't be required to download any software. The minimum age for playing on offshore poker sites in Kentucky is usually 18.
Land-Based Casinos With Live Poker
Kentucky doesn't have any land-based casinos on its territory, but it does feature poker at some social card clubs, including:
The Royal Social Club — 124 Black Road, London, KY 40741
Moneymaker's Social Club — 451 Jordan Drive, Suite J, Paducah, KY 42001
Tri-State Social — 2030 Highway 41N, Henderson, KY 42420
Other Resources
Final Thoughts
Kentucky is not the best place to be if you like playing live poker for real money, as you'll be limited to only a handful of social card rooms.
As an online player, you'll face the same treatment as people from most other states in that online poker is illegal, but you can access offshore poker sites without legal consequences.
Still, you should approach offshore poker sites with great caution, as not all of them are worth playing on, not to mention that some are unsafe. To help you, we've tested all available poker sites for Kentucky players and created a list of the best ones. Enjoy!

FAQ
Is online poker legal in Kentucky?
Online poker is not legal in Kentucky, but it is in a gray area that allows Kentucky players to access offshore poker rooms without getting in trouble.
Can I play online poker on my mobile in Kentucky?
Yes, the poker platforms we recommend are all mobile-friendly.
Do I have to download software to play poker in Kentucky?
No, you don't. Most modern poker sites feature an instant-play option, allowing you to access games and tournaments directly from the browser.
Do Kentucky poker sites feature tournaments?
Top Kentucky poker sites are loaded with tournaments, from new customer freerolls to various main events with multi-million dollar prize pools.