Legal Online Poker in Georgia
When you think of Georgia, gambling surely isn't the first thing that comes to mind. The Peach State does not have a single land-based casino, and most other forms of gambling are prohibited. Online gaming sits in a semi-gray area, and even live poker is limited through charitable venues and "bar poker" establishments.
That said, there are ways to enjoy the most popular card game in Georgia for real cash. Better still, you don't have to move a muscle as you can play poker online via offshore poker rooms. Our guide will provide you with the best sites for online poker in Georgia and explain whether playing on these platforms can get you into legal trouble.
Is Online Poker Legal in Georgia?
In Georgia, gambling prohibitions are clearly defined in statutes.
The Georgia Code specifies which forms of gambling are illegal in sections 16-12-21(a)(3), and one might argue that this includes online poker.
Here's the key excerpt to consider:
"A person commits the offense of gambling when he plays and bets for money or other thing of value at any game played with cards, dice, or balls."
If individuals violate this law, they will be liable for a misdemeanor.
Even though this penalty should not be dismissed, it's highly unlikely that GA authorities are eager to pursue someone who plays online poker on an offshore website. What's more, the law does not explicitly ban online poker, allowing for arguments against its coverage.
Online bets can be subject to gambling legislation, but that's open to interpretation. To be on the safe side, it is a good idea to consult a lawyer or a legal expert before playing online poker.
As for the act of playing on offshore gaming sites, GA lawmakers generally take a wink-and-nod approach and focus more on cracking down on operators. Even so, since these brands are licensed in non-US jurisdictions, the American government has few legal grounds for prosecuting them.
Furthermore, the UIGEA and the Wire Act are often cited as laws criminalizing online poker in many states without a legal market. Still, both of these laws target operators, not players.
Overall, online poker is in legal limbo in Georgia — neither permitted nor prohibited.
Poker laws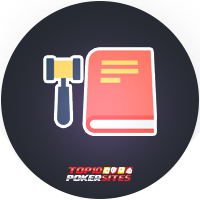 Below is the main legal framework that pertains to gambling in general and may apply to online poker.
Best Legal Poker Rooms in Georgia
In the following segments, we'll discuss online and in-person options for playing poker in Georgia. Specifically, we'll break down the top GA online poker sites and the places to go to play live poker in the Peach State.
Legal Online Poker in Georgia
Real-money online poker is off-limits in Georgia, and by the looks of it, it won't appear on the legislative agenda anytime soon. There was a strong push for legal sports betting in 2022, and it seems that this will be the first online gaming vertical to gain regulatory approval in Georgia. Online casinos are typically second in line in states with legal iGaming, while poker usually comes last.
While you can't play on state-licensed poker sites at the moment, you can play online poker for real cash on offshore platforms. Alternatively, social poker sites and apps offer free play and can help you brush up on your skills without spending a dime.
Our team of poker experts has searched high and low to find the best poker sites that accept players from Georgia. We evaluated the operators according to strict criteria, such as trustworthiness, game variety, bonus quality, tournament selection, rake, and payout speed. After a comprehensive analysis, we've identified several elite picks.
My list of the best US poker sites which I consider to be the best rooms to play in 2023:
100% Legal & Licensed Verified Bonus Mobile Friendly Advertiser Disclosure. Must be +18 to participate.
Rank
Poker Rooms
Bonus
Review...
1.

Bonus

100% up to $1000

(T&C apply. 18+)

Features

100% First deposit bonus
Promo Code: NEWBOL
Banking through cryptocurrencies
Top 3 in US player traffic

Payout Speed

1-3 days

Licensed by

2.

Bonus

100% upto $3000

(T&C apply. 18+)

Features

Increased Poker Crypto Bonus $1500
Exclusively for US players
Many Payment Options
Rich Player Traffic

Payout Speed

1-3 days

Licensed by

3.

Bonus

200% upto $1000 Welcome Bonus

(T&C apply. 18+)

Features

Recreational Player Traffic
Get a 200% Match on Your Initial Deposit
Wide Tournament Selection
High-Quality Games

Payout Speed

1 - 5 days

Licensed by

4.

Bonus

200% upto $1000 Welcome Bonus

(T&C apply. 18+)

Features

200% up to $1000 poker bonus
Bonus code: 1000JUICY
High-quality software
Competitive poker tournaments

Payout Speed

1 - 6 days

Licensed by

5.

Bonus

100% upto $1000

(T&C apply. 18+)

Features

VIP Loyalty Program
Weekly Progressive Jackpot
Reliable Customer Support
US-Friendly

Payout Speed

1-3 days

Licensed by

6.

Bonus

100% up to $500

(T&C apply. 18+)

Features

Guaranteed Tournaments
Quick, secure payouts

Payout Speed

1-3 days

Licensed by

7.

Bonus

100% upto $1000 Welcome Bonus

(T&C apply. 18+)

Features

Rich Player Traffic
Special Promotions
Get Free $1,000
US-Friendly

Payout Speed

2 - 5 days

Licensed by

8.

Bonus

100% upto $1000

(T&C apply. 18+)

Features

Up to $1000 Sign Up Bonus
Promo Code: NEWSB
Highly Responsive Customer Support
Easy-To-Orient
Soft Competition

Payout Speed

1-3 days

Licensed by
Land-Based Poker in Georgia
The state of Georgia has a restrictive approach to most forms of gambling, and live poker is no exception. Due to the ban on casinos and card games, it is not possible to play poker in person, at least not in the traditional sense.
Even home games (including low-stake/social games) are not exempt from the prohibition. You can be charged with a misdemeanor for playing live poker regardless of the stakes involved. Authorities are unlikely to conduct home poker busts or raids, but you should still know the risk of engaging in such activities.
In spite of that, Georgia isn't a total wasteland when it comes to live poker. A number of local poker clubs in the state offer a limited amount of live poker action. Several types of poker clubs exist, but the two most notable are bar poker clubs and charity poker clubs.
The games are free at both types of venues, but you're expected to tip the dealer or buy a drink. Tournaments do not charge any fees, but the prizes aren't huge either. In that sense, poker clubs offer games similar to those on social poker sites rather than those at traditional live poker rooms.
How to Register at a Legal Online Poker Site in Georgia
Setting up an account on any of our recommended poker sites is a breeze. There are no hoops to jump through, just a straightforward registration process which typically takes a few minutes at the most.
The minimum gambling age to play on most Georgia poker sites listed here is 18.
Here's how you can register at a legal online poker site in Georgia:
Choose A Poker Room
Click on our featured links to get to your chosen poker site quickly.
Signup
Open the registration page and choose Join Now/Sign Up or something along those lines.
Fill out the application form. Most commonly, you'll need to enter your full name, address, phone number, and login credentials. Before you finish the registration form, you'll have to tick the T&C boxes, and there may also be a checkbox for the poker site's promotional letter.
Deposit & Play
After completing the sign-up process, go to your Account menu and open the Deposit tab. Once there, select the payment method (typically, you can choose between e-wallets, bank cards, and cryptocurrencies) and follow the prompts. Once you enter the deposit amount and confirm the transaction, the funds should be credited to your account almost instantly.
In most cases, you'll have to complete a verification check before your first withdrawal. A driver's license and a bank statement are almost universally accepted as proof of identity.
Land-Based Casinos With Live Poker
There are several poker clubs in Georgia hosting NL Hold'em and Pot Limit Omaha tournaments. Listed below are the locations of these venues.
Bruceys Sports Bar — 479 Brightwell Ct, Loganville, GA 30052, United States
Benchwarmers Clairmont — 2775 Clairmont Rd NE, Atlanta, GA, United States, Georgia
Dillon's Restaurant & Sports Bar — 850 Dogwood Rd B500, Lawrenceville, GA 30044, United States
Gino's Blind Tiger — 1740 Cheshire Bridge Rd NE, Atlanta, GA 30324, United States
Other Resources
Final Thoughts
The poker scene in Georgia isn't exactly bursting at the seams, but you'll have no shortage of options, either. Poker clubs are a good option for casual players but may lack the adrenaline rush that only high-stakes games can provide. Therefore, it's probably best to go to a poker site that offers a variety of poker games for all stake levels.
At GA online poker rooms, the games run non-stop, and there's always someone playing, particularly taking part in games like NL Hold'em. Even better, you'll get a chance to receive a big welcome bonus right off the bat and take advantage of a range of other promotions down the road. To get started, just select one of the sites listed on this page, and complete the simple registration process.

FAQ
Is online poker legal in Georgia?
No, Georgia doesn't have a state-regulated online poker market like New Jersey, Michigan, or Pennsylvania. Despite this, the statutes do not explicitly mention online play, which is why most players resort to virtual poker rooms.
Do I need to download an app to play online?
No, you don't. However, it's recommended to download the operator's dedicated client. In rare cases, you'll need to download an app or a plug-in to play.
Can I play online poker on my mobile while in Georgia?
Yes, you can. All poker rooms listed on this page are mobile-optimized. Note that the games take up quite a lot of bandwidth and may consume mobile data quickly.
Can I compete in online poker tournaments from Georgia?
Yes, you can. Each of the poker brands on our site offers a variety of poker tournaments and accepts players from the Peach State. Cash games are also available whenever you want.