Is Online Poker Legal in Arizona — Poker Laws in Arizona
Arizona's online gambling laws can be described as a work in progress, as the state's lawmakers have only recently started considering some popular options, such as sports betting. That said, the other two major gambling verticals — casinos and poker — are still not legalized.
But what about online poker? Unfortunately, the popular card game isn't addressed by Arizona lawmakers. As such, the game is considered illegal in the state in all its forms.
Does that mean poker players from the Grand Canyon State have no options to play poker? Surprisingly, it doesn't, as there are a couple of options available, some of which are perfectly legitimate, while others are in legal limbo.
In this article, we'll explore the available poker options for AZ players and the laws (or lack thereof) that paved the way for them. Read on.
Is Online Gambling Legal in Arizona?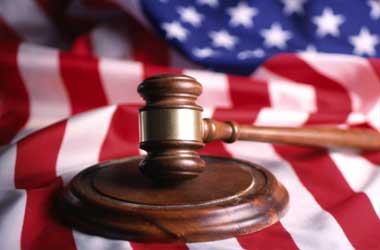 Gambling in Arizona is defined as "risking something of value for an opportunity to win a benefit, which is awarded by chance," according to Arizona Revised Statutes ("A.R.S") § 13-3301(4).
All gambling activities are illegal in Arizona unless excluded from illegality. For that to happen, one of the lawmakers must put a bill on the docket, and the bill should pass the legislative branch and be signed into law.
As it turns out, this has happened several times, meaning several gambling options have been excluded from illegality. First, on the federal level, it was the Indian Gaming Regulatory Act, which effectively allowed all federally-recognized tribes to run gambling operations within their territories, regardless of the state they were in. As there are quite a few such tribes in the state, Arizona became fertile ground for tribal gaming, with 25 casinos soon popping up. Many of them, as you'll see, offer land-based poker rooms.
Recently, Arizona's lawmakers passed a sports betting and daily fantasy sports bill, and Gov. Doug Ducey signed it into law. This paved the way for various popular sportsbooks to offer their services to AZ bettors, online or in land-based properties.
Poker Laws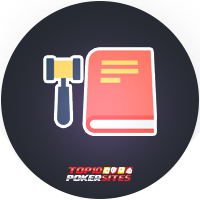 Poker is recognized as a game of chance in Arizona and is considered illegal, with no legislative pieces addressing this type of gambling.


Online Poker
Online poker is not legalized in Arizona. The only option to play the popular card game is via offshore poker platforms. These services are licensed by international regulators and offer poker to many countries around the globe. As such, they are not 100% legal in Arizona, as they haven't received a permit from the Arizona Department of Gaming (ADG).
However, they aren't explicitly outlawed in AZ, either, which means you're crossing into a gray legal area by joining one of these sites and playing poker on them. Although there might be a legal basis for prosecution, nobody in Arizona has been charged for playing online poker on offshore platforms.
Still, you have to be careful when selecting an offshore site, as many of them exploit the loose regulations of offshore gambling authorities, using black-hat techniques, such as obscure language in the T&C section, unfair bonus conditions, and more.
Land-Based Poker
Thanks to a large number of tribal casinos in Arizona, anyone located within the borders of the Grand Canyon State has plenty of options to choose from. Not all casinos offer a live poker room, though, so we decided to make the ultimate list of the properties that do, along with their addresses. Let's check them out.
Apache Gold Casino Resort – 777 Geronimo Springs Blvd, San Carlos, AZ 85550
Apache Sky Casino – 777 Apache Sky Blvd. Winkelman, AZ 85192
Bucky's Casino – 1500 AZ-69, Prescott, AZ 86301
Casino Arizona – 524 N 92nd St, Scottsdale, AZ 85256
Casino Del Sol – 5655 W Valencia Rd, Tucson, Az 85757
Casino of the Sun – 7406 S Camino De Oeste, Tucson, AZ 85746
Cliff Castle Casino Hotel – 555 W Middle Verde Rd, Camp Verde, AZ 86322
Desert Diamond Casino & Hotel – 7350 S. Nogales Hwy, Tucson, AZ 85756
Desert Diamond Casino – Hwy. 86, MilePost 55, Why, AZ 85321
Harrah's Ak-Chin Casino – 15406 N Maricopa Rd, Maricopa, AZ 85139
Hon Dah Casino – 777 AZ-260, Pinetop, AZ 85935
Lone Butte Casino – 1077 S Kyrene Rd, Chandler, AZ 85226
Spirit Mountain Casino – 8555 AZ-95, Mohave Valley, AZ 86440
Talking Stick Resort – 9800 Talking Stick Way, Scottsdale, AZ 85256
Twin Arrows Casino – 22181 Resort Blvd, Flagstaff, AZ 86004
Vee Quiva Hotel & Casino – 15091 South Komatke Lane, Laveen Village, AZ 85339
We-Ko-Pa Casino – 10438 WeKoPa Way, Fort McDowell, AZ 85264
Wild Horse Pass Hotel & Casino – 5040 Wild Horse Pass Blvd, Chandler, AZ 85226
Home Poker
Home games are allowed under Arizona law. The state permits social gambling as long as nobody earns from it except the winner of the game. In other words, hosting a home poker game is legal, as long as the household hosting it (or anyone else) doesn't charge rake.
What Forms of Gambling Are Legal in Arizona?
Despite the activity being considered illegal, Arizona has plenty to offer regarding gambling, as many options have been added to the list of exceptions.
Tribal Casinos
Thanks to tribal gambling being legalized on the federal level, Arizona has seen a boom in tribal casinos across the state, with 25+ options available now. This guide lists all options that feature a dedicated poker room.
Sports Betting
Sports betting was legalized in April 2021, with Arizona being home to 17 sportsbooks, including many industry-leading services, such as FanDuel or DraftKings. As of December 1, 2022, the Arizona Department of Gaming reported a handle of $540 million, which is an 84.7% year-on-year increase. In other words, the popularity of sports wagering has grown rapidly throughout the state.
DFS
Daily fantasy sports were legalized at the same time as sports betting, meaning Arizonians have access to all popular DFS platforms and can participate in various contests.
Lottery, Keno, and Online Lottery Draw Games
Laws governing Arizona's lottery are found in Chapter 5.1 of the Arizona Revised Statutes. There are multiple state lotteries, including scratch-offs and drawings, typically for cash prizes. A total of 29% of lottery revenues in Arizona are explicitly allocated for state funds and projects, and half of the profits are earmarked for prizes.
Parimutuel and Off-Track Betting
Betting on horse races was legalized in Arizona long before other gambling verticals. Some popular race tracks include Turf Paradise, Arizona Downs, and Rillito Park Race Track.
Why Should We Play Online Poker?
In comparison to land-based poker, online poker has many advantages.
There is no need to wait long to play online poker games since they are available round-the-clock, as opposed to land-based poker rooms, which usually aren't open 24/7. When the mood strikes you to play poker at any time of day, it will be right at your fingertips. The only requirement for playing online poker is access to the internet.
Online poker also offers players the convenience of playing on the go, wherever they are. Simply put, most online poker services are optimized for mobile, and you can even access them on older devices since they do not have high minimum system requirements.
There's a broader selection of poker cash games and tournaments on online poker sites. Most of these platforms offer Texas Hold'em and Omaha in all shapes and sizes, but you'll also find a wide array of less popular options, such as some Stud poker variations.
Finally, online poker sites feature a wide range of promotions for new and regular customers, a sight not often seen in land-based poker rooms.
Recent Arizona Poker Laws Changes
Unfortunately, there aren't any laws in Arizona addressing poker specifically. On the other hand, Arizonian lawmakers showed that they were open to the idea, having legalized online sports betting in 2021.
Grand Canyon State residents have access to legal poker options, as they can visit one of the 19 land-based tribal casinos with a poker room.

Future of Poker in Arizona
The foreseeable future doesn't look brighter than the present for poker fans in Arizona, who will have to choose between offshore online poker sites and live poker at tribal casinos. In a way, that's not such a bad thing, as
there's a pretty comprehensive offer
of online and live poker cash games and tournaments.
By legalizing online poker, Arizona would ensure that all available platforms are safe, fair, and trustworthy, whereas it's up to you to stay away from shady and fraudulent offshore sites. We suggest sticking to the options featured on our site, as all of them are checked for fairness by our online poker experts.
Other Resources
Final Thoughts
To sum up,
Arizona has a fantastic poker offer
, even though poker is not technically legalized in the state, as players can select from an array of tribal casinos and offshore online poker rooms.
FAQ
Is poker legal in Arizona?
Poker is not legal in Arizona, but the residents of the Grand Canyon state can play cash games and tournaments in online offshore poker sites or land-based tribal-owned casinos.
What forms of gambling are legal in Arizona?
Even though gambling, in general, is illegal in Arizona, several exceptions are made. Available gambling options are tribal casinos, sports betting, DFS, pari-mutuel and off-track betting, lottery, and various lottery-like games.
Can I play land-based poker in Arizona?
There are no commercial casinos in Arizona, but 19 of 25 tribal land-based casinos feature a poker room. Therefore, plenty of options are available in the Grand Canyon State.
Where can I play online poker in Arizona?
Online poker is mainly available via offshore sites in Arizona, as it's still not legalized in AZ.