Legal Online Poker in Alaska
One would think that the biggest US state by square miles wouldn't hesitate to legalize online poker and other forms of gambling. Nevertheless, Alaska's population of just over 700,000 spread around all that land apparently isn't persuasive enough to make the state legislators regulate the world's most popular card game.
The Last Frontier doesn't feature classic Vegas-style land-based casinos where one could find a poker table, and even all Class III games, like slots, table games, and the lottery, are banned. The only legal games are bingo and pull tabs in gambling halls on Native American land.
Considering that poker isn't even mentioned in Alaska Statutes, players have found ways to enjoy their favorite game, and we'll tell you how and where you can do the same.

Is Online Poker Legal in Alaska?
Alaska's current gambling laws have
no mention of online poker
whatsoever. The state's
gambling code
doesn't refer to online poker as legal, nor it addresses the matter in any way, which could lead us to think that playing poker on the web is against the law. Additionally, the fact that
Alaska doesn't have any state-approved online poker rooms
confirms the legal status of this game in the Last Frontier.
Nevertheless, some argue that the total absence of online poker regulations leaves online poker legality in the gray area. In practical terms, such a view implies that one can't be punished for playing this card game on international sites as they are licensed outside the state and don't adhere to US gambling regulations.
Therefore, if you want to play poker online from Alaska, offshore poker rooms offer a great deal of real-money games, and we listed the best operators on this page for you to choose from.
Poker Laws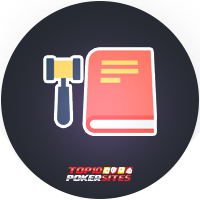 Alaska doesn't have many gambling regulations and deems most forms of gambling illegal. No laws regulating online poker have been drawn yet, and it seems they aren't on the horizon.
The only regulated option to play poker in Alaska includes charity or social home games that don't require any real-money entrance fees, and no one takes a rake.
Also, players from Alaska who want to go around strict gambling laws and take a seat at a poker table often take tours on ships cruising in international waters where AK poker laws aren't valid.
If you're interested in details about gambling, check the gambling offenses part of Alaska Statutes. The document was last updated in 2016, but the change meant nothing to poker aficionados as it didn't apply to the legality of the game.
Best Legal Poker Rooms in Alaska
Alaska gambling laws prohibit games of chance, and according to legislators, poker falls under that category. Therefore, you'll find no land-based or online poker rooms in the northernmost US state. Furthermore, gambling regulations forbid the operation of both brick-and-mortar and online casinos, leaving players little chance to come across a legal poker table in Alaska.
Still, different law interpretations ultimately placed online poker in the so-called gray area and enabled Alaskans to try the game as described below.
Legal Online Poker in Alaska
Alaska is a state which frowns upon almost all forms of gambling, including the state lottery. That said, it's no surprise poker hasn't been legalized in the Last Frontier by now. However, the state's lack of initiative to regulate online poker has left blank pages in its gambling legislature, which gave offshore poker sites a free pass to Alaska residents.
Since no laws specifically ban international poker sites or charge players for joining them, many poker players from Alaska joined those platforms. While it's true offshore sites can pull up a scam due to legal gaps, nothing of the sort will happen if you stick to tried and tested operators.
Check the list at the top of this page for reliable online poker rooms on rewarding offshore poker websites.
My list of the best US poker sites which I consider to be the best rooms to play in 2023:
100% Legal & Licensed Verified Bonus Mobile Friendly Advertiser Disclosure. Must be +18 to participate.
Rank
Poker Rooms
Bonus
Review...
1.

Bonus

100% up to $1000

(T&C apply. 18+)

Features

100% First deposit bonus
Promo Code: NEWBOL
Banking through cryptocurrencies
Top 3 in US player traffic

Payout Speed

1-3 days

Licensed by

2.

Bonus

100% upto $3000

(T&C apply. 18+)

Features

Increased Poker Crypto Bonus $1500
Exclusively for US players
Many Payment Options
Rich Player Traffic

Payout Speed

1-3 days

Licensed by

3.

Bonus

200% upto $1000 Welcome Bonus

(T&C apply. 18+)

Features

Recreational Player Traffic
Get a 200% Match on Your Initial Deposit
Wide Tournament Selection
High-Quality Games

Payout Speed

1 - 5 days

Licensed by

4.

Bonus

200% upto $1000 Welcome Bonus

(T&C apply. 18+)

Features

200% up to $1000 poker bonus
Bonus code: 1000JUICY
High-quality software
Competitive poker tournaments

Payout Speed

1 - 6 days

Licensed by

5.

Bonus

100% upto $1000

(T&C apply. 18+)

Features

VIP Loyalty Program
Weekly Progressive Jackpot
Reliable Customer Support
US-Friendly

Payout Speed

1-3 days

Licensed by

6.

Bonus

100% up to $500

(T&C apply. 18+)

Features

Guaranteed Tournaments
Quick, secure payouts

Payout Speed

1-3 days

Licensed by

7.

Bonus

100% upto $1000 Welcome Bonus

(T&C apply. 18+)

Features

Rich Player Traffic
Special Promotions
Get Free $1,000
US-Friendly

Payout Speed

2 - 5 days

Licensed by

8.

Bonus

100% upto $1000

(T&C apply. 18+)

Features

Up to $1000 Sign Up Bonus
Promo Code: NEWSB
Highly Responsive Customer Support
Easy-To-Orient
Soft Competition

Payout Speed

1-3 days

Licensed by
Legal Land-Based Poker in Alaska
Online poker isn't the only form of this game Alaska doesn't support, as brick-and-mortar casinos within its borders are non-existent. Although the state has a few gaming hubs on Native American land, they only offer bingo and pull tabs and aren't allowed to hold poker tables.
Alaskans who want to play live dealer poker can do so in their homes, provided that the games have a social character, or board cruise ships that offer poker games when sailing in international waters.
How to Register at a Legal Online Poker Site in Alaska
Here's what you need to do to join a poker platform from AK:
Choose A Poker Room
Scroll through our list of recommended poker sites and take your pick.
Visit the chosen poker room by following the link.
Signup
Find and hit the registration button on the poker room's homepage.
Provide your personal details to join the poker room.
If required, verify your new poker room account via email or phone number.
Deposit & Play
Make your first deposit on the Cashier page and claim the welcome bonus.
Choose your favorite poker title from the available options and start playing with real money or bonus funds.
Land-Based Casinos With Live Poker
Casino gambling and Class III games are still illegal in Alaska, so there are no commercial casino venues within the state. The only gambling establishments legally built on the AK land include several Native American gambling halls, but they only offer bingo and pull-tab games. Since there aren't any poker tables in these locations, players from Alaska will have to visit other states for in-person poker gameplay.
Other Resources
Final Thoughts
Online poker still isn't officially legal in Alaska, and the picture doesn't look bright for upcoming years either. However, players from AK can join offshore casinos or poker sites and play their favorite game since no laws explicitly say such action is prohibited.
If you're into poker, stick to this page, as we've found websites with top poker titles and rewarding tournaments you can join. Follow our instructions to successfully join any international poker site and have fun while AK gambling regulators take care of the current status of poker within the state.

FAQ
Is online poker legal in Alaska?
Alaska still hasn't added online poker to its legal books. However, the Last Frontier doesn't specifically address online poker as illegal in its constitution, leaving the activity in the gray area. Thus, Alaskans can play poker at offshore online casinos since those websites don't abide by the Last Frontier's gambling rules.
Are there legal land-based poker rooms in Alaska?
No, you won't find any legal land-based poker rooms or brick-and-mortar casinos with poker tables in Alaska.
Are home poker games legal in Alaska?
Yes, home poker games are legal in Alaska as long as they aren't hosted for profit. In other words, you can play poker solely for fun without any real-money wagers.
What's the legal gambling age in Alaska?
Players in Alaska must be 19 to take part in bingo draws and 21 to play pull-tab games.
Will Alaska legalize online poker?
Even though Alaska is the biggest US state by area, its population of somewhat over 700,000 doesn't call for a change in terms of online poker legislation. The Last Frontier appears reluctant to move towards regulating online poker or any other form of online gambling, and it seems it'll stick to that attitude for the time being.