Ignition Poker Mobile App Review
Ignition Poker was the platform that took over from Bovada, back when it still belonged to the Bodog network. Due to certain legal issues with US authorities, this platform decided to revoke their poker services on this territory, leaving a massive poker player pool without a proper platform. As a response, they were catered by the platform under the same skin, and now within the same network – Ignition Casino.
The most popular aspect of this platform is beyond doubt their online poker action. Once they perceived the multitude of the player pool, it became evident that a mobile plan had to be set in place. This is how the creation of Ignition Poker's mobile app actually came about.
Both it and the desktop version look much like the skin at Bovada, but this only further benefits Ignition's reputation. After all, sharing common features with the long-lasting number one operator in North America is definitely something to be proud of!
Ignition Poker Mobile App Design
The mobile optimized version of Ignition Poker is the same across all various mobile device operative systems. The graphics are astonishingly great, with a smart yet simple colour patterning and sophisticated overall impression.
This mobile-optimized software is created to provide the best possible online poker experience on the go. As a result, the starting screen is modeled as clear-cut and interactive as possible, without anything to crowd the floor and prevent getting all the information you need. On top of that, players are able to make certain customization adjustments, like changing the design of the cards and tables, include some animations and similar extras.
Nonetheless, it is the simplest design of big buttons, easy-to-manage pulling bar and an ever-ready 'More' section for instant help on all screens that makes players as satisfied as they are.
Ignition Poker Mobile App Bonus Offers & Promos
Just because Ignition Poker mobile app players don't have a 20-inch screen in front of them does not mean they will not be able to make use of their promotions. On the contrary, some poker rooms offer specific mobile player-oriented bonuses to keep the traffic flowing on these platforms.
Ignition Poker does not include this in their bonus offers both because players are eligible to all bonuses offered by the platform instead of a few selected ones, and due to their impeccable player traffic.
However, there are a number of bonuses players can enjoy while playing poker hands on the go. The standard Welcome Bonus is always present across all platforms, but what makes the Ignition Poker experience unique is the promotion of Bitcoin. Due to this tendency, an additional bonus is normally present as an incentive to use this payment method above others.
Other than these, different player promos also find their way to the bonus section – some rewarding players for specific achievements and moves during the poker hand action, whereas others are directed at their loyalty. One such regular offer is the friend referral – registered players inviting new ones to join the platform are awarded for making one of its strong suits even stronger.
The one general characteristic of these common bonus offers, as well as some time-limited or themed ones, is their appealing wagering requirements. Namely, Ignition Poker mobile app players are generally known to face some of the most player-oriented terms in the industry.
Ignition Poker Mobile App Games & Tournaments
The only issue one might have with the Ignition Poker mobile platform is their availability of games and tournaments variety. In fact, there are no tournaments or Sit'n Gos available on this platform, although efforts have been made since its initial release to try and resolve the issue.
Nevertheless, while the completion of the game selection is still underway, those that are already present on the Ignition Poker mobile app provide prime poker action. These include mobile cash games and Zone Poker. The former is a regular selection of different variants of poker – Texas Hold'em, Omaha Hi and Omaha Hi/Lo, while the latter, Zone Poker, is the room's specific form of fast-fold poker action. At Zone Poker, all you are supposed to do is enter basic parameters (level, bet size) and the app finds you the perfect table. Each fold directly transfers you to a different table with a freshly dealt hand. If this isn't enough to get the action moving, the 15-second limited wait time certainly is.
Employ the right strategy, and you can get tournaments as well – rake up as many player points as you can during your mobile poker play and use them later to buy your ticket to the tournaments available through desktop.
Ignition Poker Mobile App Banking Methods
It is widely known that Ignition Poker caters specifically to the US poker playing market. What is even more confirmed is the issue of regulated payments to and from such establishments on US soil. The fact that Ignition Poker's mobile app has been able to provide all major payment processing methods to its US player pool is quite significant.
On the one hand, there are two deposit methods – Bitcoin and credit card processing services, i.e. Visa, MasterCard and American Express. On the other, withdrawals can be requested through a Check by Courier or, same as the deposit option, using bitcoins. Either way, players enjoy fully secured and promptly processed financial services.
In this line of thought, it is important to emphasize the fact that Ignition Poker mobile players choosing Bitcoin as a depositing or withdrawal method are not subject to any fees. Credit card depositors will face a 5.9% fee for Visa and MasterCard transactions, and 9.9% fee for AmEx ones. The Check by Courier withdrawal option charges a fixed fee of $100 per withdrawal.
Ignition Poker Mobile App Security & Provable Fairness
Mobile poker players have long showed reluctance towards their favourite pastime, solely due to the fact that this platform was considered unsafe. However, Ignition Poker mobile instant-play app allows players to share their information without worrying about cyber criminals.
The operator employs high-end SSL certificates, which encrypt all information exchanged between it and the player. On top of this, it is completely transparent in terms of game chances, terms and conditions, meeting the criteria for provable fairness as well.
Players are allowed to employ certain additional software or hardware that they deem beneficial to keeping security intact. Still, it is important to note that the platform has not been involved in any occurrences that would indicate a need for such measures.
Ignition Poker Mobile App Customer Support
At Ignition Poker's mobile app, customer support is just as advanced as any other aspect. The players can freely ask for any explanation or report issues through their mobile devices, be it smartphone or tablet running on Android, iOS, Windows Phone or Blackberry software.
They are provided with two contact options – a live chat and a ready-made email contact form. Other than this, simpler and less urgent matters can easily be resolved by players themselves, once they address the relatively detailed FAQ section.
FAQs
Are there any deposit limits for Ignition Poker mobile app players?
– Deposit limits for these players are set by both payment methods – Bitcoin deposits can range from $10 to $5,000, while Visa/MasterCard transactions have to be between $20 and $1,500.
What about withdrawal limits for corresponding banking methods?
– Both withdrawal banking methods are subject to minimum and maximum limits – Bitcoin requests can range from $10 to $9,500, while the Checks by Courier need to be a minimum of $100 worth and a maximum of $3,000.
Players from which US states are prohibited to take part in the Ignition Poker mobile app action?
– Players based in the following US states: Delaware, Maryland, New Jersey and Nevada, are banned from using the services of Ignition Poker, both through the desktop and mobile app platform.
How can mobile poker players perform transaction requests?
– When playing through a mobile platform, poker players are advised to visit the 'Cashier' section, always present at the corner of the screen, and request their desired transaction there.
Is there a multi-tabling option available for Ignition Poker mobile players?
– No. Unlike desktop players, mobile poker players at Ignition Poker are not provided the multi-tabling feature, mainly due to the lack of tournaments. Those who prefer faster-paced poker action can turn to the Zone Poker option – tables change so fast that you are just as likely to feel like you are multi-tabling.
About the Author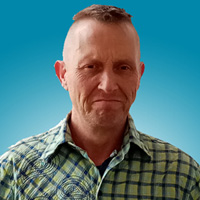 Contact Me
Hi, I am the Chief Editor of top10pokersites.net, this site is dedicated to all thing poker. I have been working around the poker industry for the last 15 years, with different brands. The main purpose of this site is to keep you uptodate with the industry and offer you the best deals around.