Instructions on How to Host a Poker Night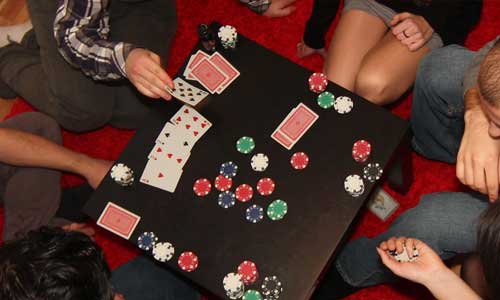 A group of friends, cold drinks, cigars, and chips on the table? Yeah, it's poker night, alright. Playing poker with a group of close friends is a fantastic way to spend some quality boys' night out time.
However, whether it's a one-time thing or it's simply your turn to host a poker night, there's a lot of planning to be done in order to ensure that everything goes smoothly.
A Few Tips To Get Your Poker Night Off To A Good Start
There's no reason to worry though, as I've prepared another guide with some tips, in our first guide we gave you some ideas of the gadgets which could be used to create a home poker game, now we move on how to host a great poker night where everyone will have a good time.
# Plan Ahead
Before you get to the actual tools needed to play poker, there are a million little things to do. First things first, in order to play poker, you need people. While you can play poker with as little as two or three people, it's recommended to have somewhere between five and eight of them. This guarantees that you won't meet the same people after each flop over and over again and, by introducing variety, you will make things a lot more interesting.
Next, ensure that all your friends are attending the poker night. Find the time that suits everyone and send out the invites beforehand so that, when the time comes, everyone's going to be there.
# Establish Rules
There are numerous poker variances out there and, before you even get to the playing part, you need to agree on which one of them you'll be playing during your poker night. One of the most popular variances is undoubtedly Texas Hold'em, so chances are everyone is going to know its rules.
Additionally, in case you suspect that someone's not 100% sure about the rules, you will give them enough time to prepare for your poker night by letting them know in advance about your plans.
However, establishing the variance of poker you're going to play is just half the job because you will also need to decide on the general layout of the evening. In other words, you will have to decide whether you wish to play for fun, for actual money or in a tournament format, as well as how you are going to determine the winner — all that jazz.
# Tournament Format Is a Great Idea
For example, if you're playing in a tournament format, you can award each player with a predetermined amount of chips and set the buy-in amount. So, let's say that you, or any other player, has $1000 in chips. After you lose your $1000 in chips, you can buy another $1000 in chips for the additional $10 of real money.
This ensures that everyone can keep on playing, but it also introduces some risks. By having something to lose, players are not going to be reckless with the all-ins and will instead try to win as much as possible. Not only does it make the game a bit more competitive, but it also raises the quality of the game itself. Of course, you can decide on the details, such as how many chips can you get per buy-in and what's the cost of the buy-in, and find something that suits you the most.
Finally, you need to take into consideration how long the poker night will last. This bit of information is going to be useful so that you can determine by how much you're going to raise the blinds and how often. Depending on the stakes and on how much everyone's planning to spend, you can raise the stakes by XX every X minutes; just work out the math and find something that suits everyone the best. Afterward, you can simply set an alarm clock or a stopwatch on your phone and raise the blinds as soon as the alarm rings or the timer expires.
The same rule applies if you're planning on playing for real money chip, i.e. if every chip denomination is worth as much as it's stated on a chip. In other words, buying in with $25 worth of chips would cost you $25 of actual money. The principle is the same, and the only thing that you would have to set is the maximum buy-in amount, in order to ensure that everyone's going into the game fair and square.
# Make It Competitive by Rewarding the Winner
In addition to buy-ins, you can place, let's say, $5 in a shared pool at the beginning of the poker night tournament that you're hosting so that, when you decide to call it a night, the guy that has most chips on the table gets to win the money.
Of course, make sure to keep track of who bought in the least. What's more, if you're playing or planning on playing with your friends on the regular, you can start a mini-season and award winner at the end of the season with something that you've previously agreed upon or even get a themed trophy. You're only limited by your creativity, so you can always find something to make your poker nights even more exciting.
# Poker Tools
There are several different tools that you should use to host a perfect poker evening and, while some are optional, others are a necessity.
For starters, you will need a deck of cards. If you wish to make all out and make it fancy, you can get a deck of KEM playing cards — the same deck used at the World Series of Poker. However, if you prefer something cheaper that's a high-quality product, you can check out Copag playing cards. What's more, you can get a dealer's kit, which comes with buttons for the big blind and the small blind.
The next thing you should get are poker chips. When getting casino chips, you should avoid the flimsy cheap ones, and instead go for something of a higher quality that has a nice tactile feel to it. For that reason, look for the chips that are made of clay composite resin or claytec, for example. In addition, depending on the size of your group, you might even want to go with two poker chip sets to ensure that there are enough chips for everyone. Finally, make sure that you get at least 4–5 differently colored denominations so that everyone can easily make their bets.
Lastly, you will need a poker table. While an actual poker table isn't a must, it most definitely adds some extra flavor to the whole atmosphere. It's also one of the most expensive things on the list that you'll need, so you can safely skip this one if you are not willing to commit that much. Instead of getting a poker table, you can get a poker table cover that you can use on your regular table to add some extra flair to it.
However, you need to make sure that you have a regular table big enough to fit everyone, their chips, and also give them enough room to check their cards or put their beverages, which leads us to the next part.
# Food and Drinks
Food and drinks are the last thing that you need to get in order to have a thought-out poker evening. What's more, you can even throw in some cigars if you're up for it, if you're in a smoking area and if there are no friends who are going to complain about the smoke.
When it comes to drinks, just make sure to check with your friends in advance on who's going to drink what, be it whiskey, scotch, a cold beer or some soft drinks. By knowing who's having what, you won't have to end up being in a shortage of anything, and you can also cool the drinks beforehand.
When it comes to food, I recommend you make something that's easy to eat, and that won't disturb the gameplay too much. It can be some finger food, chips with a nice spicy dip, or brownies. You can even throw some meat on the grill beforehand and have burgers or some hotdogs ready before the rest of the party arrives. Ultimately, you know your friends the best, so you're free to surprise them with something you know that they're going to like. If you find yourself at a World Series of Poker event why not checkout our guide to the best eating places around.
Quick Summary
As you can see, hosting a poker night is not that difficult. At the same time, though, it's not all that easy either because it requires the right amount of planning ahead. However, as long as you make sure to cover each step in this little guide, you're guaranteed to have a fantastic time with your friends.
All that's left to do now is to dim the lights to set the atmosphere, crack open a cold one and make the most out of your poker party. If hosting a poker night isn't your thing why not checkout our US Online Poker Sites instead… Most Important Thing Is To Have fun!