How To Play Poker Without Poker Chips
Are you eager to play a home game with your friends, but don't have a set of poker chips to play with?
Don't fret as you can play poker without poker chips, stick with us as we provide a brief understanding of poker chips and the role they play in a poker game and show you how to play when you don't have any in this article.
Brief Understanding of Poker Chips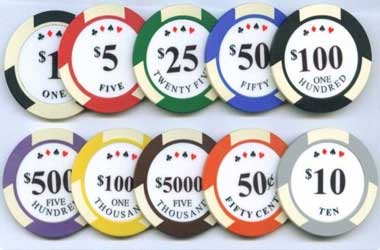 You have to make a bet while playing poker. Players use poker chips to make fun or real money bets while playing a game. Chips help players keep track of bets and know who is winning or losing the game.
Does this mean you cannot play the game without chips?
If you do not have chips but still want to play poker, you can use something else to substitute for chips.
When you do so, you may have to alter the gameplay and rules according to the following tips.
A standard multi-player game requires 500 chips. If you do not have a chipset, you need 500 items from your house to substitute for chips.
You can manage to play with 300 chips if you have invited six or fewer friends over to play with you.
The most challenging thing about playing poker without chips is assigning denominations to them. Try to figure out how to do this without complicating things. We suggest using only three denominations to make things easier and the game more enjoyable.
You can play your home game at 25/50 blinds and assign denominations of $25 each to eight chips. Since it is your home poker game, you can set the stakes as high or low as you wish.
Avoid inviting too many people if you cannot assemble the required number of chip substitutes. For example, playing with ten players and 300 chips is difficult.
12 Alternatives To A Poker Chip
Here are some exciting ways to play the game without chips.
Spare Change
All of us tend to have some spare change lying around the house. Take some time to dig out all those coins from various parts of your home. You will be surprised at the number of coins that turn up.
You can now use the coins to play home games with your friends. Coins of any currency and any denomination serve as excellent substitutes for chips. You can make things interesting by letting the winner take home all the coins.
Board Game Pieces
Rummage into your games cupboard and pull out all those board game pieces.
Do you play board games like Connect 4, Checkers, Backgammon or Othello?
You can even use the Scrabble tiles as chips.
If the pieces of one board game aren't enough for your home game, you can mix and match tiles or coins from several board games. You can also ask your friends to bring over board game pieces.
Using pieces from multiple board games makes sense because you can easily assign denominations to them. For example, you can give values of $1 to the Scrabble tiles, $5 to the Connect 4 chips, and $1000 to the Othello pieces.
Office Supplies
Did you decide to play poker with your co-workers in the office when the boss is not around? You may not have any chips, but you will find plenty of office supplies in cupboards and drawers.
You can collect paper clips, rubber bands, and tacks of different colors, assign different values to each color and start playing your favorite game.
Play Money
Play money is an excellent substitute for chips, and getting hold of play money is easy if you play games like
The Game of Life
or
Monopoly
. These
board games come with fake currency bills
, which can represent chips of different values in
poker games
.
If the bills are of different colors, you do not need to use the numbers they display. Assign a value to each color and enjoy your game.
Make Play Money Bills of Your Own
Making play money bills of your own requires time and effort, but you can store them for the next game.
Get hold of different colored paper and cut them into squares. You can write values on the squares you cut out or assign a value to each color. Playing without chips doesn't get easier than this.
Play Online Poker
Playing
poker at a new online poker room
is a fun way to play without chips. You do not even have to invite friends to your house. You can register at any of the top online poker sites such as
partypoker, 888poker or GGPoker
and invite your friends to play with you online.
The best online poker rooms allow you to play for free or for real money. They also teach you how to play. If you already know how to play, you can  participate in cash games, online poker tournaments, or satellite qualifiers to live poker events. You do not need a chipset to play poker online.
Also, online poker rooms welcome new players with bonus packages and run several lucrative promotions.
Make Use Of Poker Apps
Are you a tech-savvy player?
You do not have to hunt for spare change, board game tiles, or office supplies to use as chip substitutes. Instead, you can download poker apps like Chips of Fury or use the services of websites like www.pokerchips.io when hosting your next home game.
Pokerchips.io allows you to create a new table for your home game. You can do this on the website homepage. Share the unique table ID with your friends so they can join the table by visiting the URL or through the homepage. Once all your friends have joined the table, you can play how you usually do. Whenever you want to make a bet, you can use your phone.
Chips of Fury (CoF) is an app that allows you to play private Texas Hold'em, Omaha 5, Omaha and other games with your friends using playing cards of your own and virtual chips. The app has unique features such as an in-app chat function, an optional clock, and a chips-only mode if you wish to play offline and do not have a chipset.
The app offers an unlimited number of chips with customizable denominations. Its pot settlement feature includes support for options like hi-lo splits, side pots, or winner takes it all. You can also enter the amounts manually for custom settlements.
Garage Items
If you are one of those players that do not like online poker but prefer a live poker game in your garage, you can play one without any chipsets.
Head over to the garage and look for a toolbox. Tons of items like nuts, nails, bolts, electrical terminals, washers, fasteners, and others work as chip substitutes. If you do not have a toolbox, you can ask a friend to bring one along.
Candy Poker
If you have a sweet tooth, you will undoubtedly have plenty of candy at home.
Even if you don't like candy, you can always pop over to the store and buy some. It is inexpensive and substitutes for chips perfectly well.
Instead of candy, you can use any dry food item you may have in the house. The winner can take home all the candy or distribute it among all the players.
Playing Cards
Use playing cards if you want chip substitutes with denominations.
You can take the deuces to the tens on their face value and assign different values to the picture cards.
  Make sure that the deck you are using as a chipset looks different from the deck you are using for the game to prevent the cards from mixing up and creating confusion among the players.
You can also use numbered cards from another game. For example, Sorry! is a board game with cards numbered from one to twelve. Using cards like these will save you the task of assigning values on your own.
Play With Clothes
We are not talking about
strip poker
, although it is one of the most exciting ways to play the game. Instead, we suggest using
small items of clothing like handkerchiefs, shirts, ties or socks instead of the regular chipset
.
Ensure that the clothes are clean because nobody likes to play when there are smelly socks around. You can add spice to the game by making the loser fold all the clothes at the end.
Popsicle Sticks
You can get these at any craft store. We recommend getting hold of sticks of different colors.
You can assign different chip denominations to different colors instead of marking them with values.
Final Thoughts
What if you cannot get hold of any chipset substitute?
If you haven't found anything to substitute for chips and want to play the game urgently, you can use a pen and a piece of paper. 
Players of several card games use this old-fashioned method to keep score, and it works for poker too. Just be innovative and you will be able to enjoy a game of poker without a traditional poker chipset!