How Do Poker Tournaments Work?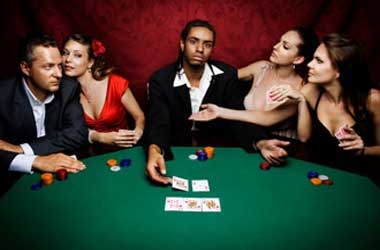 If you're reading this article, chances are you haven't participated in any poker tournaments thus far. However, that might change once you finish reading this guide to poker tournaments.
The most important thing to know is that the winner of a poker tournament is the person with most or all chips at the end of the night.
Unfortunately, it's not as simple as that since there are a few other things you should note. That's why we'll go over the entirety of poker tournaments, how they work, what they entail, their types, and so on.
Keep reading for full disclosure on poker tournaments.
How Are Tournaments Different From Cash Games?
Poker tournaments are often compared to cash games in terms of their features. Interestingly, the two don't differ much, but there's a key distinction that says a lot about both forms of play. Namely, to participate in a tournament, players need to pay an entry fee. That fee goes toward the total prize pool and represents the maximum amount a player can lose during the event.
Also, tournaments feature blinds — mandatory bets that rotate around the table and increase in regular intervals. Blinds force players to make moves — otherwise, they risk having their stacks lower over time. In the end, the player who hasn't lost all their chips is declared the winner.
On the other hand, cash games typically don't have an entry fee, but they do require a minimum enrollment sum. This sum can rise during the game if a player decides to keep investing their funds while playing.
Poker Tournaments 101
All players pay the same entry fee and start the tournament with the same chip amount. For example, a $500 tournament might assign 50,000 starting chips to each player. These do not have cash value and cannot be exchanged for money once the tournament starts. A player gets eliminated once they have lost all of their chips. So, the idea is to last as long as possible and collect as many chips as you can.
When it comes to tournament duration, it typically depends on its structure. Each tournament is divided into levels whose length has been pre-determined. The blind intervals are also set in advance, so there are no surprises. They typically increase from round to round. As a result, each round becomes more expensive to play. However, the chips of eliminated players still remain in the game, so tournament leaders can afford to withstand the increased blinds.
Two factors determine how long a poker tournament will run for — the duration of the levels and the rate of the blind increase. For that reason, some tournaments can have levels that last only a few minutes. These are sometimes called turbos or hyper-turbos, and they are mostly held online.
On the other hand, land-based tournaments, like the World Series of Poker, can have main events that last up to two weeks. It all depends on the size of the field — however, some of the main factors are also the tournament's deep stacks and slow structure.
Different Tournament Types
In most cases, there are two typical ways of structuring an entry fee in a tournament.
Freezeouts — This means that each player can buy in only once. After the player has run out of chips, their run is over. Freezeouts are the most common tournament type.
Rebuys — This type allows players to purchase additional chips for a specified period of time at the beginning of the tournament. They can do this if they run out of their chips or fall beneath a certain level. The cost is typically the same as the entry fee, minus the rake.
Let's not forget to mention reentry tournaments, which are basically the same as rebuys, except for the fact that the player must be eliminated first. Once they are out, they can re-enter and get treated as a new player.
How Do Payouts Work?
Naturally, not all tournament participants can go home with a portion of the prize pool. Depending on a tournament, it can pay out anywhere from 10% to 30% of the field. For example, if there are 900 participants and the tournament pays 20% of the field, only 180 players will go home with a prize.
The payouts dramatically increase as a tournament progresses and reaches its final stages. Some of these tournaments carry life-changing prizes at the top of the payout structure — think along the lines of five or even six digits.
When Is the Final Prize Pool Established?
Prize pools are established based on a tournament type.
For example, in freezeout tournaments, once the initial entry period ends, the final prize pool can be established. In some cases, entries are closed at the start of the first deal, whereas sometimes, there's a specified period of time for buy-ins. On the other hand, in rebuys, the final prize pool is unknown until the end of the rebuy period.
How Many Players Can Join?
In brick-and-mortar locations, the size of the room dictates the number of tournament players. Many of these locations have a limited number of people they can accommodate, especially in times of the pandemic.
Naturally, if more players join the tournament, the prize pool gets higher. Even though that's ultimately the goal, it shouldn't disrupt the play.
The number of tables depends on the tournament size. Each table can accommodate eight to nine players. However, since everyone is part of a larger structure, your direct opponents are bound to change during the day. Players get eliminated, and the organizers have to move some players, close other tables, and create new arrangements. As the tournament progresses, fewer tables and players are left standing.
Some tournaments spread their starting day across several days. That way, it is more convenient for organizers and players to deal with hundreds of applicants. For example, a level 1 play can be played over three days — day 1A, 1B, and 1C.
When it comes to online play, you don't need to worry about space limitations, as there are none. In a virtual setting, new tables can appear out of nowhere to accommodate additional players. Also, players automatically move from one table to another as the tournament shrinks.
What Are Guaranteed Tournaments?
While exploring the world of tournaments, you might come across guaranteed tournaments (GTDs). These have a minimum prize pool that's set before the event commences. So, if there aren't enough buy-ins to meet the guaranteed amount, an overlay occurs. This means that the event begins as if some players have already busted out.
However, poker tournaments already have an idea of how many players usually participate, so they offer guarantees. Knowing the guarantee of a specific tournament is a good thing, as it might help you organize your playing schedule.
Poker Tournaments 101
Poker tournaments are regularly held online and in casinos worldwide. Here are some of the most popular ones.
World Series of Poker (WSOP)
This is the biggest and most famous poker event that has taken place every May and June in Las Vegas since the 1970s. However, there are numerous spinoffs that you can participate in throughout the entire year. WSOP offers more than 80 events, with an average field of 1,000 players, but this number increases dramatically during the Main Event. Buy-ins sometimes reach stratospheric amounts, and the prize pool is usually worth several million dollars.
This tournament also has an offshoot — the World Series of Poker Circuit Series. These events take place in casinos around the US and mimic the WSOP format.

World Poker Tour (WPT)
WPT has existed since 2002, and it is an internationally televised poker competition broadcast in over 150 countries. The events are held globally, and buy-ins typically range from $3k to $25k.

World Championship of Online Poker (WCOOP)
This is the biggest online poker tournament attracting players worldwide. The series hosts over a hundred events annually, and it's exclusive to PokerStars. Since it covers all buy-ins and poker variants, it is perfect for players of different skill levels and budgets. The average field attracts around 1,000 players, but the number usually doubles for the $5,200 main event. WCOOP payouts range from $10k to $1 million.

Triton Super High Roller Series
As evident from its name, this tournament is for those with the biggest bankrolls who are not afraid to lose it all to emerge victorious. TSHRS takes place in exotic locations worldwide with an average $10k entry fee. The events typically attract between 30 and 200 players, and the payouts range between $200k and $20 million.