Gadgets You Need to Create Perfect Home Poker Game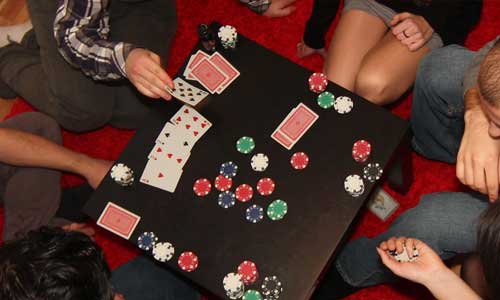 Online poker has been revolutionary for many, but there comes a time when you may just grow sick and tired of endlessly playing online. Being able to host an enjoyable game of home poker is an awesome feeling that will leave you wanting to do it more often.
If you are having some friends over, then poker might just be the perfect way to have fun, kill time and make for some healthy competition.
Apart from beating the monotony of playing round after round online, or playing in a casino where you need to face the wrath of the house rake, there are actually a lot of good reasons as to why home poker is an excellent idea.
Not only are you going to be remembered fondly as a great host, but you are also going to enjoy yourself thoroughly.
Of course, there are some responsibilities that you will have to shoulder as the host, but the contentment that you will get from an evening well spent with friends and family playing poker is well worth it. In this article, we are going to take you through some basic tips and advice which will help you host your first and perfect home poker game. Here's how you can keep it safe and legal as well.
Home poker is a stellar idea, and here's why
First things first, home poker is just easier on the pockets since there is no dealer expecting a lavish tip and neither is there a rake or a playing fee which casinos so rightfully impose on players these days.
Home poker is also much more economical given that you don't have to pay through your nose for exorbitantly priced drinks and food as you would find in any land based casino.
The overall vibe of the game is going to be more amicable and sociable given that you are playing with people you know and not against some shady looking strangers that give you intimidating glares every once in a while.
Home poker allows you the freedom of playing a variation of poker that you your friends enjoy most instead of having to play whatever is on offer at a casino. You have control!
Unlike in a casino, you are not going to be forced to wear ear phones just to be able to listen to some music. You can blast away on your speakers, the tunes of your choice.
Poker can be on the edge at times! We understand how frustrating it can be for smokers who just want a drag or two while the action gets intense, sadly, casinos will not allow it. However, in your own home poker game, you make the rules, and you can puff away all you want right at the table.
Want to play a little while longer or want to call the game off sooner than a casino would permit? Well, with home poker, the remote is in your hands. Do as you please.
Did someone in your group forget to carry their ID? Is the casino making a meal of it? Is your evening going to the dogs? Play home poker and having to flash your ID will be a thing of the past.
Want to play a few hands in some shorts and flip flops? Isn't the dress code in most casinos a bit pretentious? You can play in your boxers when you play home poker.
Annoyed by that super fake waitress and her fake smiles? Hate the fact that you have to tip her well or you will be considered a d-bag? Well, she won't be around when you play home poker!
Equipment – what you need to organize an awesome evening of home poker
You could play poker the minimalistic way with just a couple of deck of playing cards and some make shift poker chips, but investing in some budget poker essential equipment is actually a great idea if you want to play often and organize home poker for your buddies. There are a few things that you should consider getting if you want to be the poker host everyone wants an invite from!
Poker table – While this is not mandatory, there is just something about having a poker table or layout which will inherently make the game more "serious" for the lack of a better term. It also will keep your cards from sliding out and falling onto the floor when cards are being dealt, we all know how annoying that can get. Unless you want to get really fancy and have some extra moolah to splurge, you can get a decent table that does the job in the range of around $30. For around $150 you can get a full stack oval poker table with foldable pegs that you can nicely tuck away when not in use.
Poker chips – Matchsticks and other make shift coins just don't cut it if you want your guests to take the game seriously. Poker chips are cheap, color coded for different values and in our books an absolute essential for any home poker host. You can buy a stack of 500 poker chips for anywhere between $20 – $40.
Dealer button – This is a special little poker chip which will stop all arguments about who the dealer was last hand and who the dealer should be this time around. A cheap and nice little coin to have for a smooth sailing evening of home poker.
Timer – We all have watches and smart phones, but a timer on the table will reinforce and remind people that there is a time aspect to the game and they cannot take forever to make their decision – something which can get really annoying without a timer.
Food and drinks – Lastly, some savory snacks and beverages are things that everyone will very much appreciate and enjoy.
Now all you need to do is enjoy your game and rake in the moolah!.