Five Cool Christmas Presents That You Can Gift To Poker Enthusiasts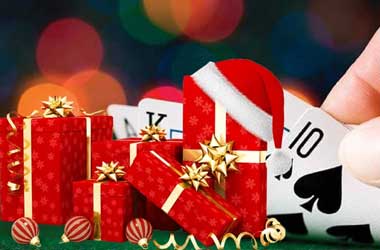 It's that time of the year again!
If you have friends or members of the family who love poker, you can make them extra happy this Christmas season by giving them some gifts that will cultivate their passion for the game.
But choosing the perfect present for your poker-playing loved ones can become a quite difficult task. We're here to help you out.
Whether they're new to poker or have been playing the game for quite some time now, you can find a gift that suits them
5 Poker Themed Christmas Presents
Below are some of the best gifts that poker enthusiasts will surely love, which you can buy at most online retailers and none of which should cost you a bomb.
# Automatic Card Shuffler
This poker gadget offers convenience and efficiency for poker players. It makes sure that the shuffle is legitimate and that the game is fair.
Automatic shufflers are usually expensive but their function is worth the steep price.
# Personalized Poker Room Sign
A custom game room sign is another great gift idea for poker fans. It helps to create the right atmosphere for people who like to play the game in their spare time or those who usually organize private games with friends.
Game room signs come in different designs, but you might want to pick something with a wooden touch as it gives a laid-back, rustic feel to the players.
# Engraved Decanter Set
A poker game becomes more enjoyable when played over a glass or two of wine.
Your poker-playing friends and loved ones will surely appreciate it if you get them a decanter set engraved with their names.
Poker nights will be extra special and fun with wine or whiskey at hand.
# Leather Poker Cards
This gift is perfect for players who want to play poker anywhere, anytime they like. They can take the handy set with them outdoors while hanging out with friends, or when they're traveling.
And the good news is, this type of gift isn't hard to find and is more affordable. You can just get it from your local poker souvenir shop or online. That means less hassle for you!
Poker Rule Book
For those who are just starting out in poker, a book explaining the rules of the game will prove useful.
It will help beginners understand the game more with extra tips on how to improve their skills.
There are lots of them available online or at your local shop and some even have discounted prices during the holiday season.