Best 10 Poker and Other Card Games Featured In Movies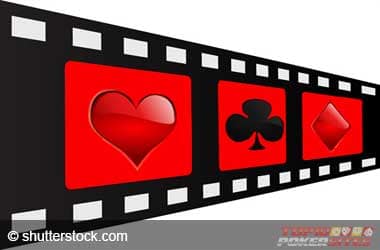 There's no shortage of movies in which poker is played, as this game is often used for the intense situations it can create, more than any other card game.
The game of poker is very often used in Western movies, and in some of them it's the basis for the plot.
There are also modern poker movies that usually focus on the rise of a talented player to winning the WSOP bracelet, and there are a few comedies as well.
Films With Poker / Other Card Games Worth Watching
Let's go through the list of 10 best poker movies of all time, with other card games included as well, most notably, blackjack.
#10 Deal (2008)
Deal isn't very highly rated, only 5.4/10 on IMDB, 3% on Rotten Tomatoes and 35% on Metacritic, but it does have two things that make it worth watching.
One is Burt Reynolds and the other is that it depicts a WSOP tournament. Oh, there's Shannon Elizabeth, too.
This ambitious movie with a $5m budget flopped so hard in box office, but it later found a niche audience among poker players who want to see a movie that depicts their favourite game. It's a fun coming-of-age film that features a young talented poker player and a mentor who share winnings 50-50. Don't expect too much from this one and you might just have fun.
#9 All or Nothing (2013)
This movie depicts the world of underground poker, and all poker players will therefore want to see this movie.
This is one of those movies that haven't really made mainstream, yet are quality movies that should definitely be watched at least once.
There are no stars here, Declan Ray leads the cast, and the entire movie was shot in just one day in Ireland. If you've seen all poker movies there is, you might have missed this one, and should watch All or Nothing. You might be pleasantly surprised.
#8 The Cincinnati Kid (1965)
This is a better movie than it is a poker movie, as the variant of poker played by Steve McQueen is, of course, ancient and not used anymore.
This takes away a lot of appeal of the movie to the younger generation that's into online poker, and could even be considered a historical poker movie. The struggles of Steve McQueen in this story are real, however, as he's an up and coming poker player who's trying to prove himself against the greats.
The Cincinnati Kid is set in 1930s. While Paul Newman starred in many gambling movies, this is the only one in which Steve McQueen does so, and it's up to you to decide who portrayed a gambler better. As any good poker movie should, this one climaxes with a big stakes poker game between the protagonist and the a legendary poker player. Who wins the last hand? Watch and find out.
#7 Follow the Bitch (1996)
This is a comedy that went under the radar but is actually one of the better movies about poker, it has a 7.4/10 rating on IMDB. There are no star actors in Follow the Bitch, which is probably the reason why very few people have watched the movie, but make no mistake, this is a quality movie to watch. A group of friends meet for their weekly poker game, and make the mistake of inviting a woman, Liz, who turns out to be a very good poker player.
Hilarious stuff happens, and this is a very clever comedy, a hidden gem that should be watched by everyone who loves a good comedy, especially if you're a poker player as well. Most people who have seen it will recommend it to their friends.
#6 Rounders (1998)
Matt Damon is playing a young brilliant gambler who must return to playing big stakes poker in order to help a friend pay off a debt to loan sharks.
If Matt Damon isn't enough for you to take a movie seriously, Edward Norton and John Malkovich are also here to give characters some credibility. John Turturro is also here. The term "rounder" refers to a person who's travelling from city to city seeking high-stakes card games.
You can probably imagine the entire plot that follows from this setting, and the movie didn't get very good reviews and didn't do well in the box office, but Rounders is still a must-watch title for a poker player who wants to watch movies about poker.
#5 High Roller: The Stu Ungar Story (2003)
High Roller: The Stu Ungar Story is a 2003 biopic about the life of Stu Ungar, a professional poker and gin player. Michael Imperioli stars in this movie, and he's best known as the actor who portrayed Tony Soprano's nephew in the groundbreaking HBO series. Stu Ungar, Stuey, The Kid, or The Comeback Kid, is widely regarded as the best Texas Hold'em and gin player of all time.
He won WSOP five times, is one of only two people to won it three or more times, and his passing at age of 45 added to the legend. The movie is a bit ambitious and a bit different, but if you want to see a biopic about a life of a poker player then this is as good as it gets.
#4 Maverick (1994)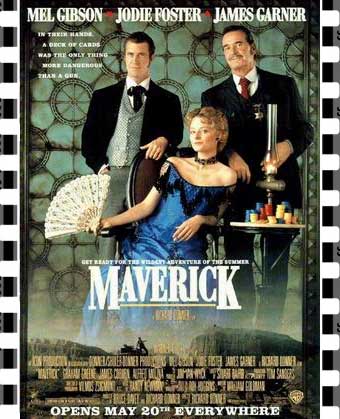 Maverick, starring Mel Gibson and Jodie Foster, hasn't really aged well and when you watch it today it's obvious this is a 1990s take on the Wild West which isn't very realistic.
Still, if you suspend your disbelief you might enjoy the twists and turns in this two-hour Western comedy.
The movie was a box office success, and was nominated for an Oscar for best costume design, but this concept of a Western comedy hasn't really been reproduced since. At the time of its release Maverick was a novelty but doesn't look that good today. But if you're a fan of Mel Gibson, you can watch him roam the West playing five-card draw poker and wanting to prove he's the best card player there is.
Trouble is, he's $3k short of the $25k tournament entry fee.
#3 5 Card Stud (1968)
The players in a poker game are being mysteriously killed one by one in this movie that stars Dean Martin and Robert Mitchum. In 1880, a player is caught cheating at five card stud poker game and is hanged despite one of the players, Dean Martin, trying to stop the others from lynching the cheater.
Eventually he learns that the other players from that game have been murdered, and he then starts to solve this mystery, wanting to discover the identity of the killer. Robert Mitchum appears as the gun-carrying Baptist preacher.
#2 21 (2008)
The Holy Grail. A card counting strategy that works and that can't be detected, and that can be used to win millions.
That's what actually happened when MIT and Harvard students developed a card counting system, and operated successfully from 1979 all the way to the beginning of the 21st century.
21 is a story about brilliant minds who have gone astray to focus on beating the house in blackjack, and isn't an accurate depiction of what really happened but a dramatized and condensed version of actual events.
This isn't necessarily such a good movie in its own right, but all card game players, especially blackjack players, will want to watch this one and study it closely to see if the card counting strategy can be replicated. After all, this is a real story and this actually happened, and the strategy worked for decades. This is one of the very few stories of developing a successful system that gives you the edge over the casino.
#1 Molly's Game (2017)
As you probably already know, Molly's Game follows an upcoming Olympic skier Molly Bloom who gets injured and then she starts getting involved in underground poker games, not as a player, but as someone who knows players and can attract new ones to the game.
This is a movie about decadence and about human need to belong, and it's a wild ride that takes us through the world of underground poker.
Molly's Game received positive reviews, especially Jessica Chastain's performance, and Idris Elba was brilliant as well.
Chastain got a Golden Globe nomination. The intriguing story, the fact that this actually happened, and the two powerful performances by the pair of actors are the best recommendations for watching this movie, if you haven't already.
STX Entertainment